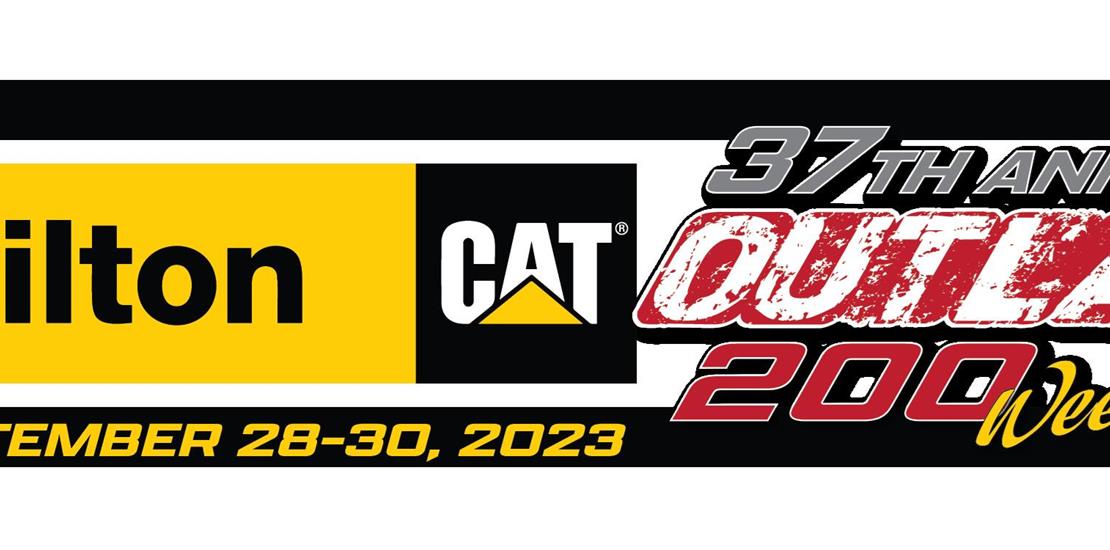 9/30/2023 -
Milton CAT Outlaw Weekend FAST Friday Quick Results Jammer's Sports Bar & Restaurant Qualifier 1 (15 Laps, winner locked into 17th starting spot): 1.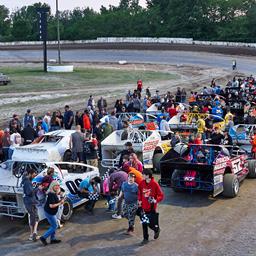 4/28/2023 - Fulton Speedway
Fulton, NY
Strada Mia Italian Restaurant presents Highbank Holdup Weekend Night 1
Strada Mia Italian Restaurant presents Night #1 of Fulton Speedway's season-opening Highbank Holdup Weekend. The wings of the ESS Sprints marks the perfect way to get the season underway, featuring the best 360 sprint car drivers in the Northeast. Also on tap will be AmeriCU Mod Lites, Billy Whittaker Cars & Trux Hobby Stocks, plus hot laps for 4-cylinders, Modifieds and Sportsman.
Prices:
Adults 19 and older - $25
Pit Pass ESS/DIRTcar/IMCA Member - $35
Pit Pass Non-Member - $40
Billy Whittaker Cars & Trux Hobby Stocks

10 entries

AmeriCU Mod Lites

14 entries

Empire Super Sprints

31 entries
Full Event Information on MyRacePass
Billy Whittaker Cars & Trux Hobby Stocks
Finish
Start
#
Competitor
Hometown
+/-
1
2
711J
John Pietrowicz Phoenix, NY
Phoenix, NY
1
2
6
14
Brennan Fitzgibbons Freeville, NY
Freeville, NY
4
3
4
13
Adam Hunt Brooktondale, NY
Brooktondale, NY
1
4
3
56
Edward Stevens Weedsport, NY
Weedsport, NY
-1
5
8
74X
Jim Evans Memphis, NY
Memphis, NY
3
6
10
28
Brandon Barron Ontario, NY
Ontario, NY
4
7
5
13B
Brian Lloyd Branchport, NY
Branchport, NY
-2
8
7
Z4
Shawn Doucette Memphis, NY
Memphis, NY
-1
9
1
BIG4
Michael Watkins Pennellville, NY
Pennellville, NY
-8
DNS
9
14H
Ronald Hawker Jordan, NY
Jordan, NY
-
Finish
Start
#
Competitor
Hometown
+/-
1
2
BIG4
Michael Watkins Pennellville, NY
Pennellville, NY
1
2
5
56
Edward Stevens Weedsport, NY
Weedsport, NY
3
3
1
13B
Brian Lloyd Branchport, NY
Branchport, NY
-2
4
4
Z4
Shawn Doucette Memphis, NY
Memphis, NY
-
DNS
3
14H
Ronald Hawker Jordan, NY
Jordan, NY
-
Finish
Start
#
Competitor
Hometown
+/-
1
3
711J
John Pietrowicz Phoenix, NY
Phoenix, NY
2
2
1
13
Adam Hunt Brooktondale, NY
Brooktondale, NY
-1
3
4
14
Brennan Fitzgibbons Freeville, NY
Freeville, NY
1
4
5
74X
Jim Evans Memphis, NY
Memphis, NY
1
5
2
28
Brandon Barron Ontario, NY
Ontario, NY
-3
AmeriCU Mod Lites
Finish
Start
#
Competitor
Hometown
+/-
1
3
10W
Justin Williams Syracuse, NY
Syracuse, NY
2
2
1
6J
Joe Isabell
-1
3
2
22
Kyle Demo Fulton, NY
Fulton, NY
-1
4
12
06
Mike Mullen Parish, NY
Parish, NY
8
5
4
55
Joseph Garafolo Oswego, NY
Oswego, NY
-1
6
5
B1
Tom Mackey Hastings, NY
Hastings, NY
-1
7
6
5K
Matt Kitts Fulton, NY
Fulton, NY
-1
8
10
19
Brad Harris Lafayette, NY
Lafayette, NY
2
9
14
313
Jammer Applegate II Mexico, NY
Mexico, NY
5
10
7
9
Roger Olschewske Jr Union Springs, NY
Union Springs, NY
-3
11
8
39
Sam Usborne Cazenovia, NY
Cazenovia, NY
-3
12
9
7J
Joel Moller Central Square, NY
Central Square, NY
-3
13
11
M1
Michael Gloska North Syracuse, NY
North Syracuse, NY
-2
DNS
13
69D
Greg Zack Dain City, ON
Dain City, ON
-
Finish
Start
#
Competitor
Hometown
+/-
1
6
6J
Joe Isabell
5
2
7
10W
Justin Williams Syracuse, NY
Syracuse, NY
5
3
5
B1
Tom Mackey Hastings, NY
Hastings, NY
2
4
3
9
Roger Olschewske Jr Union Springs, NY
Union Springs, NY
-1
5
2
7J
Joel Moller Central Square, NY
Central Square, NY
-3
6
4
M1
Michael Gloska North Syracuse, NY
North Syracuse, NY
-2
7
1
69D
Greg Zack Dain City, ON
Dain City, ON
-6
Finish
Start
#
Competitor
Hometown
+/-
1
5
22
Kyle Demo Fulton, NY
Fulton, NY
4
2
4
55
Joseph Garafolo Oswego, NY
Oswego, NY
2
3
7
5K
Matt Kitts Fulton, NY
Fulton, NY
4
4
3
39
Sam Usborne Cazenovia, NY
Cazenovia, NY
-1
5
2
19
Brad Harris Lafayette, NY
Lafayette, NY
-3
6
1
06
Mike Mullen Parish, NY
Parish, NY
-5
DNS
6
313
Jammer Applegate II Mexico, NY
Mexico, NY
-
Empire Super Sprints
Finish
Start
#
Competitor
Hometown
+/-
1
4
#87
Jason Barney Brewerton, NY
Brewerton, NY
3
2
5
#01
Danny Varin Fonda, NY
Fonda, NY
3
3
1
#7C
Dylan Swiernik Port Leyden, NY
Port Leyden, NY
-2
4
12
28
Jordan Poirier Saint-Mathieu-de-Beloeil, QC
Saint-Mathieu-de-Beloeil, QC
8
5
8
#53
Shawn Donath South Onondaga, NY
South Onondaga, NY
3
6
2
#98
Joe Trenca Clay, NY
Clay, NY
-4
7
6
#28F
Davie Franek Wantage, NJ
Wantage, NJ
-1
8
16
#23M
Max McLaughlin Mooresville, NC
Mooresville, NC
8
9
11
#22
Jonathan Preston Geneva, NY
Geneva, NY
2
10
3
7NY
Matt Farnham Tonawanda, NY
Tonawanda, NY
-7
11
17
#10
Jeff Cook Antwerp, NY
Antwerp, NY
6
12
9
#45
Chuck Hebing Ontario, NY
Ontario, NY
-3
13
22
#4
Billy VanInwegen Jr Port Jervis, NY
Port Jervis, NY
9
14
10
#90
Matt Tanner Stephentown, NY
Stephentown, NY
-4
15
15
#3
Parker Evans APALACHIN, NY
APALACHIN, NY
-
16
20
#41
Dalton Rombough Lowville, NY
Lowville, NY
4
17
23
90T
Travis Cunningham Grimsby, ON
Grimsby, ON
6
18
13
#3Z
John Smith IV Scranton, PA
Scranton, PA
-5
19
25
#33
Lacey Hanson Orwell, VT
Orwell, VT
6
20
14
#10C
Paulie Colagiovanni Brewerton, NY
Brewerton, NY
-6
21
18
#36
Logan Crisafulli Oswego, NY
Oswego, NY
-3
22
24
#10K
Kelly Hebing Ontario, NY
Ontario, NY
2
23
19
#17
Sammy Reakes IV Palermo, NY
Palermo, NY
-4
24
21
#21
Steve Glover Rochester, NY
Rochester, NY
-3
25
7
#79
Jordan Thomas Harding, PA
Harding, PA
-18
Finish
Start
#
Competitor
Hometown
+/-
1
6
#17
Sammy Reakes IV Palermo, NY
Palermo, NY
5
2
2
#41
Dalton Rombough Lowville, NY
Lowville, NY
-
3
3
#21
Steve Glover Rochester, NY
Rochester, NY
-
4
5
#4
Billy VanInwegen Jr Port Jervis, NY
Port Jervis, NY
1
5
1
90T
Travis Cunningham Grimsby, ON
Grimsby, ON
-4
6
9
#10K
Kelly Hebing Ontario, NY
Ontario, NY
3
7
4
#4P
Chase Moran Fultonville, NY
Fultonville, NY
-3
8
10
#66
Jordan Hutton Hannibal, NY
Hannibal, NY
2
9
8
#33
Lacey Hanson Orwell, VT
Orwell, VT
-1
10
13
5H
Chris Hile Oswego, NY
Oswego, NY
3
11
7
#13
Keith Granholm Syracuse, NY
Syracuse, NY
-4
12
12
#14B
Brett Wright East Chatham, NY
East Chatham, NY
-
13
11
5Z
Zack Burd Lumberton, NJ
Lumberton, NJ
-2
Finish
Start
#
Competitor
Hometown
+/-
1
3
#3Z
John Smith IV Scranton, PA
Scranton, PA
2
2
5
#10C
Paulie Colagiovanni Brewerton, NY
Brewerton, NY
3
3
4
#3
Parker Evans APALACHIN, NY
APALACHIN, NY
1
4
2
#23M
Max McLaughlin Mooresville, NC
Mooresville, NC
-2
5
6
#10
Jeff Cook Antwerp, NY
Antwerp, NY
1
6
1
#36
Logan Crisafulli Oswego, NY
Oswego, NY
-5
Finish
Start
#
Competitor
Hometown
+/-
1
2
7NY
Matt Farnham Tonawanda, NY
Tonawanda, NY
1
2
1
#53
Shawn Donath South Onondaga, NY
South Onondaga, NY
-1
3
6
#22
Jonathan Preston Geneva, NY
Geneva, NY
3
4
4
#90
Matt Tanner Stephentown, NY
Stephentown, NY
-
5
7
#36
Logan Crisafulli Oswego, NY
Oswego, NY
2
6
8
#3
Parker Evans APALACHIN, NY
APALACHIN, NY
2
Top 6 transfer
7
5
90T
Travis Cunningham Grimsby, ON
Grimsby, ON
-2
8
11
#4P
Chase Moran Fultonville, NY
Fultonville, NY
3
9
9
#13
Keith Granholm Syracuse, NY
Syracuse, NY
-
10
10
#66
Jordan Hutton Hannibal, NY
Hannibal, NY
-
11
3
5H
Chris Hile Oswego, NY
Oswego, NY
-8
Finish
Start
#
Competitor
Hometown
+/-
1
1
#87
Jason Barney Brewerton, NY
Brewerton, NY
-
2
3
#45
Chuck Hebing Ontario, NY
Ontario, NY
1
3
5
28
Jordan Poirier Saint-Mathieu-de-Beloeil, QC
Saint-Mathieu-de-Beloeil, QC
2
4
4
#7C
Dylan Swiernik Port Leyden, NY
Port Leyden, NY
-
5
6
#23M
Max McLaughlin Mooresville, NC
Mooresville, NC
1
6
2
#10C
Paulie Colagiovanni Brewerton, NY
Brewerton, NY
-4
Top 6 transfer
7
7
#41
Dalton Rombough Lowville, NY
Lowville, NY
-
8
9
#4
Billy VanInwegen Jr Port Jervis, NY
Port Jervis, NY
1
9
8
#33
Lacey Hanson Orwell, VT
Orwell, VT
-1
10
10
5Z
Zack Burd Lumberton, NJ
Lumberton, NJ
-
Finish
Start
#
Competitor
Hometown
+/-
1
2
#01
Danny Varin Fonda, NY
Fonda, NY
1
2
1
#79
Jordan Thomas Harding, PA
Harding, PA
-1
3
3
#28F
Davie Franek Wantage, NJ
Wantage, NJ
-
4
5
#98
Joe Trenca Clay, NY
Clay, NY
1
5
6
#3Z
John Smith IV Scranton, PA
Scranton, PA
1
6
4
#10
Jeff Cook Antwerp, NY
Antwerp, NY
-2
Top 6 transfer
7
8
#21
Steve Glover Rochester, NY
Rochester, NY
1
8
7
#17
Sammy Reakes IV Palermo, NY
Palermo, NY
-1
9
10
#10K
Kelly Hebing Ontario, NY
Ontario, NY
1
10
9
#14B
Brett Wright East Chatham, NY
East Chatham, NY
-1
Finish
Start
#
Competitor
Hometown
Time
1
7
7NY
Matt Farnham Tonawanda, NY
Tonawanda, NY
2
1
#53
Shawn Donath South Onondaga, NY
South Onondaga, NY
3
5
5H
Chris Hile Oswego, NY
Oswego, NY
4
8
#90
Matt Tanner Stephentown, NY
Stephentown, NY
5
2
90T
Travis Cunningham Grimsby, ON
Grimsby, ON
6
10
#22
Jonathan Preston Geneva, NY
Geneva, NY
7
9
#36
Logan Crisafulli Oswego, NY
Oswego, NY
8
6
#3
Parker Evans APALACHIN, NY
APALACHIN, NY
9
3
#13
Keith Granholm Syracuse, NY
Syracuse, NY
10
11
#66
Jordan Hutton Hannibal, NY
Hannibal, NY
11
4
#4P
Chase Moran Fultonville, NY
Fultonville, NY
Finish
Start
#
Competitor
Hometown
Time
1
1
#10C
Paulie Colagiovanni Brewerton, NY
Brewerton, NY
2
4
#87
Jason Barney Brewerton, NY
Brewerton, NY
3
5
#45
Chuck Hebing Ontario, NY
Ontario, NY
4
10
#7C
Dylan Swiernik Port Leyden, NY
Port Leyden, NY
5
3
28
Jordan Poirier Saint-Mathieu-de-Beloeil, QC
Saint-Mathieu-de-Beloeil, QC
6
2
#23M
Max McLaughlin Mooresville, NC
Mooresville, NC
7
9
#41
Dalton Rombough Lowville, NY
Lowville, NY
8
6
#33
Lacey Hanson Orwell, VT
Orwell, VT
9
8
#4
Billy VanInwegen Jr Port Jervis, NY
Port Jervis, NY
10
7
5Z
Zack Burd Lumberton, NJ
Lumberton, NJ
Finish
Start
#
Competitor
Hometown
Time
1
5
#01
Danny Varin Fonda, NY
Fonda, NY
2
2
#79
Jordan Thomas Harding, PA
Harding, PA
3
3
#28F
Davie Franek Wantage, NJ
Wantage, NJ
4
4
#10
Jeff Cook Antwerp, NY
Antwerp, NY
5
8
#98
Joe Trenca Clay, NY
Clay, NY
6
7
#3Z
John Smith IV Scranton, PA
Scranton, PA
7
1
#17
Sammy Reakes IV Palermo, NY
Palermo, NY
8
6
#21
Steve Glover Rochester, NY
Rochester, NY
9
9
#14B
Brett Wright East Chatham, NY
East Chatham, NY
10
10
#10K
Kelly Hebing Ontario, NY
Ontario, NY
Next Event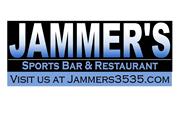 Saturday, 9/30
Milton CAT Outlaw 200
Industrial Tire of CNY Spts Shootout
Pits open - 1pm
Grandstand - 2pm
Racing - 6pm
Adults - $40
Youths (6-18) - $15
Pit Member - $50/Non-members - $55
Driver Registration