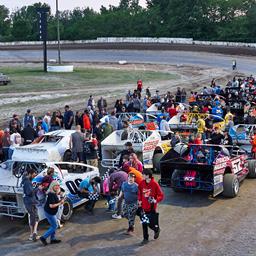 ---
Sears, Zacharias, Wight and Payne Lock Into 37th Milton CAT Outlaw 200
Fulton, NY (September 30, 2023) – 2023 Fulton Speedway track champion Tim Sears Jr., Dylan Zacharias, Larry Wight and Zach Payne all earned themselves a guaranteed spot in Saturday's Milton CAT Outlaw 200 by virtue of Friday night Modified heat qualifying wins at the Fulton Speedway.
Fifty-five Modifieds came out for the "night before the 200".
The winners are guaranteed to start 17th thru 20th in the 37th edition of the event. However, they could improve their starting positions in Saturday heats.
Sears started on pole in heat one and ran away from the field as he easily outdistanced second place Roy Bresnahan. Third was a surprise as Brandon Carvey had just purchased a 358 motor two weeks ago.
As the winners gathered on the front stretch Timmer explained, "Seventeen is a much better starting spot than we usually have for this race. It really takes the pressure off and we are now able to build on what we have done."
There was a slight surprise in the second qualifier as Dylan Zacharias held off a rapidly closing Anthony Perrego to cross the line first in the 15-lapper while 358 newcomer Tyler Corcoran was third.
Zacharias has the understatement of the night as he said, "This will make tomorrow easier. This race has been a pain in my side the past few years and it's nice to have the pressure off."
Veteran Larry Wight started on pole for the third heat and simply dominated with a near seven second win over Amy Holland and Ronnie Davis III.
He was unavailable for comment as he was repairing his ESS Sprint car after a prelim win.
In the final Mod heat Zach Payne came out with the win as he took the lead from Alan Fink with a move to the outside of the fourth turn on the seventh lap. Felix Roy passed Fink on the final lap for the runner up spot.
Payne said, "This feels really good. The car was just hooked up tonight. It's fast and we are just there."
A solid field of 64 Sportsman racers attempted to gain one of the premium starting spots in this year's Industrial Tire of CNY 50 lap event scheduled for Saturday of the Milton CAT Outlaw 200 Weekend.
Friday night saw packed fields for the six qualifying heats as three cars qualified from each preliminary event.
The top two cars advanced to Saturday's Power Seal Driveway Sealing Jeremy Pitcher Memorial Sportsman Pole Dash.
Earning heat wins as the Sportsman kicked off the night of action were David Moyer, Cody Manitta, Kevin Stevens, Tony Finch, Nick Heywood and Kyle Devendorf.
Finishing in second in their respective heats and also earning a spot in the Power Seal Jeremy Pitcher Memorial Pole Dash were Jason Parkhurst Jr, Chuck Miller, Jimmy Moyer, James Donaldson, Richard Murtaugh III and Martin Lessard.
Third place finishers were Michael Wagner-Fitzgerald, Zach Buff, Bobby Herrington, Rich Townsend, Willy Decker and Wade Chrisman as they are locked in to the Industrial Tire of Central New York Sportsman Shootout.
To cap off the night three B Features were run for the Sportsman as the non-qualifiers will get one more chance to qualify for the Industrial Tire of CNY Sportsman Shootout prior to the main event on Saturday.
The B's were highly competitive as Emmett Waldon, Ryan Dolbear and Gavin Eisele moved on to Saturday with wins along with runners up Zach Sobotka, Kreg Crooker and Clayton Brewer.
The Empire Super Sprints put on a crowd-n pleasing night of action with Jason Barney winning his third ESS Fulton race of the year followed by Chuck Hebing and Danny Varin (See ESS Story)
Milton CAT Outlaw Weekend FAST Friday Quick Results
Jammer's Sports Bar & Restaurant Qualifier 1 (15 Laps, winner locked into 17th starting spot): 1. 83X-Tim Sears Jr[1]; 2. 02-Roy Bresnahan[4]; 3. 19C-Brandon Carvey[5]; 4. 66W-Derek Webb[3]; 5. 56-Vince Vitale[7]; 6. 66-Carey Terrance[8]; 7. 6NN-Nick Nye[6]; 8. 83-Danny Johnson[13]; 9. 58M-Marshall Hurd[10]; 10. 369-Jim Walsh[9]; 11. 11T-Jeff Taylor[11]; 12. 26R-Corey Cormier[2]; 13. 220-Chris Hulsizer[12]
Strada Mia Italian Steakhouse Qualifier 2 (15 Laps, winner locked into 18th starting spot): 1. 27Z-Dylan Zacharias[2]; 2. 4P-Anthony Perrego[6]; 3. 64-Tyler Corcoran[1]; 4. 31-Corey Barker[4]; 5. 160-Max Hill[9]; 6. 98H-Jimmy Phelps[12]; 7. B2-Bob Henry Jr[3]; 8. 26C-Luke Carleton[10]; 9. 79-Jeff Prentice[5]; 10. 24R-Garrett Rushlow[7]; 11. 713-Tommy Collins[13]; 12. 29K-Chris Cunningham[11]; 13. 13-Ted Starr[8]
Jammer's Sports Bar & Restaurant Qualifier 3 (15 Laps, winner locked into 19th starting spot): 1. 99L-Larry Wight[1]; 2. 5H-Amy Holland[4]; 3. 32R-Ronald Davis III[5]; 4. 8H-Max McLaughlin[10]; 5. 3-Chris Mackey[11]; 6. 18$-Sean Beardsley[7]; 7. 49-Billy Dunn[12]; 8. 38-Tim Harris[2]; 9. 3RS-Dalton Slack[3]; 10. M1-David Marcuccilli[9]; 11. 05-Jesse Morgan[13]; 12. 60-Jackson Gill[8]; 13. 01R-Robert Gage[6]
Strada Mia Italian Steakhouse Qualifier 4 (15 Laps, winner locked into 20th starting spot): 1. 7Z-Zachary Payne[5]; 2. 91-Felix Roy[7]; 3. 28-Alan Fink[3]; 4. 12-Darren Smith[4]; 5. 21A-Peter Britten[10]; 6. 92-Andrew Buff[11]; 7. X-Chad Phelps[8]; 8. 21-Shaun Walker[13]; 9. 45R-Preston Forbes[2]; 10. 17J-Brent Joy[1]; 11. 28M-Matt Meade[12]; 12. 16-Aaron Jacobs[6]; 13. 44C-Riley Rogala[9]
Empire Super Sprints A-Feature 1. #87-Jason Barney[7]; 2. #45-Chuck Hebing[1]; 3. #01-Danny Varin[10]; 4. 28-Jordan Poirier[6]; 5. #99L-Larry Wight[19]; 6. #98-Joe Trenca[8]; 7. #5H-Chris Hile[3]; 8. #36-Logan Crisafulli[12]; 9. #10C-Paulie Colagiovanni[5]; 10. #90-Matt Tanner[4]; 11. #79-Jordan Thomas[11]; 12. #53-Shawn Donath[18]; 13. #7C-Dylan Swiernik[25]; 14. 10BH-Bryan Howland[9]; 15. #22-Jonathan Preston[2]; 16. #23-Tyler Cartier[15]; 17. 96X-Chad Phelps[14]; 18. #5D-Jacob Dykstra[13]; 19. #10-Jeff Cook[20]; 20. #33-Lacey Hanson[24]; 21. #13-Keith Granholm[23]; 22. #X-Dan Bennett[17]; 23. (DNF) #67-Steve Glover[22]; 24. (DNF) #13T-Trevor Years[21]; 25. (DQ) #4P-Chase Moran[16]
Industrial Tire of CNY Sportsman Shootout Heat 1 (10 Laps, top-3 qualified): 1. 51X-David Moyer[2]; 2. 38JR-Jason Parkhurst Jr[4]; 3. 88-Michael Wagner Fitzgerald[1]; 4. 4-Emmett Waldron[6]; 5. 38Z-Zach Sobotka[5]; 6. 39S-Josh Fellows[9]; 7. 399-Nick Giardini[7]; 8. 57HG-Rocky Grosso[3]; 9. 11-Nick Zielinski[10]; 10. 42H-Colby Herzog[11]; 11. 44C-Ed Downing[8]
Industrial Tire of CNY Sportsman Shootout Heat 2 (10 Laps, top-3 qualified): 1. 6-Cody Manitta[1]; 2. 7X-Chuck Miller[2]; 3. 01-Zachary Buff[8]; 4. 57H-Remington Hamm[9]; 5. 83D-Dustin Bradley[11]; 6. 10G-Austin Germinio[5]; 7. 80X-Mike Button[7]; 8. 711-Nick Ventura[10]; 9. 73-Joe Wilcox[4]; 10. 007-Nathan Novak[3]; 11. (DNS) 20K-Kyle Perry
Industrial Tire of CNY Sportsman Shootout Heat 3 (10 Laps, top-3 qualified): 1. 38-Kevin Stevens[1]; 2. 51M-Jimmy Moyer[3]; 3. 88Z-Bobby Herrington[6]; 4. 31B-Ryan Dolbear[7]; 5. 51K-Kreg Crooker[5]; 6. 0P-Shane Pecore[8]; 7. 16X-Savannah Laflair[2]; 8. 19J-Joe Kline[4]; 9. 88H-Chris Hulsizer[10]; 10. 19K-Kevan Cook[11]; 11. 27Z-Chris Bonoffski[9]
Industrial Tire of CNY Sportsman Shootout Heat 4 (10 Laps, top-3 qualified): 1. 0-Tony Finch II[3]; 2. 13-James Donaldson[2]; 3. 51-Rich Townsend[5]; 4. 92-Andrew Buff[6]; 5. 28X-Stephen Marshall[9]; 6. 284-Jamie Kamrowski[8]; 7. 11C-Austin Cooper[1]; 8. 9-Tim Baker[7]; 9. 42-Colby Adamczak[10]; 10. 29B-Jason Breezee[4]; 11. 21A-Phillip Loosen[11]
Industrial Tire of CNY Sportsman Shootout Heat 5 (10 Laps, top-3 qualified): 1. 29-Nick Heywood[2]; 2. 33-Richard Murtaugh[4]; 3. 1X-Willy Decker[5]; 4. 33JR-Clayton Brewer III[9]; 5. 18E-Gavin Eisele[3]; 6. 06W-Dorian Wahdan[8]; 7. 29K-Kingston Sprague[6]; 8. 5G-Tim Gareau[1]; 9. 4M-Michelle Courcy[7]; 10. 00G-Joe Gosek[10]
Industrial Tire of CNY Sportsman Shootout Heat 6 (10 Laps, top-3 qualified): 1. 5-Kyle Devendorf[1]; 2. 2X-Martin Lessard[2]; 3. 00W-Wade Chrisman[6]; 4. 30P-Dylan Piersall[4]; 5. 77L-Buddy Leathley[5]; 6. R1-Riley Rogala[9]; 7. 83X-Brett Sears[7]; 8. 557-Patrick Nolan[8]; 9. 42K-Dave Kingsley[10]; 10. (DNF) 14-Samuel Groom[3]
Industrial Tire of CNY Sportsman Shootout Consolation 1 (12 Laps, top-2 Qualified): 1. 4-Emmett Waldron[1]; 2. 38Z-Zach Sobotka[3]; 3. 57H-Remington Hamm[2]; 4. 399-Nick Giardini[7]; 5. 80X-Mike Button[8]; 6. 11-Nick Zielinski[11]; 7. 83D-Dustin Bradley[4]; 8. 10G-Austin Germinio[6]; 9. 57HG-Rocky Grosso[9]; 10. 39S-Josh Fellows[5]; 11. 007-Nathan Novak[14]; 12. 711-Nick Ventura[10]; 13. 44C-Ed Downing[15]; 14. 42H-Colby Herzog[13]; 15. 73-Joe Wilcox[12]; 16. (DNS) 20K-Kyle Perry
Industrial Tire of CNY Sportsman Shootout Consolation 2 (12 laps, top-2 qualified): 1. 31B-Ryan Dolbear[1]; 2. 51K-Kreg Crooker[3]; 3. 92-Andrew Buff[2]; 4. 88H-Chris Hulsizer[11]; 5. 0P-Shane Pecore[5]; 6. 28X-Stephen Marshall[4]; 7. 19J-Joe Kline[9]; 8. 16X-Savannah Laflair[7]; 9. 11C-Austin Cooper[8]; 10. 27Z-Chris Bonoffski[15]; 11. 19K-Kevan Cook[13]; 12. 42-Colby Adamczak[12]; 13. 9-Tim Baker
Industrial Tire of CNY Sportsman Shootout Consolation 3 (12 laps, top-2 qualified): 1. 18E-Gavin Eisele[3]; 2. 33JR-Clayton Brewer III[1]; 3. 77L-Buddy Leathley[4]; 4. 06W-Dorian Wahdan[5]; 5. 83X-Brett Sears[8]; 6. R1-Riley Rogala[6]; 7. 30P-Dylan Piersall[2]; 8. 557-Patrick Nolan[10]; 9. 00G-Joe Gosek[13]; 10. 42K-Dave Kingsley[12]; 11. 29K-Kingston Sprague[7]; 12. 5G-Tim Gareau[9]; 13. 21A-Phillip Loosen[14]; 14. 4M-Michelle Courcy[11]; 15. 14-Samuel Groom[15]Baker[10]; 14. 284-Jamie Kamrowski[6]; 15. 29B-Jason Breezee[14]
Lineups for Saturday's Industrial Tire of CNY Sportsman Shootout Last Chance Qualifiers
LCQ 1: (15-laps, top-2 qualify) 1. 57H-Remington Hamm; 2. 77L-Buddy Leathley; 3. 88H-Chris Hulsizer; 4. 80X-Mike Button; 5. 83X-Brett Sears; 6. 28X-Stephen Marshall; 7. 83D-Dustin Bradley; 8. 30P-Dylan Piersall; 9. 16X-Savannah Laflair; 10. 57HG-Rocky Grosso; 11. 00G-Joe Gosek; 12. 27Z-Chris Bonoffski; 13. 007-Nathan Novak; 14. 29K-Kingston Sprague; 15. 42-Colby Adamczak; 16. 44C-Ed Downing; 17. 21A-Phillip Loosen; 18. 284-Jamie Kamrowski; 19. 73-Joe Wilcox; 20. 14-Samuel Groom
LCQ 2: (15-laps, top-2 qualify) 1. 92-Andrew Buff; 2. 399-Nick Giardini; 3. 06W-Dorian Wahdan; 4. 0P-Shane Pecore; 5. 11-Nick Zielinski; 6. R1-Riley Rogala; 7. 19J-Joe Kline; 8. 10G-Austin Germinio; 9. 557-Patrick Nolan; 10. 11C-Austin Cooper; 11. 39S-Josh Fellows; 12. 42K-Dave Kingsley; 13. 19K-Kevan Cook; 14. 711-Nick Ventura; 15. 5G-Tim Gareau; 16. 9-Tim Baker; 17. 42H-Colby Herzog; 18. 4M-Michelle Courcy; 19. 29B-Jason Breezee; 20. 20K-Kyle Perry
Back to News