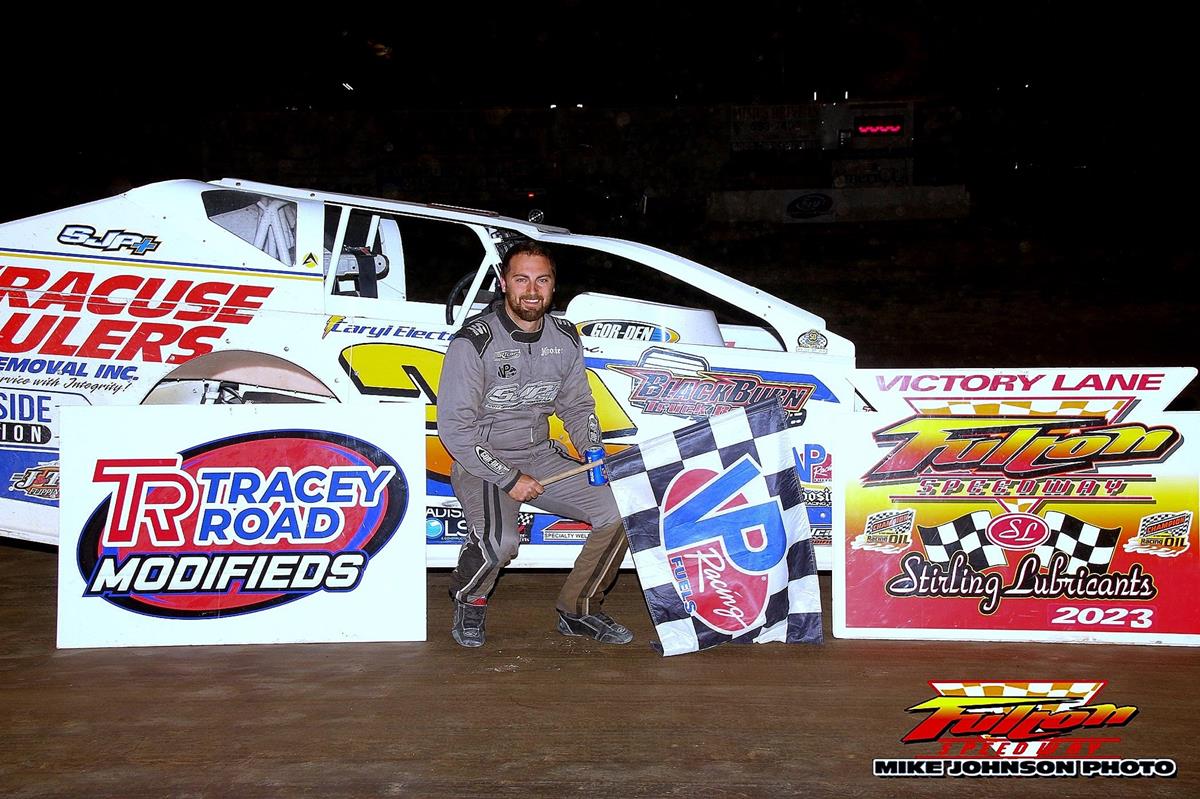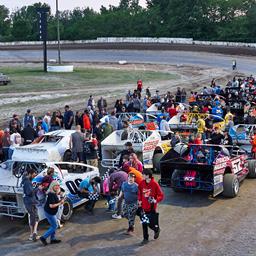 ---
Ron Davis III Holds Off Fulton Speedway Best for Popular Modified Win: Demo Derbies and Racing May 20
By Dave Medler
FULTON, NY - (May 13, 2022) - Saturday night at the Fulton Speedway one of the most popular drivers from his Sportsman and now Modified days, Ronnie Davis III raced his way straight to victory lane after late race cautions and holding off three of Fulton's best, Tim Sears Jr., Dave Marcuccilli, and Larry Wight.
Other winners on Ferris Mowers and Regional Truck and Trailer night were, Tyler Corcoran (DOT Foods DIRTcar Sportsman) Owen Bird (E & V Energy Novice Sportsman) John Pietrowicz (Billy Whittaker Cars & Trux Hobby Stocks).
Ryan Richardson would lead the opening five laps of the 35-Lap Tracey Road DIRTcar Modified feature until Robert Gage who started in fifth, powered by Richardson into the lead.
By lap ten Gage drove out to a straightaway lead while behind him you could have thrown a blanket over Ron Davis III, Richardson, Andrew Ferguson, and Jack Meeks.
Davis would run down Gage from a straightaway behind and pass him for the lead on the topside of the speedway on lap fifteen.
On lap twenty Davis was driving away from the field still on the high side of the speedway leaving Gage, Tim Sears Jr., Larry Wight, and Meeks to race in the top-five.
With ten laps to go Davis was on cruise control out front leading by over two-seconds while in heavy traffic trying to put cars a lap down. Sears, Wight, Gage, and Meeks were still in the top five as the final laps started clicking off the lap counter.
On lap twenty-eight the whole race changed when the caution flag waved and would erase Davis's 3.5 second lead and now would be in Sears and Wight's sights for the shootout to the checkers.
When the race went back to green and to the checkers there was no stopping Ron Davis III as he drove away from the field and into victory lane for the popular win. Tim Sears Jr., Dave Marcuccilli, Larry Wight, and Andrew Ferguson finished second through fifth. Robert Gage, Jack Meeks, Amy Holland, Derek Webb, and Billy Dunn completed the top-ten.
James Donaldson would lead the opening three laps of the 25-Lap Sportsman feature when Tyler Corcoran used the top side of turns three and four to drive into the lead.
On lap ten Corcoran would hold a slim ten car length lead over Jason Parkhurst Jr., and Andrew Buff with Jimmy Moyer and Donaldson within striking distance.
With ten laps remaining Corcoran still led and had Buff right in his tire tracks with Parkhurst Jr, Jimmy Moyer, Kevan Cook, and James Donaldson still in contention for a top finish.
Over the final laps and even with late yellows, Tyler Corcoran held off track champion Andrew Buff for his first win of the year. Richard Murtaugh, Clayton Brewer, and Jason Parkhurst finished third through fifth.
Ron Hawker would lead the opening six laps of the 20-Lap Hobby Stock feature when John Pietrowicz would drive from third to the lead on lap seven. Once out front Pietrowicz would drive away from the field for his third straight win. Jim Evans, Mike Watkins, Adam Hunt, and Edward Stevens finished second through fifth.
The 15-Lap Novice Sportsman feature would see Joe Wilcox lead the opening three laps when Owen Bird would drive into the lead on lap four. Once in the lead Bird was never seriously challenged the rest of the way for his first trip to victory lane. Joe Wilcox, Brianna Murtaugh, Nathan Novak, and Kingston Sprague finished second through fifth.
This Saturday, May 20 is one of the fan favorite nights yearly on the Fulton Speedway schedule when racing and Spring Smashdown Demolition Derbies are on the same night presented by Ehrlich Pest Control and Custom Truck One Source
High speed, side-by-side racing excitement on the 'Highbanks' will feature the Tracey Road DIRTcar Modifieds, DOT Foods DIRTcar Sportsman, E & V Energy Novice Sportsman, and the Billy Whittaker Cars & Trux Hobby Stocks.
After the racing you will get an up-close seat to the crunching metal and bone jarring collisions with a of a pair of Kings Smash'Em Crash'Em Demo Derbies. $1000-to-win 4/6 Cylinder Chain and Bang, plus $750 to-win Compact Junk Run.
Adult grandstand admission - $20
18 years old & younger – Free
Pit Pass.
DIRTcar Member - $35
Non-Member - $40
Pits open – 4:00 PM
Grandstands – 5:00 PM
Hot Laps – 6:00 PM
Racing starts – 7:00 PM
The Fulton Speedway is located at 1603 County Route 57, Fulton, NY.
Direct any questions on race day activity or sponsorship opportunities to Cory Reed at (315) 593-6531 or cory@fultonspeedway.com.
For all the latest news, visit www.fultonspeedway.com. And like the speedway social media pages.
Ferris Mowers and Regional Truck & Trailer May 13 Results
Tracey Road DIRTcar Modifieds – (35 Laps): 1-Davis III.R 2-Sears.T(Jr) 3-Marcuccilli.D 4-Wight.L 5-Ferguson.A 6-Gage.R 7-Meeks.J 8-Holland.A 9-Webb.D 10-Dunn.B 11-Hurd.M 12-Mackey.C 13-Fink.A 14-Parkhurst.J 15-Collins.T 16-Meeks.T 17-Barker.C 18-Richardson.R 19-Joy.B 20-Crisafulli.J 21-Murphy.B 22-Bublak.R 23-Castelletti.C 24-Cunningham.C 25-Starr.T 26-Kingsley.A 27-Harris.T
DOT Foods DIRTcar Sportsman – (25 Laps): 1-Corcoran.T 2-Buff.A 3-Murtaugh.R 4-Brewer.C(III) 5-Parkhurst Jr..J 6-Waldron.E 7-Cook.K 8-Buff.Z 9-Devendorf.K 10-Dolbear.R 11-Chrisman.W 12-Hamm.R 13-Sears.B 14-Donaldson.J 15-Moyer.D 16-Manitta.C 17-Miller.A 18-Grosso.R 19-Dupra.J 20-Moyer.J 21-Root.M 22-Laflair.S 23-Clayton.T(Jr) 24-Rogers.D 25-Cooper.A 26-Hutton.D 27-Fellows.J 28-Trichilo.J
NAPA Know How Chase Elliott Award: Kyle Devendorf.
DOT Foods DIRTcar Sportsman B-Main - (12 Laps) - 1-Hamm.R 2-Miller.A 3-Moyer.D 4-Fellows.J 5-Sears.B 6-Cooper.A 7-Dupra.J 8-Trichilo.J 9-Greenfield.S 10-Kline.J 11-Hollenbeck.H 12-Gareau.T
E & V Energy Novice Sportsman – (15 Laps): 1-Bird.O 2-Wilcox.J 3-Murtaugh.B 4-Novak.N 5-Sprague.K 6-Hogan.B 7-Groom.S 8-Allen.D
Billy Whittaker Cars & Trux Hobby Stocks – (20 Laps): 1-Petrovich.J 2-Evans.J 3-Watkins.M 4-Hunt.A 5-Stevens.E 6-Doucette.S 7-Barron.B 8-Hawker.R 9-Fitzgibbons.B 10-Cunningham.C
---
Submitted By: David Medler
Back to News