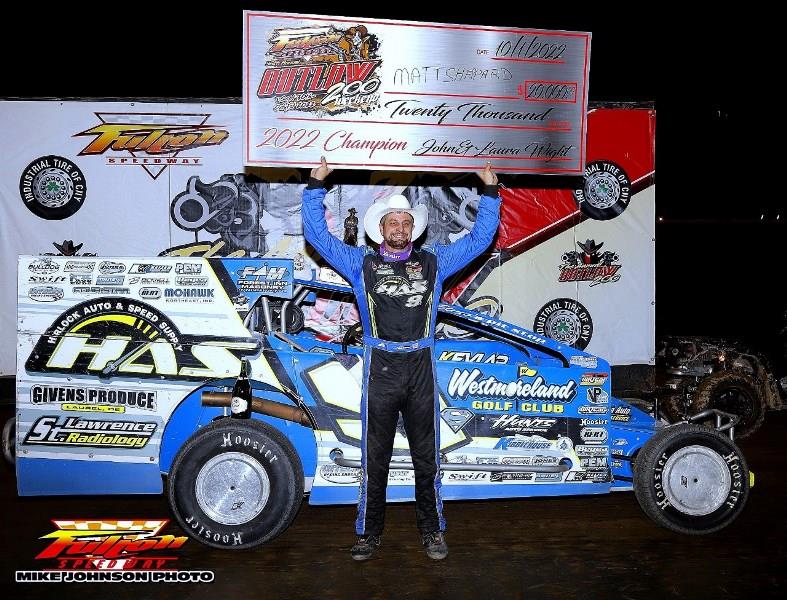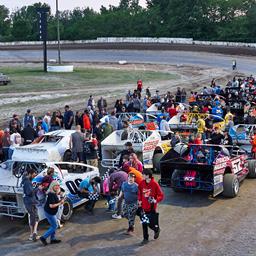 ---
Matt Sheppard Banks $20,000 Outlaw 200 Win After Classic Battle with Mat Williamson
FULTON, NY – (October 1, 2022) – Two of the best in Modified racing in late season big dollar events, Matt Sheppard and defending race winner Mat Williamson slugged it out for almost the entire race with Savannah, NY Matt Shepperd collecting his second career Outlaw 200 Saturday night at the Fulton Speedway.
Mike Mahaney and Matt Sheppard led the forty-four-car starting field down to the green with Sheppard grabbing the narrow advantage over Mahaney, and Brewerton Speedway track champion Chris Hile, as the racing behind the top-three was two, and three wide throughout the pack.
With twenty laps showing on the scoring tower and cars racing around the entire speedway, there was no time to relax as Sheppard was able to put a few lap cars between himself and Mahaney while Hile, Williamson, and Chris Raabe raced for top-five spots.
After working on Mahaney for several laps in heavy traffic, Williamson was able to get by Mahaney on lap forty-two and set sail for the leader Sheppard.
On lap fifty-five the caution would come out to slow the pace that would see Sheppard, Williamson, Mahaney, Hile, and Gary Lindberg in the top-five.
When the race went back to green, Williamson was right there with Sheppard but after a few laps, Sheppard would drive out to a couple car length advantage with Hile and Lindberg still showing on the scoring tower.
The caution would come out again on lap seventy-five. Williamson would take full advantage on the restart as he looked like he was shot out of a cannon driving into the lead.
Over the final laps to the halfway break, Sheppard could keep pace with Williamson but didn't have enough speed to seriously challenge, even with cautions on lap eighty-two and eighty-six.
At lap one-hundred, drivers had a choice to make at the 15-minute break with a new twist. Drivers could stop on the front straight for track position and were only allowed to check tire pressures and fuel the car. The second option was going to your pit for wholesale changes for fuel, tires, chassis adjustments. Only third place running Chad Phelps, Alan Johnson, and Tim Fuller stayed out.
When the race went back to green for the second one-hundred laps, it didn't take long for Williamson to retake the lead as he went by Chad Phelps on lap one hundred-four.
Sheppard moved into second on lap one hundred eight, and then set his laser sights on Williamson and took off after him, with heavy traffic and lack of cautions or attrition playing a role as there were no yellows after the race break to the checkers.
On lap one hundred-twenty-two, Williamson went high to get around a lapped car, and that allowed Sheppard to drive under that lapped car and Williamson to retake the lead.
Every time it looked like Sheppard could drive away from Williamson; traffic would come back into the play, allowing Williamson to reel back in the leader as the final laps started clicking off the lap counter.
With ten laps left, Williamson appeared to be the quickest car of the two leaders. He was making his car work high on both ends of the track ready to pounce. Going into turn one, two slower cars on the high side got out of shape causing Williamson to get on the brakes and that allowed Sheppard to get away and drive straight to victory lane. Matt Williamson, Mike Mahaney, Billy Dunn, and Chad Phelps completed the top-five.
36th Annual Modified Outlaw 200 – (200 Laps): 1. 9S-Matt Sheppard[2]; 2. 88-Mat Williamson[5]; 3. 35-Mike Mahaney[1]; 4. 49-Billy Dunn[30]; 5. X-Chad Phelps[14]; 6. 99L-Larry Wight[11]; 7. 83X-Tim Sears Jr[33]; 8. 91-Billy Decker[38]; 9. 5H-Chris Hile[6]; 10. 38S-Ryan Susice[40]; 11. 9X-Tyler Trump[10]; 12. 7Z-Zachary Payne[28]; 13. 14J-Alan Johnson[15]; 14. 37S-Gary Lindberg[12]; 15. 02-Roy Bresnahan[13]; 16. 21C-Brian Calabrese[34]; 17. 20K-Kyle Inman[9]; 18. R70-Ryan Arbuthnot[31]; 19. 713-Tommy Collins[26]; 20. 37-Alex Tonkin[19]; 21. 31-Corey Barker[22]; 22. 6NN-Nick Nye[42]; 23. 12-Darren Smith[21]; 24. 91R-Felix Roy[35]; 25. 42-Colton Wilson[25]; 26. M1-David Marcuccilli[16]; 27. 32R-Ronald Davis III[18]; 28. 19-Tim Fuller[24]; 29. 3RS-Dalton Slack[3]; 30. 15-Todd Root[43]; 31. 8H-Max McLaughlin[7]; 32. Z4-JJ Courcy[41]; 33. 11T-Jeff Taylor[17]; 34. 01-Chris Raabe[8]; 35. 58M-Marshall Hurd[37]; 36. 29K-Chris Cunningham[44]; 37. 34-Andrew Ferguson[39]; 38. 63-Adam Roberts[23]; 39. 70A-Alex Payne[32]; 40. 01C-Bob Henry Jr[29]; 41. 24R-Garrett Rushlow[27]; 42. 4P-Anthony Perrego[20]; 43. 18$-Sean Beardsley[36]; 44. 98H-Jimmy Phelps[4]
A to Z Contracting & Phelps Cement Products Halfway Leader Bonus $1000: Mat Williamson
A to Z Contracting $250 to the top-finishing Fulton or Brewerton Track Regular
$300 Top Finishing Bicknell Car: Matt Sheppard
Hoosier Tire Hard Luck Award Winner: Gary Lindberg
Drum of VP Racing Fuel to The Hard Charger: Billy Decker
$799 Team Race Suit from Velocita to the first Non-Qualifier in the LCS: Rocky Warner
$299 Pair of Velocita Shoes to the last finishing car on the lead lap: Billy Decker
Jammer's Sports Bar & Restaurant Gift Cards to Saturday Heats $100 – 1st, $75 – 2nd, $50 – 3rd.
Heat 1 – Tyler Trump, Gary Lindberg, Roy Bresnahan
Heat 2 – Max McLaughlin, Kyle Inman, Chad Phelps
Heat 3 – Dalton Slack, Chris Raabe, Alan Johnson
Heat 4 – Mat Williamson, Chris Hile, Dave Marcuccilli
Heat 5 – Jimmy Phelps, Matt Sheppard, Jeff Taylor
Heat 6 – Larry Wight, Mike Mahaney, Ron Davis III
$200 Heat Race Winners from Modified Draw: Tyler Trump, Max McLaughlin, Dalton Slack, Mat Williamson, Jimmy Phelps, Larry Wight
Modified Heats 5 Qualify with Top Two to the Redraw.
Modified Heat # 1 - (12 Laps): 1. 9X-Tyler Trump[2]; 2. 37S-Gary Lindberg[4]; 3. 02-Roy Bresnahan[5]; 4. 37-Alex Tonkin[1]; 5. 42-Colton Wilson[9]; 6. 58M-Marshall Hurd[7]; 7. 11-Justin Crisafulli[11]; 8. 3K-AJ Kingsley[6]; 9. 01R-Robert Gage[8]; 10. 27Z-Dylan Zacharias[10]; 11. 38S-Ryan Susice[3]
Modified Heat # 2 - (12 Laps): 1. 8H-Max McLaughlin[1]; 2. 20K-Kyle Inman[2]; 3. X-Chad Phelps[6]; 4. 4P-Anthony Perrego[10]; 5. 713-Tommy Collins[5]; 6. 70A-Alex Payne[9]; 7. 91R-Felix Roy[11]; 8. 29K-Chris Cunningham[4]; 9. 74-Lucas Fuller[7]; 10. 15-Todd Root[8]; 11. (DNS) 51A-Zac McDonald
Modified Heat #3 - (12 Laps): 1. 3RS-Dalton Slack[5]; 2. 01-Chris Raabe[7]; 3. 14J-Alan Johnson[2]; 4. 12-Darren Smith[8]; 5. 24R-Garrett Rushlow[1]; 6. 18$-Sean Beardsley[6]; 7. 6NN-Nick Nye[9]; 8. 29-Matt Caprara[4]; 9. 3M-Michael Stanton[10]; 10. 23-Cameron Black[11]; 11. (DNS) 80X-Mike Button
Modified Heat # 4 – (12 Laps): 1. 6-Mat Williamson[6]; 2. 5H-Chris Hile[11]; 3. M1-David Marcuccilli[5]; 4. 31-Corey Barker[1]; 5. 7Z-Zachary Payne[8]; 6. R70-Ryan Arbuthnot[10]; 7. Z4-JJ Courcy[2]; 8. 21C-Brian Calabrese[3]; 9. 60-Jackson Gill[9]; 10. XN-Andy Noto[7]; 11. JS98-Rocky Warner[4]
Modified Heat # 5 – (12 Laps): 1. 98H-Jimmy Phelps[3]; 2. 9S-Matt Sheppard[10]; 3. 11T-Jeff Taylor[2]; 4. 63-Adam Roberts[4]; 5. 01C-Bob Henry Jr[11]; 6. 91-Billy Decker[5]; 7. 42M-Brian Murphy[1]; 8. 410-Mike Fowler[7]; 9. 4-Michelle Courcy[9]; 10. 28X-Stephen Marshall[8]; 11. 8K-Nick Krause[6]
Modified Heat # 6 – (12 Laps): 1. 99L-Larry Wight [1]; 2. 35-Mike Mahaney[8]; 3. 32R-Ronald Davis III[10]; 4. 19-Tim Fuller[4]; 5. 49-Billy Dunn[6]; 6. 83X-Tim Sears Jr[9]; 7. 34-Andrew Ferguson[3]; 8. 38-Tim Harris[2]; 9. 64-Tyler Corcoran[7]; 10. 38J-Jason Parkhurst[5]
Modified Consolations 3 Qualify
Modified Consolation # 1- (12 Laps): 1: 1. R70-Ryan Arbuthnot[2]; 2. 21C-Brian Calabrese[6]; 3. 58M-Marshall Hurd[1]; 4. Z4-JJ Courcy[4]; 5. 27Z-Dylan Zacharias[9]; 6. 38S-Ryan Susice[11]; 7. JS98-Rocky Warner[12]; 8. 01R-Robert Gage[7]; 9. 60-Jackson Gill[8]; 10. 3K-AJ Kingsley[5]; 11. 11-Justin Crisafulli[3]; 12. XN-Andy Noto[10]
Modified Consolation # 2 – (12 Laps): 1. 70A-Alex Payne[1]; 2. 91R-Felix Roy[3]; 3. 91-Billy Decker[2]; 4. 29K-Chris Cunningham[5]; 5. 15-Todd Root[9]; 6. 410-Mike Fowler[6]; 7. 51A-Zac McDonald[11]; 8. 4-Michelle Courcy[8]; 9. 42M-Brian Murphy[4]; 10. 8K-Nick Krause[12]; 11. 28X-Stephen Marshall[10]; 12. 74-Lucas Fuller[7]
Modified Consolation # 3 – (12 Laps): 1. 83X-Tim Sears Jr[2]; 2. 18$-Sean Beardsley[1]; 3. 34-Andrew Ferguson[4]; 4. 29-Matt Caprara[5]; 5. 6NN-Nick Nye[3]; 6. 3M-Michael Stanton[7]; 7. 38-Tim Harris[6]; 8. 23-Cameron Black[9]; 9. 38J-Jason Parkhurst[10]; 10. 64-Tyler Corcoran[8]; 11. 80X-Mike Button[11]
Last Chance Showdown – 2 Q (15 Laps): 1. Z4-JJ Courcy[1]; 2. 6NN-Nick Nye[6]; 3. JS98-Rocky Warner[9]; 4. 29-Matt Caprara[3]; 5. 29K-Chris Cunningham[2]; 6. 60-Jackson Gill[15]; 7. 51A-Zac McDonald[10]; 8. 15-Todd Root[5]; 9. 3M-Michael Stanton[8]; 10. 410-Mike Fowler[7]; 11. 4-Michelle Courcy[13]; 12. 38-Tim Harris[11]; 13. 27Z-Dylan Zacharias[4]; 14. 3K-AJ Kingsley[18]; 15. (DNS) 23-Cameron Black; 16. (DNS) 01R-Robert Gage; 17. (DNS) 42M-Brian Murphy; 18. (DNS) 38J-Jason Parkhurst; 19. (DNS) 28X-Stephen Marshall; 20. (DNS) XN-Andy Noto; 21. (DNS) 64-Tyler Corcoran; 22. (DNS) 8K-Nick Krause; 23. (DNS) 11-Justin Crisafulli; 24. (DNS) 74-Lucas Fuller; 25. (DNS) 80X-Mike Button
---
Submitted By: David Medler
Back to News