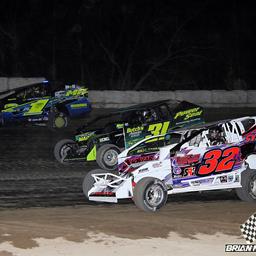 ---
Sponsors Build $1000-to-win Mirabito 4-Cylinder Outlaw Open This Friday, September 30 at The Fulton Speedway
BALDWINSVILLE, NY (September 27, 2022) – Four-cylinder racers have received a boost for the annual Fulton Speedway Outlaw 200 Weekend Open Championship this Friday, September 30. With over $2000 added to the track's base purse, 4-cylinder racers will have a lot to race for. Prizes and awards will total over $5000 for the 25-lap affair, with drivers from all over the Northeast expected.
Under local racer Donny Rider's leadership, more than $1200 was added to the base purse courtesy of the following:
Daucher Electric
Eric Rowley
Fritz Masonry
J Bogan Contracting, LLC
Jamie Radley
Jason Waters Tuning
JL Dickinson, LLC
Matt Kitts - Kitts Property Maintenance
Nicholas Hawthorne
Rider Racing
Roger Olschewske
Thomas E. Mackey Sr. Mackdaddy
Valade Racing
Wally Van Epps
Additionally, Rider organized several special awards including:
$50 to third place finisher courtesy of Ricky Breed and Iona Corners tavern
$150 to the Hard Charger from Matt Kitts and Kitts Property Maintenance
$150 to the first Honda from Kleis Equipment
$100 to the first car on Dot Tires from Bogan Construction
$150 to the first Chevy from Bogan Construction
$100 to the driver with the longest haul
$70 to the oldest car award from David Chapman - Monroe Muffler of No. Syracuse
For all rules, entry information and all things Outlaw Weekend click the Outlaw 200 link on www.fultonspeedway.com.
The wait is over with camping opening tomorrow, Wednesday, September 28 to kick off the party and festival of speed for the 36 Annual Outlaw 200 Weekend.
Wednesday, September 28
Camping lot opens for the weekend: 5:00 pm
No Pre-Sale Camping Permits. Camping Lots Assigned Upon Arrival. $75 for the weekend
Thursday, September 29
Early Hauler Parking: 5:00 pm – 7:00 pm
Friday, September 30
• $1200-to-win DIRTcar Pro Stock Series (30 Laps)
• $500-to-winAmeriCU Credit Union IMCA STARS East Coast Nationals Mod Lite Championship (25 Laps)
• $1000-to-win Mirabito Four-Cylinder Open (25 Laps)
• $500-to-win Billy Whittaker Cars & Trux Hobby Stock Showdown (25-Laps)
• E & V Energy Novice Sportsman Championship (20 Laps)
• 15-Lap Modified Qualifiers (Winners Earn 17th – 20th Place Starting Spots in Outlaw 200)
• Industrial Tire of CNY Sportsman Shootout DIRTcar Series Heats (8-Laps) Consolations (10-Laps)
Early Hauler Parking: 9:00 am – 1:30 pm
Ticket Sales/Will Call: 12:00 pm – 3:00 pm
Pit Gate Opens: 2:00 pm
Grandstands Open: 4:30 pm
Hot Laps: 5:00 pm
Heat Races Begin: 6:30 pm
Adult GA - $30
Ages 6-18 GA - $10
Reserved - $35
Pits - $40
Saturday, October 1
• 36th Annual $20,000-to-win Outlaw 200 for Modifieds
• Last Chance Qualifiers & 50-Lap Industrial Tire of CNY DIRTcar Sportsman Series Shootout
Pit Gates Open: 1:00 pm
Grandstands Open: 2:00 pm
Heat Races Begin: 5:00 pm
Industrial Tire of CNY Sportsman Championship: Approx. 8:00 pm
36th Annual Modified Outlaw 200: Approx. 8:30 pm
Adult GA - $40
Ages 6-18 GA - $15
Reserved - $45
Pits - $50
---
Submitted By: David Medler
Back to News