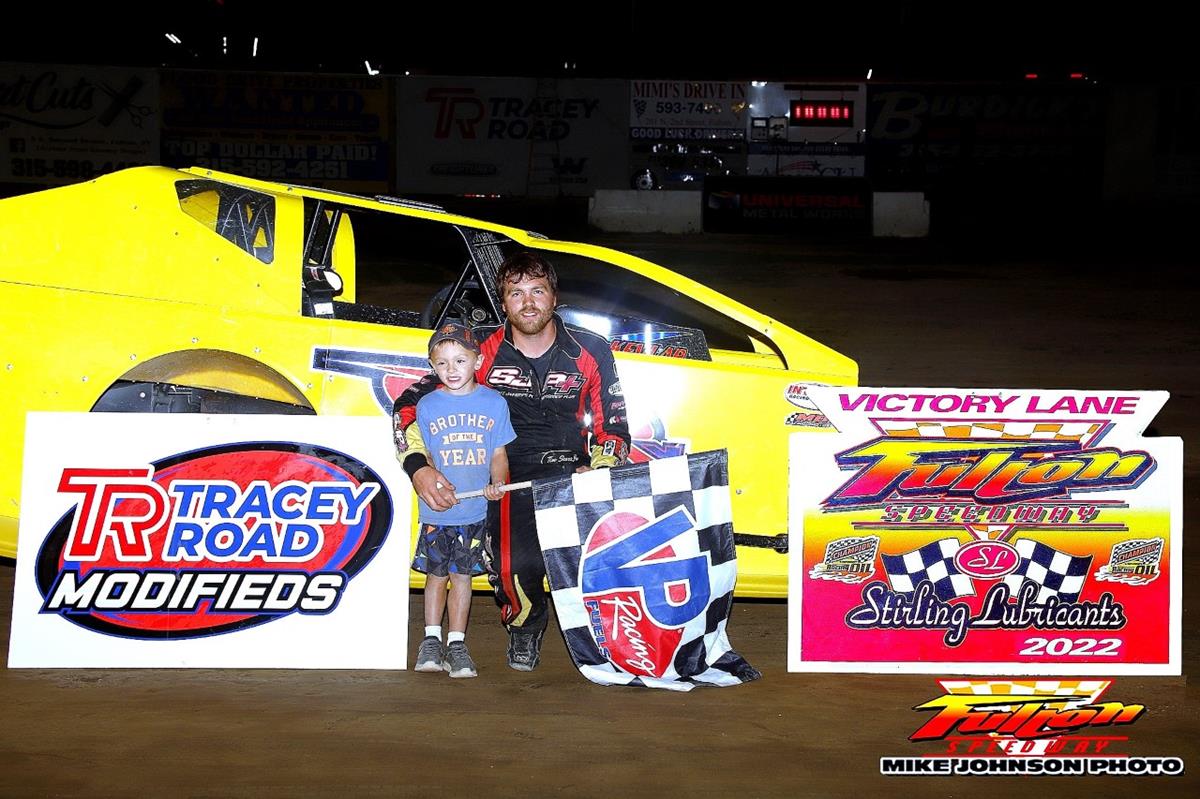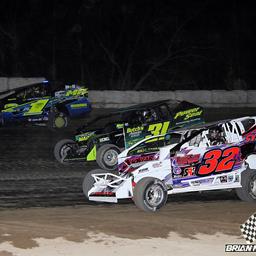 ---
Tim Sears Jr. Makes Late Race Charge for Seventh Fulton Speedway Modified Win
By Dave Medler
FULTON, NY – (August 13, 2022) – Tim Sears Jr. won his seventh Tracey Road DIRTcar Modified feature of the year Saturday night at the Fulton Speedway, but the win did not come easy.
In the 35-Lap Modified feature Sears would first run-down race leader Marshall Hurd that set up a lap after lap tight battle for the lead with the difference in the race being heavy traffic. On lap thirty-three Sears took advantage when Hurd had to change his lane, he was running all race long to get by the slower cars and that allowed Sears to make the winning pass and drive to victory lane.
Other winners on Ferris Mowers night were, Joe Kline & Quinn Wallis (DOT Foods DIRTcar Sportsman) Ron Hawker (Billy Whittaker Cars & Trux Hobby Stocks) Matthew Backus & Brianna Murtaugh (E&V Energy Novice Sportsman).
In the 35-Lap Modified feature Bob Henry Jr. would drive from his front row starting stop to almost a half a straightaway lead until a lap six yellow when Marshall Hurd would drive into the top spot on the restart.
With fifteen laps complete Hurd drove out to a straightaway lead as he was on rails on the topside of the speedway. Sears had moved into second at that point from his thirteenth starting spot as Henry, Dave Marcuccilli, and Ron Davis III were in a tight fight for third through fifth.
On lap twenty Hurd was still out front but Sears ran down and erased Hurd's big lead and was on his back bumper. Henry, Marcuccilli, and Davis were still in the top-five.
With ten laps to go Hurd and Sears still had the fans on the edge of their seats as they battled side by side lap after lap with heavy traffic starting to become involved. Davis moved into third with Henry and Marcuccilli still fighting for a top-five finish.
With two laps to go Hurd had to change the fast lane up top he used all race long to get by back markers. Sears took advantage and was able to drive into the lead just before a yellow.
Tim Sears Jr. got a great restart and drove away for his seventh victory of the season. Ron Davis III, Marshall Hurd, and Bob Henry Jr. completed the top-five.
The first 25-Lap Sportsman feature saw Austin Cooper lead until lap six when Joe Kline took over the top spot just before a yellow slowed the pace. When the race went back green Brett Sears drove into the lead.
With ten laps showing on the scoring tower Sears and Kline were battling for the lead in a two-car breakaway. Dorian Wahdan, Buddy Leathley, Andrew Buff, and Amy Holland raced in the top-five.
Kline would retake the lead on lap eleven and it was still Kline and Sears way out front with Buff coming quick to the lead duo with Leathley, and Holland still in the top-five.
A yellow on lap nineteen would set up a shootout to the finish.
Joe Kline and Andrew Buff put on show with Kline on the bottom and Buff on the topside. The race came down to a drag race out of turn four that had the fans on their feet with Kline winning by a half a bumper or 0.019 of a second at the checkers. Brett Sears, Kyle Devendorf, and Wade Chrisman was impressive coming from the back of the field to finish fifth.
Brett Draper would lead the opening lap of the second 25-Lap Sportsman with Tim Gareau taking the lead one lap later.
Gareau would still be out-front on lap five with Cody Manitta, Teddy Clayton, Draper, and Quinn Wallis right there at the front of the field.
After hounding Gareau's back bumper, Manitta was able to drive into the lead on lap nine and quickly open distance between himself and the rest of the top-five.
With ten laps to go Manitta still led as Wallis had his sights set on the leader quickly closing in. Clayton, Jason Parkhurst Jr., and Gareau were in the top-five as the final laps started clicking off.
With five laps to go Wallis was on Manitta's back bumper, then on lap twenty-two Wallis went to the top and drove into the lead and the win. Cody Manitta, Jason Parkhurst Jr., Colby Herzog, and Teddy Clayton completed the top-five.
The Hobby Stocks once again put on an entertaining 20-Lap feature. Ron Hawker picked up the win, the entire race he had to hold off challenges from Jim Evans and Bob Buono who finished second and third. Brandon Barron, and Edward Stevens finished fourth and fifth.
The completion of the August 6th Novice feature saw Matthew Backus pick up his second win of the season. Brianna Murtaugh, Josh Hughto, Mikey Wight, and Danny Allen completed the top-five.
Brianna Murtaugh has been knocking on the door all season in the E&V Energy Novice Sportsman. In the August 13 – 15-Lap feature Murtaugh stopped knocking on the door and kicked it wide open as she won her first ever feature in the division. Matthew Backus, Danny Allen, Josh Hughto, and Rick Kinney finished second through fifth.
Next event: Wednesday, August 17 – SummerFAST Super DIRTcar Series plus the DIRTcar Sportsman Series Central Region. No Track Points.
Wednesday, August 17
Modified Super DIRTcar Series SummerFAST
AmeriCU Credit Union Mod Lites
Early Pit Parking - Noon
Clear Pits - 3:35 pm
Pits Open - 4:00 pm
Hot Laps - 6:00 pm
Racing - 7:00 pm
Reserved - $35
GA - $30
Child (6-16) - $10
Kids 5 and Younger - FREE
Pits - $40
Saturday, August 20: Ingles Performance & Regional Truck & Trailer Night.
Tracey Road Equipment Big Block Modifieds. DOT Foods DIRTcar Sportsman. Billy Whittaker Cars & Trux Hobby Stocks. E&V Energy Novice Sportsman.
Adult G/A - $15.00, 18 years & Under – Free. Pits (All Ages) $35. Pits Open – 4:30 pm. Grandstands – 5:30 pm. Hot Laps – 6:00 pm. Racing Starts – 7:00 pm.
Ferris Mowers Night August 13 Results
Tracey Road DIRTcar Modifieds – (35 Laps): : 1. 83X-Tim Sears Jr[13]; 2. 32R-Ronald Davis III[16]; 3. 58M-Marshall Hurd[12]; 4. M1-David Marcuccilli[14]; 5. 21-Bob Henry Jr[2]; 6. 79-Jeff Prentice[3]; 7. 34-Andrew Ferguson[11]; 8. 15-Todd Root[9]; 9. 713-Tommy Collins[10]; 10. 329-Matt Becker[4]; 11. 31-Corey Barker[5]; 12. 29K-Chris Cunningham[6]; 13. 18$-Sean Beardsley[19]; 14. 24K-Nick Krause[18]; 15. 42M-Brian Murphy[15]; 16. 10R-Ryan Richardson[7]; 17. 42-Colton Wilson[8]; 18. 3M-Michael Stanton[17]; 19. 3K-AJ Kingsley[1]; 20. 13-Teddy Starr[21]; 21. 16-Aaron Jacobs[20]; 22. 38-Tim Harris[22]
DOT Foods DIRTcar Sportsman #1 – (25 Laps): 1. 19J-Joe Kline[5]; 2. 92-Andrew Buff[9]; 3. 83X-Brett Sears[7]; 4. 5D-Kyle Devendorf[10]; 5. 00W-Wade Chrisman[18]; 6. 3-Chris Mackey[6]; 7. 06W-Dorian Wahdan[4]; 8. 5-Amy Holland[8]; 9. 77L-Buddy Leathley[3]; 10. 4-Emmett Waldron[13]; 11. 19G-Bailey Groves[11]; 12. 28X-Stephen Marshall[17]; 13. 29B-Jason Breezee[2]; 14. 21-Billy Sauve[15]; 15. 77-Edward Lukas[14]; 16. 0-Tony Finch II[12]; 17. 48-Kearra Backus[16]; 18. 11C-Austin Cooper[1]
DOT Foods DIRTcar Sportsman #2 – (25 Laps): 1. 21W-Quinn Wallis[9]; 2. 6-Cody Manitta[6]; 3. 38JR-Jason Parkhurst Jr[5]; 4. 19C-Colby Herzog[3]; 5. 63-Teddy Clayton Jr[4]; 6. 5G-Tim Gareau[1]; 7. 14AJ-AJ Miller[8]; 8. 9D-Brett Draper[2]; 9. 57-Remington Hamm[15]; 10. 51X-David Moyer[11]; 11. 31B-Ryan Dolbear[18]; 12. 33-Richard Murtaugh[13]; 13. 13-James Donaldson[16]; 14. 15J-Jake Davis[12]; 15. 51-Jimmy Moyer[14]; 16. 19K-Kevan Cook[10]; 17. 77J-Justin Breezee[17]; 18. 33JR-Clayton Brewer III[7]
NAPA Know How Chase Elliott Award: Buddy Leathley, Remington Hamm.
Billy Whittaker Cars & Trux Hobby Stocks – (20 Laps): 1. 14JR-Ronald Hawker[3]; 2. 74X-Jim Evans[6]; 3. 64-Bob Buono[4]; 4. 28-Brandon Barron[8]; 5. 56-Edward Stevens[9]; 6. 182-Shawn Hurd[2]; 7. 29K-Casey Cunningham[5]; 8. 14-Brennan Fitzgibbons[1]; 9. 711P-John Pietrowicz[7]; 10. (DNS) 22-Todd Koegel; 11. (DNS) 21S-Abagail Schirm
E&V Energy Novice Sportsman - August 13 – (15 Laps): 1. 33B-Brianna Murtaugh[1]; 2. 52M-Matthew Backus[5]; 3. 17A-Danny Allen[4]; 4. 8-Joshua Hughto[2]; 5. 24R-Rick Kinney[3]; 6. (DNS) 7W-Michael Wight; 7. (DNS) 72-Hunter Hollenbeck
E&V Energy Novice Sportsman – August 6 – (15 Laps): 1. 52-Matthew Backus: 2. 33-Brianna Murtaugh: 3. 8-Josh Hughto:4. 7W- Mikey Wight: 5. 17a- Danny Allen: 6. 72- Hunter Hollenbeck: 7. 57h- Kevin Beverine.
---
Submitted By: David Medler
Back to News