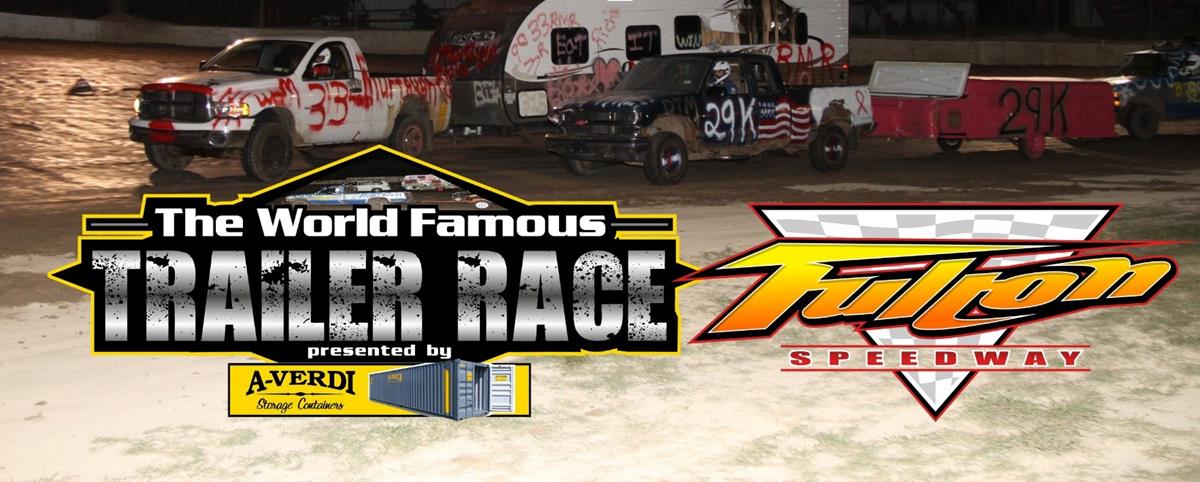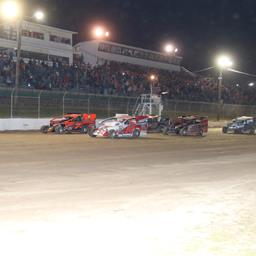 ---
Fulton Speedway Set for Racing and Trailer Race of Destruction Saturday, June 18
FULTON, NY – (June 15, 2022) – One of the most popular nights on the racing calendar with fans is when you combine racing excitement and then the chaos of collisions and crunching metal. That is exactly what is going to happen this Saturday, June 18 when A-Verdi Storage Containers presents racing plus the World-Famous Trailer Race of Destruction.
Racing will feature the Tracey Road Equipment DIRTcar Modifieds. DOT Foods DIRTcar Sportsman. Billy Whittaker Cars & Trux Hobby Stocks. E&V Energy Novice Sportsman.
Hobby Stocks & Novice Sportsman will be racing features only, with extended laps over their normal Saturday feature.
Tim Sears Jr. Modified Bounty continues at $600. In order for a driver to collect the bounty Sears must finish on the lead lap and not be a DNF.
After the racing, get ready for the Trailer Race of Destruction. They use the entire speedway for chaos and mayhem to destroy their opponents to be the last one standing with at least part of their trailer still attached to their vehicle to collect the $1,000-to-win plus purse payouts for second and third.
Adult G/A is $20.00, 18 years and younger are free. Pits (All Ages) $35. Pits will open at 4:00 pm. Grandstands 5:00 pm. Hot Laps 5:50 pm. Racing starting at 6:45 pm.
Top-Five Division Point Standings:
Modifieds: 1. 83x- Tim Sears Jr. (330); 2. M1- Dave Marcuccilli (316); 3. 32R- Ron Davis III (300); 4. 58- Marshall Hurd (272); 5. 31- Corey Barker (259).
Sportsman: 1. 3- Chris Mackey (322); 2. 92- Andrew Buff (295); 3. 6- Cody Mannitta (294); 4. 44- David Rogers (280); 5. 5H- Amy Holland (277).
Hobby Stocks: 1. 14Jr.- Ron Hawker (310); 2. 64- Bob Buono (298); 3. 29K- Casey Cunningham (290); 4. 14- Brennan Fitzgibbons (284); 5. 28- Brandon Barron (268).
The speedway would like to thank marketing partner and event sponsor A-Verdi Storage Containers that is locally owned by the Verdi family in Savannah, NY.
Storage & Office Solutions… Delivered:
With a combination of local products & people, A-Verdi Storage Containers can provide you with temporary storage or office space tailored special for you. Whether short term or long term, they will make sure you have the right layout to get the job done. All of their team members work extremely hard to ensure your storage or office container rental will be an extraordinary experience from beginning to end. Their full-service leasing options will include installation & removal from your site while giving you a professional storage or office space for any environment.
If it's Commercial, Industrial, Construction, Retail, Government, Education, residential or special events, A-Verdi can satisfy your container needs. Whether you are renovating, waiting to build, suffering seasonal inventory overload or just need extra space for furnishings, fixtures, equipment, packaging, supplies, files or office containers, A-Verdi Storage Containers offers commercial strength solutions to your storage problems.
With facilities throughout New York, they can deliver a dry, secure, ground level storage container to your job site, business, or home. Their products serve as temporary storage space, field/site offices or added warehouse space. All their storage solutions are secure, & can be used for commercial, residential, industrial or any business storage space need. Their company owned trucks operated by trained delivery specialist are taken to your location anywhere in New York, including Upstate New York, Western New York, Central New York, Northern New York, Southern Tier New York. To see everything they have to offer, please visit www.averdi.com or call 800-248-3734. As always, remember to support those who support racing.
Any questions you might have and for marketing opportunities, contact Cory Reed at (315) 593-6531 or cory@fultonspeedway.com. For all the latest news, go to www.fultonspeedway.com powered by My Race Pass and like the speedway social media pages.
---
Submitted By: David Medler
Back to News