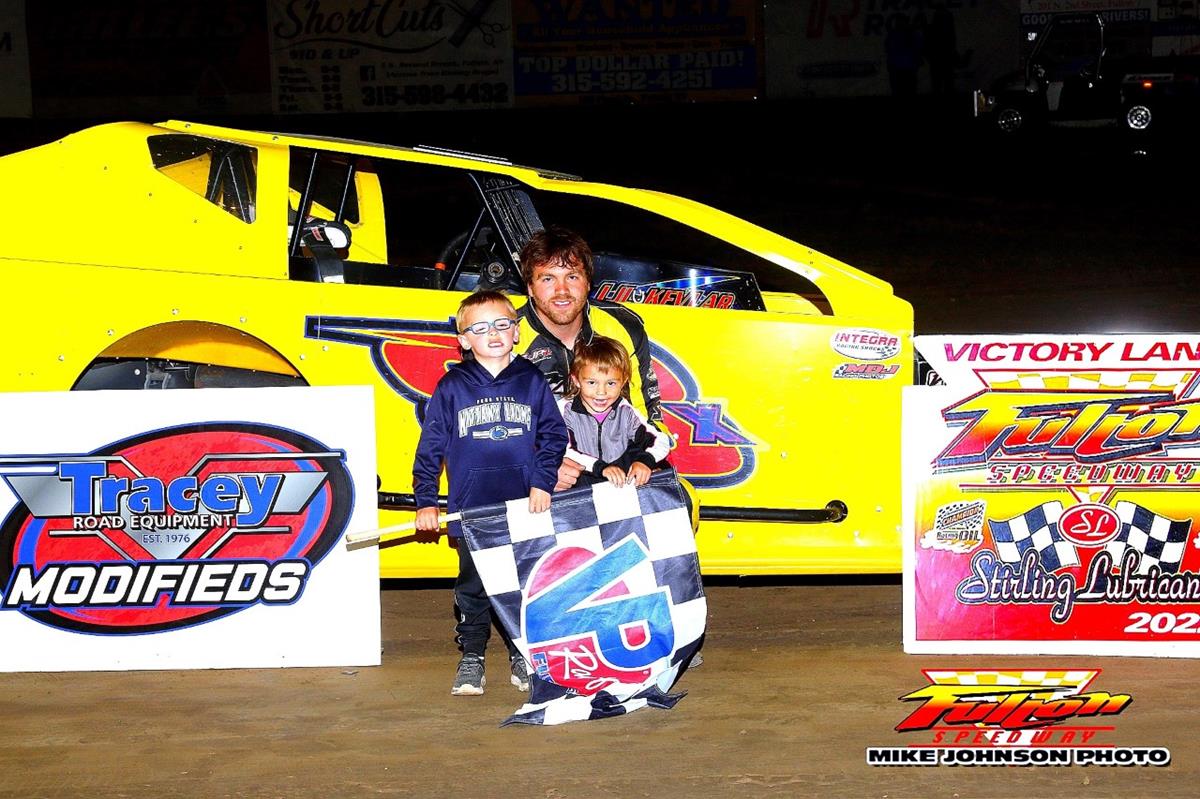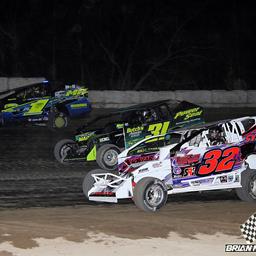 ---
Tim Sears Jr. Fulton Speedway Modified Win Steak Now at Four
FULTON, NY – (May 28, 2022) – Saturday night at the Fulton Speedway, Tim Sears Jr. took advantage of a late race caution and restart to drive by race-long leader Andrew Ferguson for his fourth straight Tracey Road Equipment DIRTcar Modified feature win.
Other winners on Monroe Mechanical night were, Chris Mackey & Andrew Buff (DOT Foods DIRTcar Sportsman) Ron Hawker (Billy Whittaker Cars & Trux Hobby Stocks) Jason Parkhurst Jr. (E&V Energy Novice Sportsman) Paulie Colagiovanni (Empire Super Sprints).
Sean Beardsley and Andrew Ferguson paced the Modified field to the green with Ferguson grabbing the early lead in the 35-Lap feature and would build a half a straightaway lead by lap five with Jeff Taylor, Corey Barker, Beardsley, and Colton Wilson showing in the top-five.
Ferguson would lengthen his lead to a full straightaway on lap ten. Taylor ran alone in second with Barker, Beardsley, and Dave Marcuccilli, who started eleventh, battling for second through fifth.
With fifteen laps showing on the scoring tower, Ferguson was still on cruise control out front while Taylor, Marcuccilli, Beardsley, and Barker battled each other while looking for a way to close on Ferguson.
When the scoring tower showed ten laps to go and no yellows to slow the pace, Ferguson was still rolling at the front as Taylor and Marcuccilli raced side by side for second with Tim Sears Jr. from the fifteenth starting spot, and Barker battled for top finishes.
The whole complexion of the race would change on lap thirty-two when the caution lights came on, erasing Ferguson's lead and would put Sears on his back bumper for the restart.
When the green came back out, Tim Sears Jr. was able to drive under Andrew Ferguson exiting turn four the following lap and then went on to park it in victory lane to extend his win streak to four. Andrew Ferguson, Dave Marcuccilli, Jeff Taylor, and Jeff Prentice completed the top-five.
Forty-one Sportsman signed into the pits, with only one caution slowing the racing in a pair of 25-Lap feature races.
In the first 25-Lap feature, Remington Hamm would take advantage of a front row starting spot and would open a big three-second lead by the time the lap counter read ten laps. Brett Draper, Teddy Clayton, Chris Mackey, and Jake Davis showed on the scoring tower in second through fifth.
With ten laps to go Hamm still led but Mackey who ran second started chipping away at Hamm's lead as the question was did Mackey have enough time to catch the leader?
Between Mackey's speed and lapped traffic, that combination would let Mackey get to Hamm's back bumper coming to the white flag. Exiting turn two, Mackey was able to drive by Hamm on the high side and go on to the popular win. Remington Hamm, Brett Draper, Jake Davis, and Teddy Clayton finished second through fifth.
The second 25-Lap Sportsman feature saw Josh Amodio lead the opening two laps before Wade Chrisman took over the lead while the racing behind them was two and three-wide throughout the field.
Joe Kline, who started the feature in position eight, would drive into the top spot getting by Chrisman on lap nine exiting turn four.
The only caution of the race was on lap fourteen that would see Kline's two-second lead evaporate, tightening up the field for a dash to the finish.
With ten laps to go, Kline, Chrisman, points leader Andrew Buff who started in fourteenth, and Amy Holland raced in a tight pack at the front of the field.
Andrew Buff would go to the topside of the speedway to drive into the lead on lap seventeen. Once out front, he cruised to victory. Joe Kline, Amy Holland, Cody Manitta, and Josh Amodio completed the top-five.
The Hobby Stocks once again put on a show in their 20-Lap feature, with the winner in doubt until the checkers waved. You could have thrown a blanket over the top-three at the finish line, with Ron Hawker picking up the narrow win over Ron Marsden, and Casey Cunningham. Jim Evans, and Russ Marsden completed the top-five.
The 15-Lap E&V Energy Novice Sportsman feature saw Brianna Murtaugh, Austin Cooper, and Josh Fellows all lead laps. Jason Parkhurst Jr. made a late race charge, taking the lead on the final lap from Josh Fellows for his third straight feature win.
Paulie Colagiovanni would take advantage of a front row starting spot and would lead every lap of the 25-Lap Lucas Oil Empire Super Sprints feature. Late in the race Colagiovanni would have to negotiate heavy lapped traffic and hold off a fast-closing Jordan Poirier for the win. Three-time 2022 feature winner Danny Varin would finish third, with Jason Barney and Davie Franek completing the top-five.
This coming Saturday, June 4 Syracuse Haulers and Burdick Ford will present the fastest, family affordable fun entertainment in Central New York.
Exciting racing on the 'Highbanks' will feature the Tracey Road Equipment DIRTcar Modifieds, DOT Foods DIRTcar Sportsman, Billy Whittaker Cars & Trux Hobby Stocks, and the E&V Energy Novice Sportsman.
Adult G/A is $15.00, 18 years old and younger are free. Pits (All Ages) is $35. Pits open at 4:00 pm. Grandstands 5:00 pm. Hot laps at 6:00 pm, with racing starting at 7:00 pm.
Any questions you have and for marketing opportunities contact Cory Reed at (315) 593-6531 or cory@fultonspeedway.com. For all the latest news, go to www.fultonspeedway.com powered by My Race Pass and like the speedway social media.
Monroe Mechanical Inc. May 28 Results.
Tracey Road Equipment DIRTcar Modifieds – (35 Laps): 1. 83X-Tim Sears Jr[15]; 2. 34-Andrew Ferguson[2]; 3. M1-David Marcuccilli[11]; 4. 11T-Jeff Taylor[6]; 5. 79-Jeff Prentice[5]; 6. 31-Corey Barker[8]; 7. 58M-Marshall Hurd[9]; 8. 713-Tommy Collins[12]; 9. 32R-Ronald Davis III[13]; 10. 18$-Sean Beardsley[1]; 11. 3M-Michael Stanton[17]; 12. 42-Colton Wilson[3]; 13. 20K-Kyle Inman[14]; 14. 160-Max Hill[10]; 15. 10R-Ryan Richardson[4]; 16. 29K-Chris Cunningham[18]; 17. 24K-Nick Krause[20]; 18. 12-Ryan Macartney[19]; 19. 66W-Derek Webb[16]; 20. 329-Matt Becker[23]; 21. 11-Justin Crisafulli[7]; 22. B2-Bob Henry Jr[21]; 23. (DNS) 73-Mike Cousins
DOT Foods DIRTcar Sportsman #1 – (25 Laps): 1. 3-Chris Mackey[12]; 2. 57-Remington Hamm[2]; 3. 9D-Brett Draper[1]; 4. 15J-Jake Davis[5]; 5. 63-Teddy Clayton Jr[4]; 6. 33X-Matt Janczuk[15]; 7. 33-Richard Murtaugh[8]; 8. 44-David Rogers[10]; 9. 14AJ-AJ Miller[6]; 10. 28-Alan Fink[16]; 11. 4-Emmett Waldron[9]; 12. 01R-Robert Gage[3]; 13. 28X-Stephen Marshall[14]; 14. JVS1-Jim Spano[17]; 15. 21-Billy Sauve[19]; 16. 16X-Savannah Laflair[18]; 17. 5G-Tim Gareau[20]; 18-Germinio.A 19-Dolbear. R 20-Buff. Z
DOT Foods DIRTcar Sportsman #2 – (25 Laps): 1. 92-Andrew Buff[14]; 2. 19J-Joe Kline[8]; 3. 5-Amy Holland[9]; 4. 6-Cody Manitta[12]; 5. 2K-Joshua Amodio[2]; 6. 00W-Wade Chrisman[6]; 7. 19C-Brandon Carvey[21]; 8. 5D-Kyle Devendorf[7]; 9. 42B-Justin Buff[15]; 10. 33JR-Clayton Brewer III[3]; 11. 21W-Quinn Wallis[5]; 12. 57H-Rocky Grosso[17]; 13. 13-James Donaldson[20]; 14. 51X-Jimmy Moyer[16]; 15. 28J-Joseph Buonagurio[13]; 16. 48-Kearra Backus[4]; 17. 77L-Buddy Leathley[10]; 18. 13K-Scott Kline[18]; 19. 28K-Kyle Swart[19]; 20. 83X-Brett Sears[11]; 21. 19K-Kevan Cook[1]
NAPA Know How Chase Elliott Award: AJ Miller, Justin Buff.
Billy Whittaker Cars & Trux Hobby Stocks – (20 Laps): 1. 14JR-Ronald Hawker[2]; 2. 711-Ron Marsden[5]; 3. 29K-Casey Cunningham[6]; 4. 74X-Jim Evans[7]; 5. 14J-Russ Marsden[8]; 6. 13-Adam Hunt[10]; 7. 14-Brennan Fitzgibbons[9]; 8. 56-Edward Stevens[4]; 9. 28-Brandon Barron[3]; 10. 22-Todd Koegel[11]; 11. 64-Bob Buono[1]
E&V Energy Novice Sportsman – (15 Laps): 1. 38JR-Jason Parkhurst Jr[6]; 2. 39S-Josh Fellows[8]; 3. 11C-Austin Cooper[1]; 4. 76G-Skylar Greenfield[5]; 5. 33B-Brianna Murtaugh[3]; 6. 77J-Justin Breezee[4]; 7. 05-Jesse Morgan[9]; 8. 29K-Rick Kinney[10]; 9. 44T-Steven Tabor[11]; 10. 17A-Danny Allen[2]; 11. 7W-Michael Wight[7]
Lucas Oil Empire Super Sprints – (25 Laps): Paulie Colagiovanni, Jordan Poirier, Danny Varin, Jason Barney, Davie Franek, Shawn Donath, Chuck Hebing, Dalton Rombough, Joe Trenca, Matt Tanner, Dylan Swiernik, Brett Wright, Tommy Wickham, Kelly Hebing, Sam Reakes IV, Liam Martin, Steve Glover, Jeff Cook, Tyler Cartier, Jonathan Preston, Keith Granholm, Matt Farnham, Chase Moran, Lacey Hanson, Jeff Trombley, Mikey Kruchka.
---
Submitted By: David Medler
Back to News