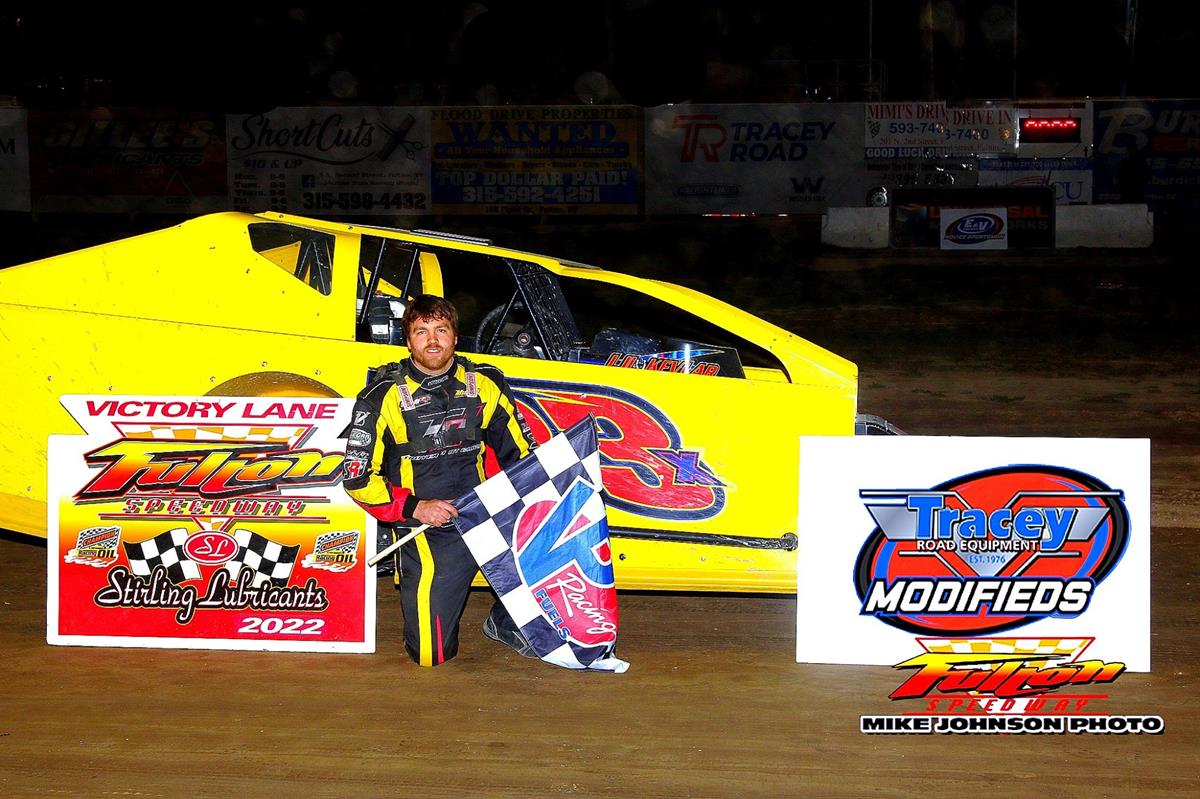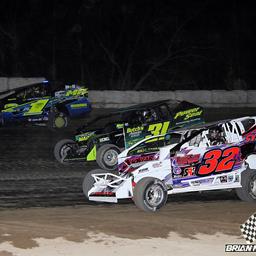 ---
Tim Sears Jr. Wins Fulton Speedway Modified Points Opener Saturday Night
FULTON, NY – (May 7, 2022) – Saturday night at the Fulton Speedway it was race number one for weekly battles for wins, top finishes, and ultimately drivers trying to put their name in the record book as a track champion at seasons end.
Winners on Compass Credit Union night were, Tim Sears Jr. (Modifieds). Andrew Buff (Sportsman). James Donaldson (Novice Sportsman) Casey Cunningham (Hobby Stocks).
Defending track champion Ron Davis III blasted from his front row starting spot to set the early pace in the 35-Lap Tracey Road Equipment DIRTcar Modified feature while behind him the racing was two and three-wide.
By lap five Davis and Tim Sears Jr. were in a two-car breakaway battle for the top spot with Jeff Taylor, Corey Barker, and Todd Root showed in the top-five.
With ten laps showing on the scoring tower, Davis still led with Sears right in his tire tracks. Taylor, Barker, and Root were still locked in a close three-way battle for third through fifth.
Davis and Sears would put on a slugfest race for the lead in and out of heavy traffic with the winning move made on lap seventeen. Sears was able to use a back-marker as a pick trapping Davis behind the car as he blasted by to be scored the new leader.
The yellow flag would wave on lap 21 erasing Sears 2.6 lead giving the rest of the field a final shot to steal the away the win as the final laps started to click off the lap counter.
Over those final laps and no yellows nobody seriously challenged Tim Sears Jr. the rest of the way grabbing the popular victory with fans. Ron Davis III, Corey Barker, Todd Root, and Dave Marcuccilli completed the top-five.
The caution free 25-Lap DOT Foods DIRTcar Sportsman feature would see Austin Germino and Andrew Buff jump out to the top-two positions early setting a quick pace at the front of the field.
Germinio and Andrew Buff would run side by side for a number of laps with neither gaining much of advantage until Buff made the winning pass on lap eleven. Once out front there was no stopping Buff as he cruised to checkers. Emmett Waldron who ran with the leaders all race finished second. Amy Holland, Austin Germinio, and Teddy Clayton finished second through fifth.
Josh Fellows would lead the opening three laps of the E&V Energy Novice feature when the yellow would wave slowing the pace. James Donaldson took advantage of the caution and would take the lead on the restart. Once out-front Donaldson put on a clinic winning by six seconds at the checkers. Josh Fellows. Brianna Murtaugh, Justin Liechti, and Danny Allen finished second through fifth.
Casey Cunningham won his second straight 20-Lap Billy Whittaker Cars & Trux Hobby Stock feature in convincing fashion. Adam Hunt, Ron Hawker, and Dan Marsden completed the top-five.
This coming Saturday night May 14th Oswego County Today presents one of the annual fan favorites with Racing and Demolition Derbies.
Racing will feature the Tracey Road Equipment DIRTcar Modifieds, DOT Foods DIRTcar Sportsman, E&V Energy Novice Sportsman, and the Billy Whittaker Cars & Trux Hobby Stocks.
After the racing it will be the sights and sounds of crunching metal and chaos with a pair Kings 'Smash 'Em Demo Derbies featuring a $1000-to-win Small Car Derby and a $750 to-win Junk Run.
Adult G/A is $15. 18 years and under is Free. Pits (All Ages) $35. Pits will open at 4:00 pm. Grandstands 5:00 pm. Hot Laps 6:00 pm. Racing 7:00 pm.
Any questions you might have and for marketing opportunities contact Cory Reed at (315) 593-6531 or cory@fultonspeedway.com. For all the latest new visit www.fultonspeedway.com and like the speedway Social Media pages.
Compass Federal Credit Union May 7 Results
Tracey Road Equipment DIRTcar Modifieds – (35 Laps): 1. 83X-Tim Sears Jr[4]; 2. 32R-Ronald Davis III[2]; 3. 31-Corey Barker[3]; 4. 15-Todd Root[6]; 5. M1-David Marcuccilli[9]; 6. 58M-Marshall Hurd[14]; 7. 11T-Jeff Taylor[1]; 8. B2-Bob Henry Jr[7]; 9. 34-Andrew Ferguson[15]; 10. 3K-AJ Kingsley[18]; 11. 79-Jeff Prentice[16]; 12. 38J-Jarrett Herbison[19]; 13. 7G-Brad Godshalk[17]; 14. 42-Colton Wilson[11]; 15. 160-Max Hill[5]; 16. 18$-Sean Beardsley[20]; 17. 10R-Ryan Richardson[13]; 18. 11-Justin Crisafulli[12]; 19. 24K-Nick Krause[8]; 20. 27Z-Dylan Zacharias[10]; 21. 17A-Chris Cunningham[22]; 22. (DNS) 49-Billy Dunn
DOT Foods DIRTcar Sportsman #1 – (25 Laps): 1. 92-Andrew Buff[3]; 2. 4-Emmett Waldron[8]; 3. 5-Amy Holland[9]; 4. 10G-Austin Germinio[1]; 5. 63-Teddy Clayton Jr[7]; 6. 3-Chris Mackey[12]; 7. 21W-Quinn Wallis[11]; 8. 14AJ-AJ Miller[17]; 9. 9D-Brett Draper[2]; 10. 6-Cody Manitta[16]; 11. 57-Remington Hamm[18]; 12. 44-David Rogers[20]; 13. 33-Richard Murtaugh[15]; 14. 1X-Willy Decker[14]; 15. 15J-Jake Davis[22]; 16. 5D-Kyle Devendorf[13]; 17. 19J-Joe Kline[23]; 18. 2K-Joshua Amodio[24]; 19. 00W-Wade Chrisman[21]; 20. 48-Kearra Backus[29]; 21. 33JR-Clayton Brewer III[25]; 22. 21-Billy Sauve[27]; 23. 19K-Kevan Cook[30]; 24. 13K-Scott Kline[28]; 25. 83X-Brett Sears[5]; 26. 06W-Dorian Wahdan[19]; 27. 01R-Robert Gage[10]; 28. R1-Riley Rogala[26]; 29. 31B-Ryan Dolbear[6]; 30. 19C-Brandon Carvey[4]
DOT Foods DIRTcar Sportsman B-Main– (15 Laps): : 1. 00W-Wade Chrisman[4]; 2. 15J-Jake Davis[2]; 3. 19J-Joe Kline[13]; 4. 2K-Joshua Amodio[5]; 5. 33JR-Clayton Brewer III[6]; 6. R1-Riley Rogala[3]; 7. 21-Billy Sauve[7]; 8. 13K-Scott Kline[8]; 9. 48-Kearra Backus[9]; 10. 19K-Kevan Cook[1]; 11. (DNS) AONE-Bucky Hayes; 12. (DNS) 5G-Tim Gareau; 13. (DNS) 13-Ted Starr; 14. (DNS) 02-Brandon Chretien.
13th Hour Rising Haunted Hayride $50 Heat Race Winners Bonus: Austin Germinio, Brett Draper, Andrew Buff, Brandon Carvey.
E&V Energy Novice Sportsman – (15 Laps): 1. 13-James Donaldson[5]; 2. 39S-Josh Fellows[1]; 3. 33B-Brianna Murtaugh[6]; 4. 57-Justin Liechti[7]; 5. 17A-Danny Allen[8]; 6. 05-Jesse Morgan[10]; 7. 80X-Rick Kinney[12]; 8. 29B-Jason Breezee[3]; 9. 7W-Michael Wight[4]; 10. 77J-Justin Breezee[13]; 11. 11C-Austin Cooper[9]; 12. B1-RJ Budd[11]; 13. (DNS) 38JR-Jason Parkhurst Jr.
Billy Whittaker Cars & Trux Hobby Stocks – (15 Laps): 1. 29K-Casey Cunningham [2]; 2. 13-Adam Hunt [6]; 3. 14JR-Ronald Hawker [3]; 4. 711-Ron Marsden [1]; 5. 64-Bob Buono [5]; 6. 14-Brennan Fitzgibbons [4]; 7. 09-Darik Van Epps [8]; 8. 28-Brandon Barron [7]
---
Submitted By: David Medler
Back to News