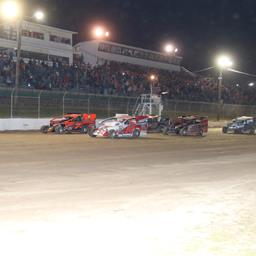 ---
Exciting Racing Returns to The Fulton Speedway This Saturday, May 7 as The Chase for a Championship Begins
FULTON, NY – (May 2, 2022) – Fast, family, affordable fun racing for all ages returns to the Fulton Speedway this Saturday, May 7th presented by Compass Federal Credit Union and Ferris Mowers.
The high speed, side by side racing program will feature the Tracey Road Equipment DIRTcar Modifieds, DOT Foods DIRTcar Sportsman, E&V Energy Novice Sportsman, plus the Billy Whittaker Cars & Trux Hobby Stocks.
Fan favorite Ron Davis III will be back to defend his 2021 track championship. Stars Tim Sears Jr., Dave Marcuccilli, will lead a talented field of drivers who have their sights set on Davis's championship.
Fulton Speedway annually has one of the largest and talented Sportsman fields in the Northeast that always put on exciting wheel to wheel racing right down to the feature checkered flag.
13th Hour Rising Haunted Hayride located at 84 Merritt Road in Fulton, NY will be putting up $50 for each Sportsman heat winner.
The E&V Energy Novice Sportsman will also be in action. The Novice Sportsman has proved to be a great place to learn to race open wheel cars. Many of its graduates have gone on to be successful in higher divisions.
Fans have been asking for it, so in 2022 full fender racing returns to the speedway with the Billy Whittaker Cars & Trux Hobby Stocks.
Adult G/A is $15. 18 years & younger – Free. Pits (All Ages) $35. Pits Open – 4:00 pm. Grandstands – 5:00 pm. Hot Laps – 6:00 pm. Racing Starts – 7:00 pm.
The speedway would like to welcome back marketing partner Compass Federal Credit Union.
Compass Federal Credit Union, established in 1966, services more than 7,000 members in the Oswego County community. Compass takes great pride in serving its members with responsive and exceptional personal service, security of member's funds, competitive rates and programs and continued growth.
To learn more about Compass Credit Union's services, or to see a listing of locations, visit online at www.compassfcu.com. Compass Credit Union's main office, located at 131 George St. in Oswego, can also be reached by phone at (315) 342-5300. The credit union's Fulton location is at 208 North Second St., (315) 593-8443.
Compass Credit Union can be found on social media via Facebook at www.facebook.com/compassFCU.
The speedway would also like to welcome longtime marketing partner Ferris Mowers who continues to help make Fulton Speedway and Brewerton Speedway properties well maintained.
Ferris Industries are the commercial mower specialists. They have earned their reputation by delivering their customers high quality products and solutions for over one hundred years. You can be sure Ferris will keep you on the cutting edge, with innovative mower designs and technology, for years to come.
Ferris mowers are the only mowers in the industry that offer patented suspension technology. Experience the difference suspension makes! Ferris…Go The Extra Yard!
To see all that Ferris has to offer, and to find a dealer near you please visit www.ferrismowers.com.
For all the latest news check out the all-new website powered by My Race Pass at www.fultonspeedway.com and like the speedway social media sites.
---
Submitted By: David Medler
Back to News