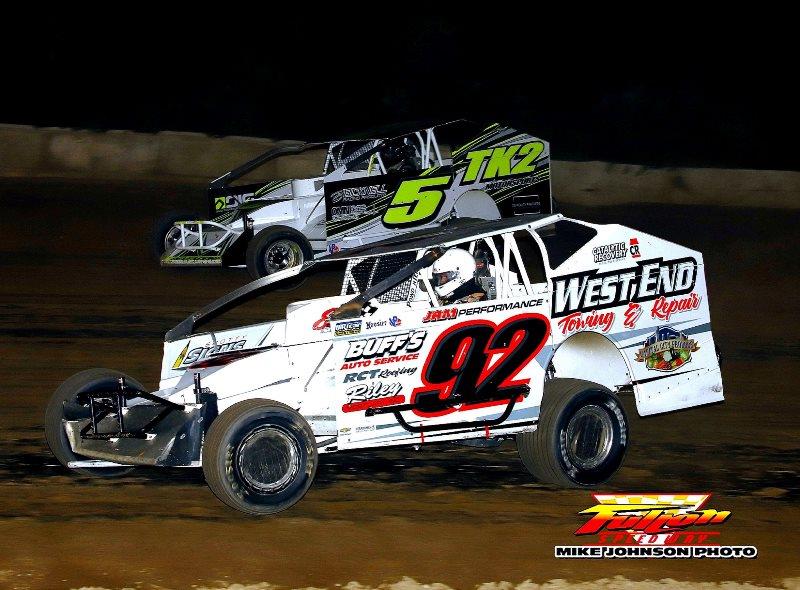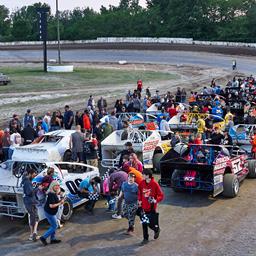 ---
2023 Fulton Speedway Divisional Sponsors Confirmed
By Dave Medler
Baldwinsville, NY (January 8, 2023) – Fulton Speedway officials are pleased to announce DIRTcar 358-Modifieds, DIRTcar Sportsman, Hobby Stocks and Novice Sportsman will continue to be the weekly core classes with title sponsorship of each class remaining unchanged from 2022.
The DIRTcar Modified class sponsor the past eleven years, Tracey Road, continues their support of Fulton's headline class in 2023. A full season of DIRTcar 358-Modified points races are planned. The past two track champions, Tim Sears, Jr. and Ronnie Davis III, are expected to continue their trackside rivalry in 2023 in search of the track championship. Buoyed by a recently announced purse increase, a robust field of 358-Modified teams are expected to join the fray on Saturday nights.
Serving municipalities and highway & construction professionals in the Capital District, Central, and Western New York markets, Tracey Road Equipment represents a full range of trucks, trailers, machines, and attachments from some of the leading manufacturers in the industry.
To see everything Tracey can do for you, call their Syracuse location (315) 437-1471: Toll Free: 800-872-2309. Or visit 6803 Manlius Center Road, East Syracuse NY to speak to one of their many professionals for your needs. Also go to www.traceyroad.com and?www.facebook.com/TraceyRoad
DOT Foods, located at 200 Monarch Drive in Liverpool, NY, will return for its 5th season as the title sponsor for the highly popular DIRTcar Sportsman class.
In 2022 the Fulton Speedway Sportsman Track Championship was claimed by Latham, NY's Andrew Buff by the narrowest of margins over perennial frontrunner Chris Mackey. A strong field of Dot Foods Sportsman will again be pit side weekly.
DOT Foods started with a little red station wagon in 1960 with the husband-and-wife team of Robert & Dorothy Tracy, is now the nation's largest food industry redistributor, DOT Foods develops innovative supply chain solutions for customers in all fifty states and thirty-nine countries. They are a family-owned and -operated company and operate from 11 distribution centers across the United States. Dot Foods is actively hiring driver and warehouse help. For information, visit www.dotfoods.com or call (315) 457-4911.
Long-time track supporter, Billy Whittaker Car & Trux, returns as the title sponsor of the Hobby Stock Class. Hobby Stocks made a successful return to the track in 2022 with veteran Ron Hawker claiming the track title. Look for more entries to be making their way pit side in 2023.
If you are in the market for a new car or truck, look no further than Billy Whittaker Cars and Trux, they are just a quick run north of Brewerton Speedway on Rt. 11 between Brewerton and Central Square. Check out their website?www.trophyauto.com?for a selection of over 250 vehicles. Looking for a nice car for $30, $40 or $50 dollars a week? They have them. Or how about Billy's Showcase Cars, year-old, late model, low mileage cars for only $60 a week. Check out their like new TRUX for only $70 bucks a week.
They are also an official NAPA Auto Care Center, serving all of Central New York, Syracuse, and Surrounding Areas.
Need financing? Click on their 40 second finance application right now. Billy Whittaker Cars & Trux, nice cars and trux that are Good to Go! To see the great inventory they have to offer please visit?www.trophyauto.com?(315) 668-CARS . As always, support those who support racing.
E & V Energy has been the title sponsor of Fulton's Novice Sportsman class since its inception in 2009. The class has successfully provided access into Dirt racing for racers of all types, from aspiring youths to bucket-list adults and will continue that in 2023.
E & V Energy is a family owned and operated business that has been serving their friends and neighbors since 1913. Their years of experience give them the knowledgeable personalized service few companies can match. They are a full-service company, so you do not need to look anywhere else to find the services and products you need to keep your home comfortable year after year. Their goal is to provide Central New York residents and small businesses with efficient and affordable HVAC solutions.
E&V Energy has locations in Auburn, NY, Geneva, NY, Cortland, NY, Hamilton, NY, Ithaca, NY, Wolcott, NY, Fulton, NY, and Watertown, NY.
To see all the services, they provide visit?www.eandvenergy.com.
Fulton Speedway will open for the season on Saturday, April 22 with open practice from 2-4 pm a week before the annual Highbank Holdup Weekend, Friday and Saturday, April 28 and 29. Multiple classes will be on the card over the two nights including the ESS Sprint Car Series, Billy Whittaker Cars & Trux Hobby Stocks, Dot Foods Sportsman, AmeriCU Mod Lites, Mirabito 4-Cylinders and the Dirt Modified Nostalgia Tour culminating Saturday with the DIRTcar 358-Modified Series Highbank Holdup.
Additional classes are being added as speedway officials finalize the 2023 schedule with an early February release scheduled. Sponsorships and advertising opportunities are available. Call (315) 638-4056 or email Cory Reed at cory@fultonspeedway.com for more information.
---
Submitted By: David Medler
Back to News