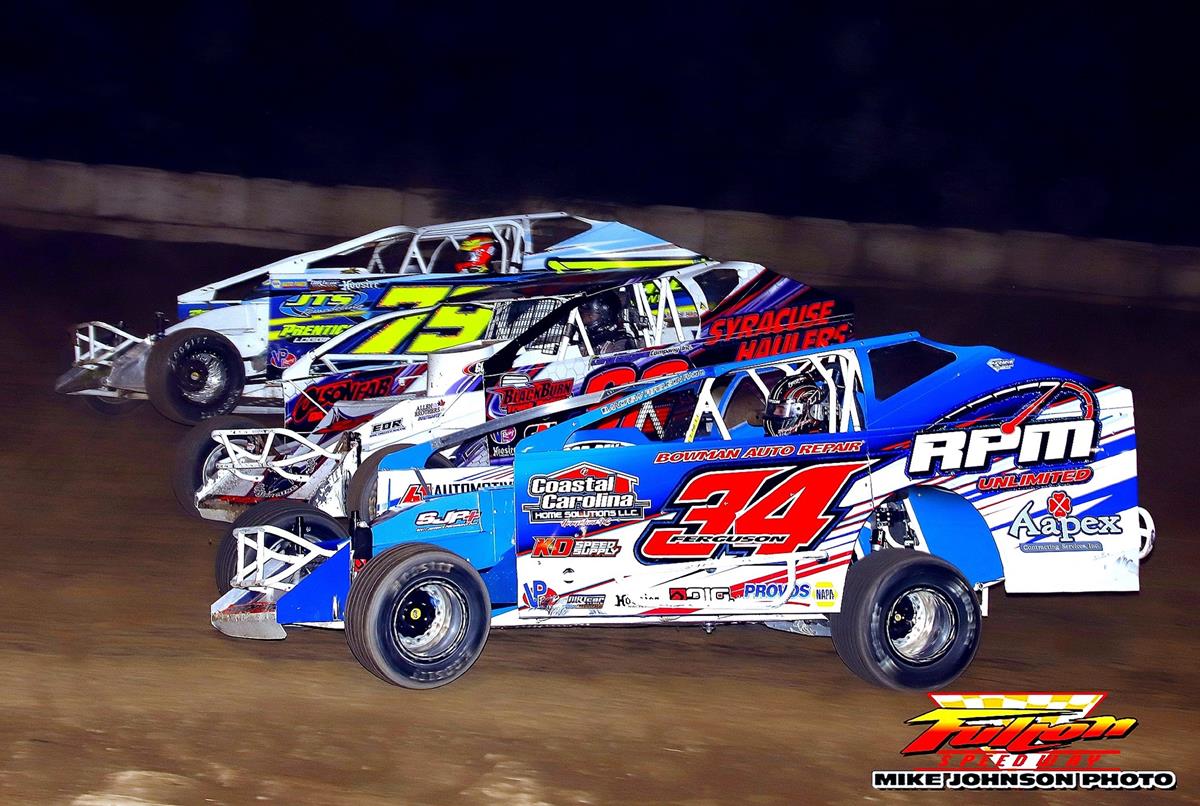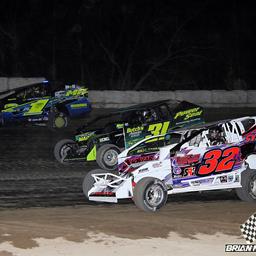 ---
Fulton Speedway Champions Crowned Plus Empire Super Sprints This Saturday, September 3
FULTON, NY – (August 31, 2022) – Spend part of your Labor Day Weekend at the Fulton Speedway for highspeed, grandstand shaking, side by side racing thrills on Saturday, September 3 for the final weekly race night of the season.
After a season full of racing with its triumphs, and defeats for race teams, it all comes down to this Saturday to crown the 2022 Track Champions presented by DOT Foods and Neivel Precision Plumbing.
Doing battle on the 'Highbanks' will be the Tracey Road DIRTcar Modifieds, DOT Foods DIRTcar Sportsman, Billy Whittaker Cars & Trux Hobby Stocks, and the E&V Energy Novice Sportsman.
The always exciting, winged warriors, Lucas Oil Empire Super Sprints will invade the speedway Saturday night with their methanol breathing, clay slinging, edge of your seat racing.
Adult G/A is $25.00. 18 years old and younger are free. Pits (All Ages) $40.00. Camping is Free.
Pits will open at 4:00 pm. Grandstands 5:00 pm. Hot Laps 5:50 pm. Racing starts at 7:00 pm.
Point races are tight and will come down to Saturday to decide the Champions. Here are the top-five division standings.
Modifieds: 1. – 83x- Tim Sears Jr (727): 2. – 32R- Ronnie Davis III (711): 3. – M1- Dave Marcuccilli (694): 4. – 58M- Marshall Hurd (630): 5. – 15- Todd Root (577).
Sportsman: 1. – 92- Andrew Buff (689): 2. – 3- Chris Mackey (676): 3. – 21W- Quinn Wallis (666): 4. 5D- Kyle Devendorf (662): 5. – 4- Emmett Waldron (642).
Hobby Stocks: 1. – 14Jr.- Ron Hawker (720): 2. – 29K- Casey Cunningham (706): 3. – 64- Bob Buono (702): 4. – 74X- Jim Evans (680): 5. – 14- Brennan Fitzgibbons (658).
The speedway would like to thank one of Saturday's event sponsor, major marketing partner and title sponsor of the Sportsman division DOT Foods located at nearby 200 Monarch Drive, Liverpool, NY.
DOT Foods started with a little red station wagon in 1960 with the husband-and-wife team of Robert & Dorothy Tracy, is now the nation's largest food industry redistributor, DOT Foods develops innovative supply chain solutions for customers in all 50 states and 39 countries. They are a family-owned and -operated company and operate from 11 distribution centers across the United States.
For great career opportunities go to www.dotfoods.com or call (315) 457-4911.
DOT Foods likes to give back to the racing community and are visible throughout the racing season with giveaways and other things, knowing how important the race fans are.
This Saturday will be no different as DOT Foods is the anchor of the Back-to-School Backpack Giveaway program providing the first 20 backpacks, two of them will have a Chromebook inside. Race teams and friends providing many more backpacks.
Ever wonder what happens during the night in the race teams' pit? Saturday you can see it up close as Jimmy Moyer & Dave Moyer will be pitting their DOT Foods sponsored Sportsman in the midway behind the turn four grandstands.
DOT Foods Sportsman Bonuses:
• $100 Sportsman Heat winners
• $50 Hard Charger Each Sportsman feature
• One Sportsman team in competition will have their name drawn for two pit passes & entry paid into the 36th Annual Outlaw 200 Weekend Industrial Tire of CNY Sportsman Shootout.
The Speedway would also like to thank one of the event sponsors Neivel Precision Plumbing who is the primary sponsor on Sean Beardsley's #18$ Modified.
Tickets are on sale for one of the most prestigious events in Northeast racing, the 36th Annual Outlaw 200 Weekend on September 30-October 1 . For tickets and everything you need to know for a fun filled racing weekend, go to www.fultonspeedway.com. Once there, click on the Outlaw 200 tab at the top of the page.
Laps ($25 a lap) for the Outlaw 200 are going quick. If you would like to purchase lap/laps, send a private message to the Fulton Speedway Facebook page or see Laura Wight at the LJL Apparel Trailer in the midway.
Any questions you might have and for 2023 marketing opportunities contact Cory Reed at (315) 593-6531 or cory@fultonspeedway.com. For all the latest news, go to www.fultonspeedway.com powered by My Race Pass and like the speedway social media pages.
---
Submitted By: David Medler
Back to News