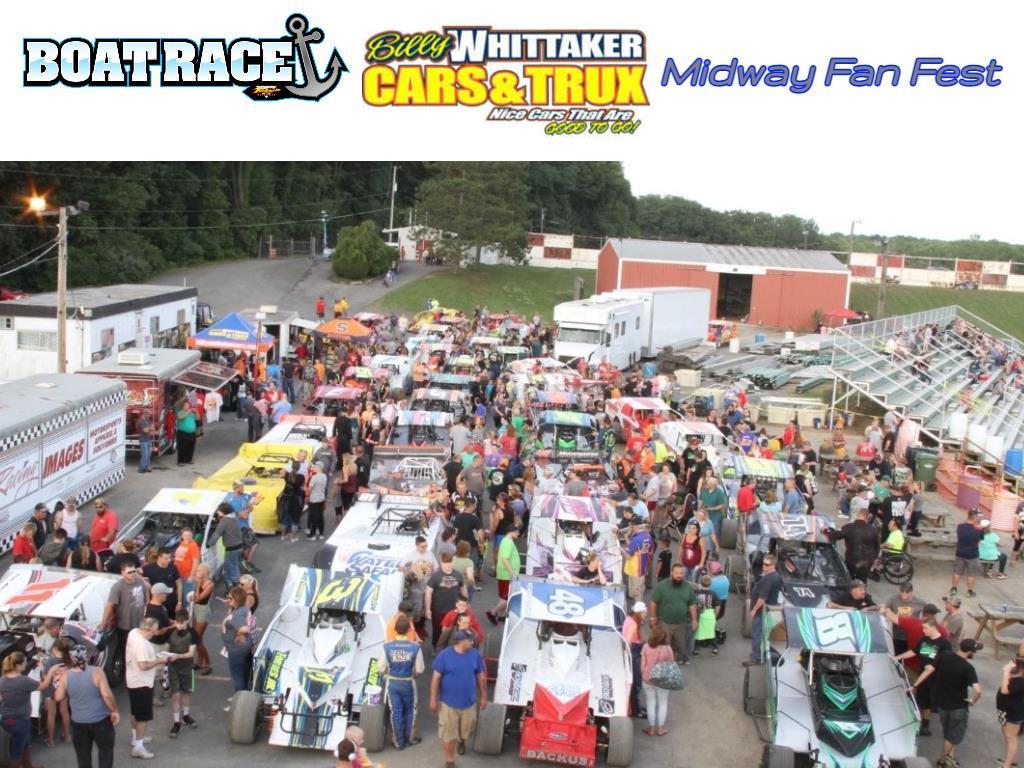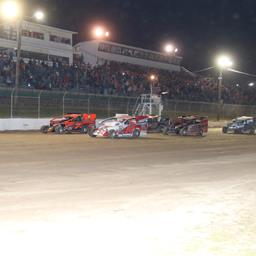 ---
No Water Needed for Fulton Speedway H2No Boat Race Plus Fan Fest and Racing This Saturday, July 30
FULTON, NY – (July 27, 2022) – This Saturday, July 30 at the Fulton Speedway is a big night of family affordable fun that has something for everyone presented by Billy Whittaker Cars & Trux.
Get to the speedway early for the race team and fan favorite Fan Fest in the Midway where you can get up close to the machines of speed, talk to your favorite drivers, get autographs, photos, and giveaways.
Racing on the 'Highbanks' will feature the DOT Foods DIRTcar Sportsman, Billy Whittaker Cars & Trux Hobby Stocks, and the E&V Energy Novice Sportsman.
Sportsman teams there will be some extra bucks handed out by our class sponsor, Dot Foods this Saturday, July 30.
Each heat winner will be awarded a complementary pit pass for the following week's show.

Each feature winner will receive an additional $100

$50 will be awarded to the Hard Charger of each Dot Foods Sportsman feature.
Thanks to Dot Foods for the continued support.
Then get ready for one of the more unique & wild events in racing, H2No water needed Boat Race.
Who says you need water to race a boat? At Fulton Speedway, you don't.
After the racing get ready for the carnage, mayhem, and chaos around the speedway in a wild race of crunching metal and flying fiberglass. Who will be the last one standing with some part of their boat still attached to their vehicle?
Adult grandstand admission is $20.00, 18 years old and younger are free. Pits (All Ages) is $35. Pits open at 4:00 pm. Grandstands 5:00 pm. Hot laps 6:00 pm. Fan Fest, approx. 6:30 pm. Racing starts at 7:00 pm
Top-Five Point Standings.
Sportsman: 3 – 1. Chris Mackey (512): 2. 92 – Andrew Buff (503): 3. 14AJ - AJ Miller (474): 4. 5 – Amy Holland (467): 5. 21w – Quinn Wallis (466).
Hobby Stocks: 1. 14jr – Ron Hawker (510): 2. 29K – Casey Cunningham (504): 3. 64 – Bob Buono (494): 4. 14 – Brennan Fitzgibbons (468): 5. 74x – Jim Evans (456).
Modifieds return Saturday, August 6.
Modifieds: 1. M1 – Dave Marcuccilli (512): 2. 83x – Tim Sears Jr. (511): 3. 32R – Ron Davis III (499): 4. 58M – Marshall Hurd (466): 5. 15 – Todd Root (422).
The speedway would like to thank major marketing partner, event sponsor, and the official pace car provider for the Brewerton Speedway, and sister track the Fulton Speedway, Billy Whittaker Cars & Trux.
"Billy Whittaker and his team do so much for our tracks and the racing community as a whole," said Fulton and Brewerton Track Manager Cory Reed, "Every time they present an event at Fulton or Brewerton they bring so much to the table for our fans with giveaways and presentation. They are a class group to work with."
If you are in the market for a new car or truck, look no further than Billy Whittaker Cars and Trux, they are just a quick run north of Brewerton Speedway on Rt. 11 between Brewerton and Central Square. Check out their website www.trophyauto.com for a selection of over 250 vehicles. Looking for a nice car for $30, $40 or $50 dollars a week? They have them. Or how about Billy's Showcase Cars, year-old, late model, low mileage cars for only $60 a week. Check out their like new TRUX for only $70 bucks a week.
They are also an official NAPA Auto Care Center, serving all of Central New York, Syracuse, and Surrounding Areas.
Need financing? Click on their 40 second finance application right now. Billy Whittaker Cars & Trux, nice cars and trux that are Good to Go! To see the great inventory they have to offer, please visit www.trophyauto.com (315) 668-CARS. As always, support those who support racing.
Any questions you might have and for marketing opportunities, contact Cory Reed at (315) 593-6531 or cory@fultonspeedway.com. For all the latest news, go to www.fultonspeedway.com powered by My Race Pass and like the speedway social media pages.
---
Submitted By: David Medler
Back to News