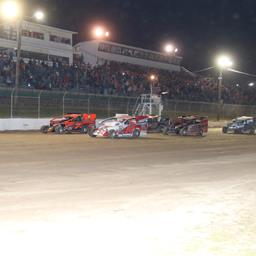 ---
Fulton Speedway Back to Racing Action This Saturday, July 23
FULTON, NY – (July 20, 2022) – A five-star racing program headlines at the Fulton Speedway this Saturday, July 23 presented by RFH's Hideaway.
On the high speed, side-by-side racing program are the Tracey Road Equipment DIRTcar Modifieds, DOT Foods DIRTcar Sportsman, Billy Whittaker Cars & Trux Hobby Stocks, and the E&V Energy Novice Sportsman.
The Dirt Modified Nostalgia Tour will also be racing on the 'Highbanks.' Don't let this traveling group's name fool you. They race, and race hard every lap.
Adult general admission is $15.00. 18 years old and younger is free. Pits (All Ages) is $35. Pits open at 4:00 pm. Grandstands 5:00 pm. Hot laps 6:00 pm. Racing starts at 7:00 pm.
July 9 feature winners: Ron Davis III (Modifieds): Wade Chrisman & Remington Hamm (Sportsman): John Pietrowicz (Hobby Stocks): Matthew Backus (Novice Sportsman).
Top-Five Point Standings:
Modifieds: 1. 83x – Tim Sears Jr. (484): 2. M1 – Dave Marcuccilli (460): 3. 32R – Ron Davis III (443): 4. 58M – Marshall Hurd (422): 5. 31 – Corey Barker (375).
Sportsman: 1. 3 – Chris Mackey (464): 2. 92 – Andrew Buff (455): 3. 5 – Amy Holland (425): 4. 14AJ – AJ Miller (418): 5. 21w – Quinn Wallis (410).
Hobby Stocks: 1. 29K – Casey Cunningham (452): 2. 14Jr. – Ron Hawker (450): 3. 64 – Bob Buono (438): 4. 14 – Brennan Fitzgibbons (422).
The Fulton Speedway would like to thank long time marketing partner and event sponsor RFH's Hideaway.
RFH's Hideaway has been a longtime place for race fans and competitors to go before and after a night's racing. Known for its friendly staff, banquet facility for special occasions and great menu, it is no surprise it is a favorite place to stop not just during race season, but year-round. To see their great menu, go to www.rfhshideaway.com, and like their Facebook page by putting their name in the search box.
In the midway this Saturday, stop by and see Axe Chucker's display and have some fun.
Axe chucking is a safe, fun and competitive sport for people of all ages. No experience is required, we will teach you how to chuck. Everyone is welcome, but we do require children under 18 be accompanied by a parent or guardian.
You can book a 1- or 2-hour session online, which includes a short training session and then loads of fun.
We offer both Standard and Projection targets, with a variety of games for you to play on both.
The 1-hour sessions are good for small parties (up to 4) but trust us you are gonna wanna stay for a full 2 hours.
We also offer walk in sessions, so stop in during our regular business hours and chuck a few axes – it's Axe-citing!
Closed toe shoes are required for all shooters.
We offer private events for any occasion, contact us today to book!
Any questions you might have and for marketing opportunities, contact Cory Reed at (315) 593-6531 or cory@fultonspeedway.com. For all the latest news, go to www.fultonspeedway.com powered by My Race Pass and like the speedway social media pages.
---
Submitted By: David Medler
Back to News