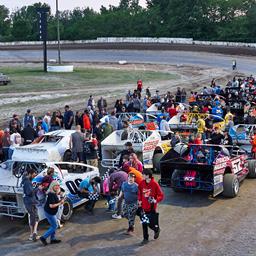 ---
Fulton Speedway Officials and racers meet to discuss Hobby Stocks
BALDWINSVILLE, NY (September 3, 2021) – On Tuesday, August 31 track officials from Fulton Speedway hosted a meeting for prospective Hobby Stock teams at RFH's Hideaway in Phoenix. Over 30 people attended the meeting with at least a dozen prospective teams represented.
Track General Manager Cory Reed brought the meeting to order discussing the thought and vision of the class, remarking that Oswego County Fans have been asking for a full fender class to be brought back to the Fulton oval.
"I used to get at least one or two messages or questions a week about bringing full fenders back to Fulton,� said Reed, "Since we announced our intent to do this back in the spring, the interest has picked up dramatically.�
Technical Director Russ Marsden moderated the bulk of the meeting, as the assembly discussed and polished the various technical rules that racers will use as a guideline when building their rides for 2022.
Fulton Speedway will host it's second of two 2021 Hobby Stock events on Friday, October 1 as part of Outlaw Weekend with plans to integrate the class into the weekly race program in 2022. Information on the Outlaw Weekend Hobby Stock event as well as the final 2022 rules package will be posted on the Fulton Speedway website in mid-September.
"We were very encouraged by the meeting and felt it went better than even we expected,� said Reed, "We think this class will come out of the gate strong and grow quickly into a solid core of our Saturday night menu starting next year.�
For all Fulton and Brewerton Speedway news and updates log on to www.brewertonspeedway.com and  www.fultonspeedway.com or follow us socially on the Fulton and Brewerton Facebook and Twitter pages.
Back to News