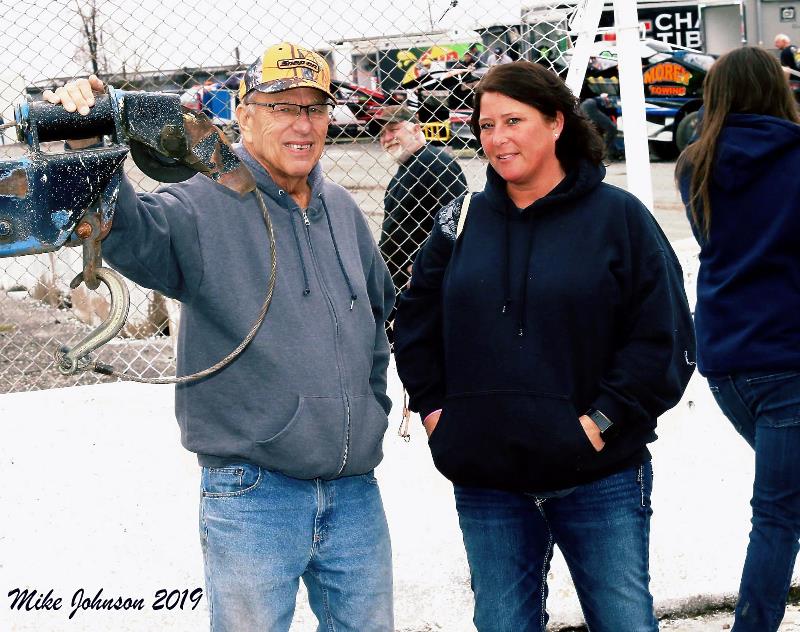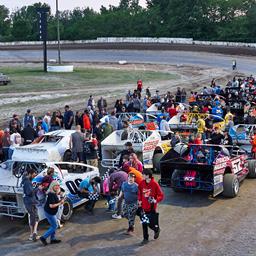 ---
Harvey Fink Will Not Be Forgotten – DTD Exclusive
September 2, 2021
By BILL FOLEY
"If you had a Mount Rushmore of dirt Modified track promoters, Harvey would certainly be on it,� said current Brewerton and Fulton Speedway General Manager Cory Reed.
Continuing he said, "The legacy he leaves in terms of his reputation and impact to racing is one to be proud of. We could all be so lucky to be so admired by people when we leave God's earth.�
Harvey Fink passed away earlier this week, but he will be remembered by all who have had contact with him.
Working for Harvey wasn't like working at all. He treated each and every employee like they were family. He expressed opinions, pro and con, and helped everyone who was wearing a staff shirt at each track become better at their positions.
His impact ran the gamut of racing folks.
Tom Deery, formerly one of the lead men in the World Racing Group, is now an employee at PRI, but he remembers Harvey in a very positive frame of mind.
Deery said, "Harvey was passion. Everything he touched, invested in or supported was done 100%. It was 100% all in and driven by his passion to give it his best.�
Continuing he explained, "Whether it was his family, his friends, his work or even mowing the grass, he demonstrated a passion of love and doing it 100%. That passion and enthusiasm was contagious. His opinions were strong and you thought you knew where he stood. However, his approach was to make you think and often take another view on the issue. The community around him benefited from him. He impacted thousands and his mark is forever on earth.�
In conclusion, Deery said, "I was lucky to be one of the many 'phone a friends' and would love his 'just checking in calls' as his instinct was usually correct, some Harveyisms were needed.�
Jeff Hachmann, Executive Director for Events at World Racing Group, fondly remembered Harvey as he said, "I don't have a whole bunch of pictures, but what I have is a whole bunch of memories and conversations to look back on with Harvey. He was so proud and loved to talk about his family and was equally interested in how I was doing. He was always so genuine in his thoughts, feelings and guidance. There are many like you in Motorsports.  You probably forgot more than many of us know. Thank you Harvey for always caring and being a friend. We will miss you.�
One thing about Harvey that stood out is that he was a fan before he was a promoter and his strict "start this show on time� should be a standard for every promoter in motor racing. And though there were nights he would storm into the tower during a race night it was usually because there were too many cautions, a tow truck was a bit too slow or just wanting to make sure everyone who worked for him ran an efficient, crowd pleasing show.
His employees were like family and the news of Harvey's death shook each and every one of them.
Many reflected on Harvey and what he meant to them.
Scorer and timing expert Megan Rowe said, "I was 14 when I first met Harvey. It was one of the many trips to Brewerton with my dad in my early years of the sport. He always greeted me with a smile on his face and welcomed me to the speedway. You could tell by the dirt covered clothing he was wearing that he has spend hours and days helping get the facility ready for race night. He wasn't the owner who sat in the tower on race night. He was the one that was on the track packing. Harvey had a type of dedication to the sport that fueled everything he did and motivated him to ensure that every night at the track, the fans and competitors had the best night possible.�
Continuing she said, "When the time came for him to sell the speedways I worked for him in a different capacity at both tracks. He still greeted me every week with a big smile, but this time his funny side would come through as he asked me if I was keeping the boys in the tower in line. I always told him being the only female was at a disadvantage. He was witty. He was compassionate. He was dedicated. He was hard working. Whether a track owner or a promoter his dedication to the sport will always be his biggest legacy. He was one of the great ones and his presence will be truly missed.�
Current Race Director Tim Farrell might not have known Harvey as long as others, but Finks made a definite impression.
Tim explained, "One of my favorite memories of Harvey came a few years ago as I walked out of the Fulton office. He was going by on his golf cart and said 'I have something for you.' I got in and we went toward his truck that was parked on the infield. We went out on the track and took a couple of laps. He was explaining to me how the recent rain had affected the track in ways that I would have never understood before and what his plans were regarding track prep that night.�
Farrell explained, "During the conversation he said, 'These people are here for a show and at 7 o'clock the curtain goes up. You're the director of that show. It's you job to make sure it's smooth.' I was still very new at the position, but he told me how proud he was of me and he told me a lot about the old days of Fulton. When we finally made it to his truck he had my paycheck. I had apparently dropped it at Brewerton the night before and a fan had given it to him. We laughed and said I was lucky he didn't spend it. When he dropped me off at the flagstand he said like always, 'You're doing good kid.�
Brewerton announcer Adam Buchanan got his start in the business due to Harvey and it is very much appreciated.
Reflecting, Adam said, "Harvey Fink in one word was family.  In everything he did Harvey did things with class and integrity. He treated us all like family. We talked all the time about our racing family and no place did this resonate more than at Brewerton and Fulton especially under the guidance of Harvey, Joan and the Fink family. They always have been and always will be the patriarch and matriarch of our racing family.�
Adam continued, "I owe a lot to Harvey. The night I approached Shane Andrews at Weedsport to see if I could report Harvey just happened to be walking by. Harvey said, 'I'll run it past the Wight Family, but it doesn't sound like a bad idea. We will see you Friday night and go from there.'  Later as I got to know him better it became less about racing and more about how I was doing in school, with work, with how my wife and family were. Deep down he showed he cared. HE was like my racing grandfather, firm handshake and sly smile. He will be greatly missed.�
Doug Zupan, who worked for Fulton and Brewerton for years, said, "I have many great memories of Harvey, Joan and David. They took a chance on an 18-year-old teenager back in 1998 allowing me to do their websites. Over the years I added many responsibilities, but what was always true was that it was a family atmosphere. Harvey was a great man and taught me a lot about race operations and I know I speak for many as he made all of us better race officials. Harvey instilled in us that we could not waste seconds as those seconds add up through the night and delays the show that no one in the stands could tolerate. Those times made us all better.�
In conclusion, Doug said, "Harvey will be greatly missed. I owe a lot to him. I will forever be indebted. We had a great team way back when under them.�
Harvey realized the importance of youngsters falling in love with auto racing and that is where Dave and Nancy MacDonald came aboard.
Dave said, "I became friends with Harvey and Joan sitting in the grandstands at Weedsport. They sat in back of me each week and one night Joan tapped me on the shoulder and gave me a heads up that she likes to yell and scream for her favorite drivers. We shared a chuckle and that conversation led to a friendship that lasted over 25 years.�
It was that relationship that evolved into a long standing contribution to the Brewerton Speedway.
Dave explained, "Harvey wanted to start an active kids club. Someone had tried to do that for him, but didn't stick with it. I discussed it with my wife Nancy and our children and decided we would be willing to do it. I met with Harvey and his son David at Benwood and we discussed what the format might look like. We ran the Brewerton Speedway Junior Fan Club from 1999 until Harvey sold the track in 2005. He was a visionary in so many ways in the racing world. It has been a privilege for my family to become an extended part of Harvy and Joan FInk's family. We will truly miss our dear friend Harvey.�
The impact that Harvey Fink made on Central New York Racing is legendary, but the impact he has on his racing family will not be forgotten.
Harvey believed in everyone coming together and usually the week before the Outlaw all of the racing families would gather at Nestle Park where a celebration of food and games would be held. Everyone laughing, telling stories and simply having fun.
Harvey treated his employees like they were family and that will never be forgotten.
Rest in Peace Harvey Fink.
Back to News