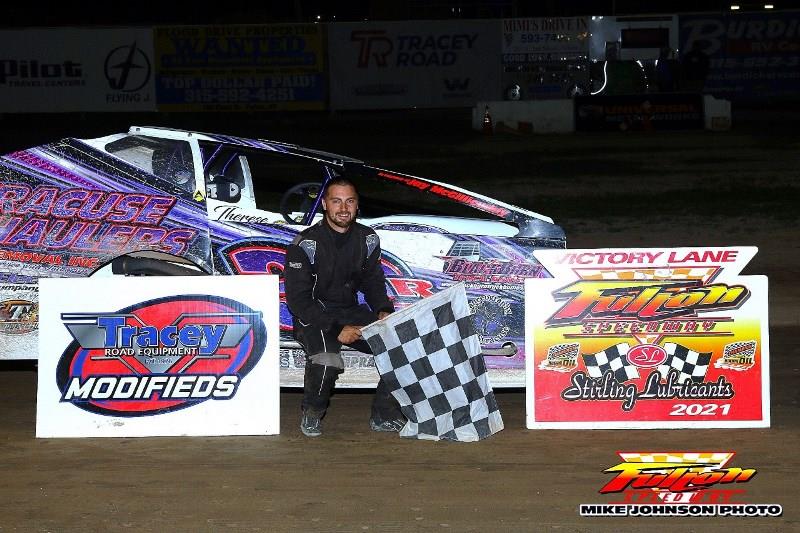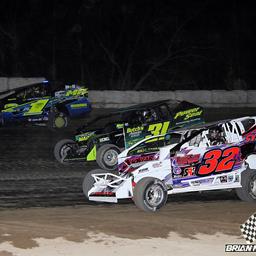 ---
Ron Davis III Title Hopes Alive with Exciting Fulton Speedway Modified Win Heading into Championship Night: Empire Super Sprints Saturday, September 4
By Dave Medler 
 FULTON, NY – You have always heard drivers say the best way to help yourself in racing is just win, and the points will take care of itself. Saturday night at the Fulton Speedway Ron Davis III from Memphis, NY did just that, winning the wildly entertaining 35-lap Tracey Road Equipment DIRTcar 358 Modified main on Burke's Do It Best Center night.
Davis would start the feature in 14th and would almost see disaster strike on a lap 10 restart when he and another competitor locked bumpers and somehow came apart at high speed down the back straightaway on his way to the front.
On a track surface that had two, and three-wide racing throughout the field we would see Davis once he reached the top-five, battle it out with Andrew Ferguson, Dylan Zacharias, Dave Marcuccilli and Jeff Taylor.
The race, the entire distance felt like the saying 'All Gas No Brakes', that would see Davis take the lead on lap 24 after hounding leader Andrew Ferguson for a number of laps. Once out-front Ron Davis III drove away for his third win of the year at the speedway. Dave Marcuccilli came from 18th to finish a strong second. Tim Sears Jr., came from the back of the field after another competitor got into him spinning him out, finished third. Jeff Taylor finished a strong fourth, and Andrew Ferguson who was impressive leading a lot of laps finished fifth.
With the victory, Davis sets himself with the point lead coming into Championship night this Saturday, September 4th. Here is where things get different. Larry Wight, second in points, only 15 behind Davis, and Tim Sears Jr. 31 out of first. Wight and Sears are platinum drivers on the Super DIRTcar Series, where they have the Mr. Dirt Track U.S.A. series race Saturday night at the Lebanon Valley Speedway.
The first 25-lap DOT Foods DIRTcar Sportsman feature would see Steve Marshall lead the opening 6 laps before Mike Root would take over the top-spot in a close side-by-side battle with Marshall.
Root would lead the tight battle at the front when the yellow would wave on lap 14. On the restart Root's car would push in turns one and two allowing Andrew Buff to shoot from third place to be scored the new leader.
Once out-front, Buff would cruise to his second win of the year. Jeff Prentice who was in the lead battle all race long finished second.  Steve Marshall getting use to a new car finished a strong third. Cody Manitta and Richard Murtaugh completed the top-five.
Chris Bonoffski took the lead at the drop of the green in the second Sportsman feature leading the opening 4 laps before Kyle Devendorf took the lead by inches at the flag stand on lap 5.
After moving into second, Chris Mackey would set his sights on leader Devendorf. After a tight fight for the lead, Mackey would finally take over the lead on lap 11 and then looked to run away and hide from the field. Matt Janczuk had other ideas.
Janczuk, the Point leader and six-time feature winner, threw everything he had at Mackey lap after lap. In the end Chris Mackey's experience paid off as he outran Matt Janzcuk to the checkers. Kyle Devendorf finished a strong third. Rachel Zacharias finished a stout fourth and early leader Chris Bonoffski fifth.
The E&V Energy Novice Sportsman put on an entertaining battle for the win and raced nothing like a learning division.
Austin Copper and Brianna Murtaugh would swap the lead back and forth with Savannah Laflair right there waiting for any mistake by the top-two. When the checkers waved Cooper picked up his first career win in the division. Brianna Murtaugh finished a stout second. Buddy Leathley came from sixth to finish third. Savannah Laflair who is improving by leaps and bounds, finished fifth.
A pair of wild Demolition Derbies were run with Rob Hartman from Booneville, NY taking the $1,000-to-win Chain & Bang while Freddy White from Fulton, NY took the win on the $750-to-win Junkyard Run.
Spend part of your Labor Day Weekend or as many like to call it, the last blast of summer when DOT Foods presents Championship night to crown division champions as the weekly racing for 2021 ends.
Doing battle on the 'Highbanks' will be the Tracey Road Equipment DIRTcar Modifeds, DOT Foods DIRTcar Sportsman, Billy Whittaker Cars & Trux RUSH Late Models and the E&V Energy Novice.
The Winged Warriors of the Lucas Oil Empire Super Sprints will also be racing making it a must-see festival of speed.
Adult grandstand admission is $25 with ages 18 years old and under, admitted free. Pit admission is $40. Pits open at 4:00 pm. Grandstands 5:00 pm. Racing 7:00 pm.Any questions you might have and for 2022 marketing opportunities contact Cory Reed at (315) 593-6531 or cory@fultonspeedway.com. For all the latest news visit www.fultonspeedway.com and like the speedway Social Media pages.
Burke's Home Center Night at The Speedway August 28 Results
(Tracey Road Equipment DIRTcar 358 Modifieds 35 Laps) – RON DAVIS III, Dave Marcuccilli, Tim Sears Jr., Jeff Taylor, Andrew Ferguson, Rocky Warner, Larry Wight, Pat Ward, Corey Barker, Dylan Zacharias, Bob Henry Jr., Gordy Button, Jeff Sykes, Lucas Fuller, Ryan Richardson, Mike Stanton Jr., Chris Cunningham, CJ Castelletti, Todd Root, Marshall Hurd, Jim Walsh, Jackson Gill, Justin Crisafulli, Sean Beardsley, Joe Shields, DNS AJ Kingsley.
 (DOT Foods DIRTcar Sportsman #1 – 25 Laps) – ANDREW BUFF, Jeff Prentice, Steve Marshall, Cody Manitta, Richard Murtaugh, Quinn Wallis, Brent Joy, Mike Root, Brett Draper, Teddy Clayton, Jimmy Moyer, Stephen Gray, Matt Kitts, Wade Chrisman, Emmett Waldron, Jake Davis, Tanner Warner, Brian Calabrese, Ed Lukas, Mike Button, Bailey Groves, Tim Falter, Jack Meeks, Rich Riggs.
 (NAPA Auto Parts Chase Elliott Award) – Brett Draper
 (DOT Foods DIRTcar Sportsman #2 – 25 Laps) – CHRIS MACKEY, Matt Janczuk, Kyle Devendorf, Rachel Zacharias, Chris Bonoffski, Amy Holland, Austin Germinio, Ryan Dolbear, AJ Miller, Brett Sears, Rick Miller, Robert Gage, Dave Moyer, Dorian Wahdan, Tucker O'connor, Torrey Stoughtenger, Rocky Grosso, Kearra Backus, Riley Rogala, Tim Gareau, Joe Kline, Mike Phelps, Josh Amodio, Brian Murphy.
(NAPA Auto Parts Chase Elliott Award) – AJ Miller.
 (E&V Energy Novice Sportsman 15 Laps) – AUSTIN COOPER, Brianna Murtaugh, Buddy Leathley, Savannah Laflair, Josh Fellows, Larry Taylor, Tayvyn Marino, Chris Crump, Scott Kline, Owen Kitts, Jason Breezee, Jason Lopes.
(Ed Springer Bonuses 1st - $150. 2nd - $100. 3rd - $50) - Austin Cooper, Brianna Murtaugh, Buddy Leathley.  (Kings Smash 'Em Crash 'Em August Annihilation Demo Derbies) – ($1,000-to-win Chain & Bang) – Robert Hartman, Booneville, NY ($750-to-win-Junkyard Run) - Freddy White, Fulton, NY.
Back to News