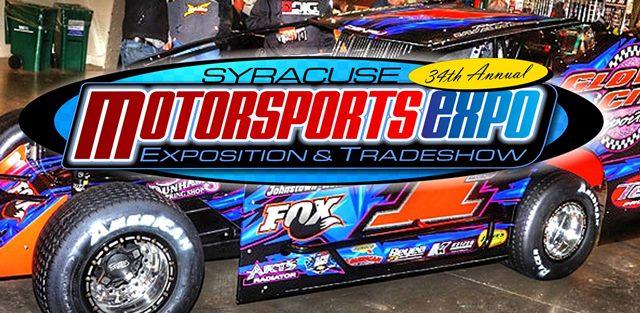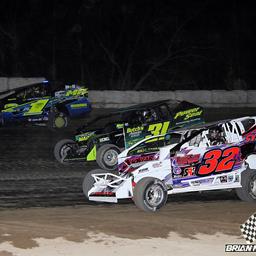 ---
Brewerton and Fulton Speedways Ready for Motorsports Expo on Saturday and Sunday March 14-15
BALDWINSVILLE, NY – The 34th Annual Syracuse Motorsports Expo is just a little over a week away and the Brewerton & Fulton Speedways will once again have a major presence at the New York State Fairgrounds Center of Progress Building on Saturday & Sunday, March 14-15.
Stop by the speedways' display to kick off the 2020 season and check out the sharp new equipment that will do battle weekly on the Brewerton 'D-Shaped Dirt Demon' and the Fulton 'Highbanks.'
Cars on display all weekend will be the DIRTcar Modifieds driven by Tim Sears Jr. #83x and AJ Kingsley's #2. Willy Decker will have his sharp looking #1x DIRTcar Sportsman plus Max Hill's potent #160 Late Model and Doug Williams' fast #50 Mod Lite.
Fans and race teams will be able to pick up schedule cards, season passes, fill out driver registrations, buy licenses and have any questions answered for the rapidly approaching season openers.
For show information go to www.syracusemotorsportsexpo.com .
The Fulton Speedway will host a Test & Tune on Saturday, April 18th at 2:00 pm. The track will be open to any car that competes on a dirt speedway. The length of the test & tune will be dictated by the amount of cars in the pits.
The long off-season finally comes to an end with a big two-day show at the Fulton Speedway on Friday & Saturday, April 24-25 for the 'Highbank Holdup' Weekend.
On Friday, April 24th  at 7:00 pm the highspeed winged warriors of the Lucas Oil Empire Super Sprints will have their season opener plus race number-one for the popular DIRTcar Sportsman Championship Series Central Region. Modifieds and Late Models are invited for hot laps sessions before their races the following day.
Saturday, April 25th the cars and stars of the DIRTcar 358 Modified Series will do battle in the St. Lawrence Radiology 'Highbank Holdup' 60. Joining the Modifieds will be the first track point races for the DOT Foods DIRTcar Sportsman and the Billy Whittaker Cars & Trux Late Models. First heat race will hit the speedway at 5:00 pm.
On Friday, May 8th the Brewerton Speedway will swing open the gates for the 2020 season opener presented by Stirling Lubricants/Champion Racing Oil.
On the race card will be the Tracey Road Equipment DIRTcar Modifieds, DOT Foods DIRTcar Sportsman, AmeriCU Credit Union STARS Mod Lites and the Fleet Repairs Truck & Trailer Repairs 4-Cylinders. The first green flag of the new season will wave at 7:30 pm.
Any questions you might have and for marketing opportunities contact Cory Reed at the off-season phone 315-638-4056 or cory@brewertonspeedway.com . For all the latest happenings at the speedway go to www.brewertonspeedway.com and like the speedway Facebook & Twitter pages.
Back to News