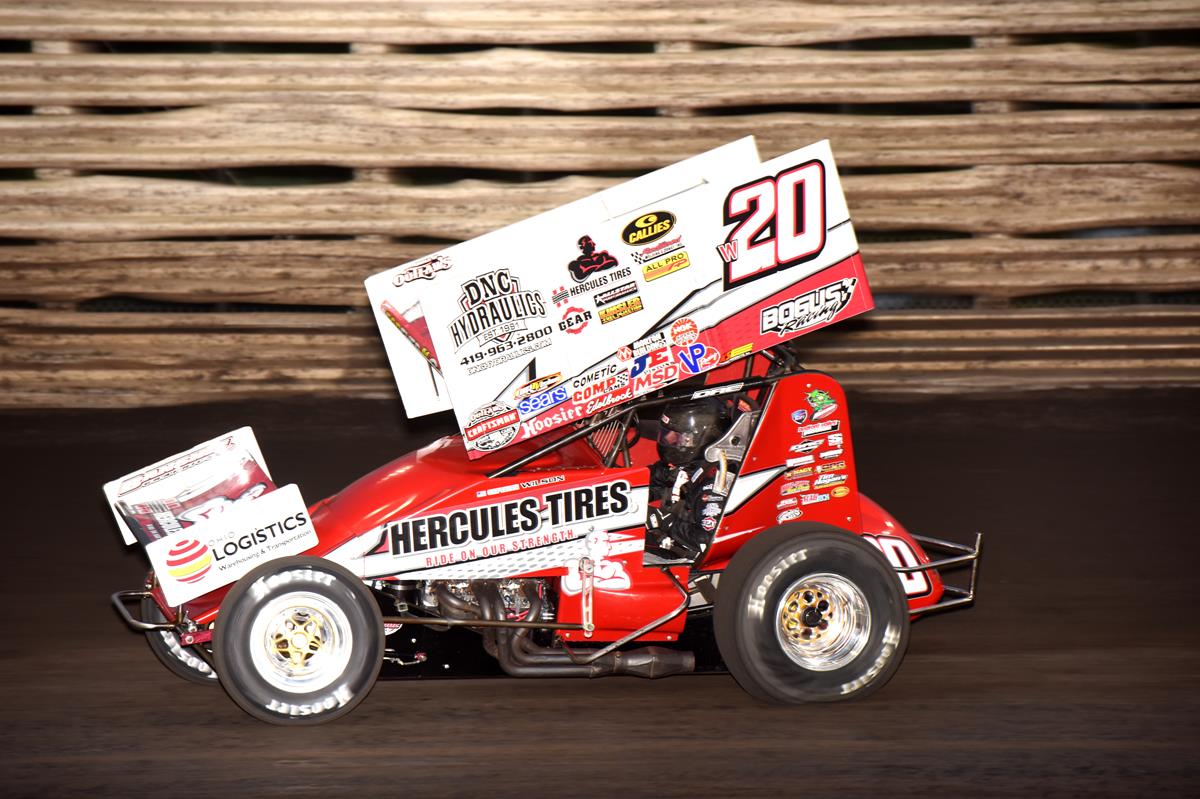 10/9/2018
Inside Line Promotions
---
Wilson Bound for Jacksonville, Terre Haute and Eldora During World of Outlaws Tripleheader
(Photo by Paul Arch)
Inside Line Promotions – FULTON, N.Y. (Oct. 9, 2018) – Greg Wilson has a busy weekend on tap as he'll race in three different states during a three-day stretch with the World of Outlaws Craftsman Sprint Car Series.
Wilson and his Hercules Tires, DNC Hydraulics, Ohio Logistics and Gear Alloy Wheels supported team will compete on Friday at Jacksonville Speedway in Jacksonville, Ill.; on Saturday at Terre Haute Action Track in Terre Haute, Ind., during the Wabash Clash; and on Sunday at Eldora Speedway near Rossburg, Ohio, during the Last Call for Them All.
"DRC Chassis built us a different car to run the rest of this year to get some ideas," he said. "It's a good time to do it to prepare for next year. I'm excited and nervous.
"We don't have many laps at Jacksonville and haven't raced in a few years at Terre Haute, but Eldora is certainly one of our favorite tracks in the country. We always look forward to racing at Eldora."
Wilson charged from 23rd to third last month and from 14th to second in July at the half-mile oval. He won a World of Outlaws race at Eldora Speedway in 2015.
"That is a track close to our home and it's a track where I've run just as many laps as anywhere else in the country," he said. "When it gets slick I'd put us up there with anyone. Hopefully we can get qualified a little better on Sunday and we won't have to charge from the middle of the pack or back of the field in order to contend for a podium."
Wilson competed last Saturday at Fulton Speedway, where he qualified 14th quickest, placed fifth in a heat race and advanced from 14th to 11th in the main event. It marked his second-best finish at the track.
"We made progress throughout the night so that was a positive," he said. "Just like almost every race it boils down to qualifying a little better to put yourself in a position to make the dash. That starts you closer to the front and provides a better opportunity to contend for wins, podiums and top fives. We're still working hard.
"I want to say hats off to the World of Outlaws and Fulton Speedway for getting that show in. They busted their humps. They did good to put on a good show and a quick show."
QUICK RESULTS –
Oct. 6 – Fulton Speedway in Fulton, N.Y. – Qualifying: 14; Heat race: 5 (5); Feature: 11 (14).
SEASON STATS –
67 races, 0 wins, 4 top fives, 10 top 10s, 28 top 15s, 38 top 20s
UP NEXT –
Friday at Jacksonville Speedway in Jacksonville, Ill.; Saturday at Terre Haute Action Track in Terre Haute, Ind., for the Wabash Clash; and Sunday at Eldora Speedway near Rossburg, Ohio, for the Last Call for Them All with the World of Outlaws Craftsman Sprint Car Series
UPCOMING HERCULES TIRES DEALERSHIP VISITS –
TBD
MEDIA LINKS –
Website: http://www.GregWilsonRacing.com
Twitter: http://www.twitter.com/GregWilsonw20
Facebook: https://www.facebook.com/GregWilsonRacing
SPONSOR SPOTLIGHT – Hercules Tires
Hercules Tires is widely recognized as the industry's premier value brand with a comprehensive selection of passenger, UHP, light truck, medium truck, specialty trailer and specialty commercial tires. Since 1952, independent tire dealers and distributors have trusted Hercules to deliver outstanding quality, exceptional support and unsurpassed value. For more information, visit http://www.HerculesTire.com.
"Hercules Tires has been an essential part of Greg Wilson Racing for several years," Wilson said. "It has been a tremendous partnership as we've helped grow each other's brands and fan base, which is the ultimate goal of a marketing partner. We're grateful for the support of everyone at Hercules Tires and are looking forward to mutual success for years to come."
Wilson would also like to thank Ohio Logistics, DNC Hydraulics, Gear Alloy Wheels, Kinsler Fuel Injection, All Pro Cylinder, Redlined Welding & Construction, Callies, Magtech Ignition, Banshee Graphics, Saldana Racing Products, Simpson Race Products, Nagy Equipment Sales, Winters Performance, Pfann's Custom Performance & Restoration, Tim Hogan's Carpet (Lima, Ohio), Bedford Valley Petroleum, Real Capz, Mark Wolford Garage, Burns Petroleum, Elite Wings, Inter-State Truck Repair, Benson Marketing and Inside Line Promotions for their continued support.
INSIDE LINE PROMOTIONS –
Inside Line Promotions specializes in affordable public relations and media management for motor sports drivers, teams, sponsors, tracks, series, events, organizations and manufacturers. ILP Founder Shawn Miller leverages professional journalism with new media technologies and social networking to improve your exposure and the return on investment for your sponsors.
To meet the media relations needs of your program by joining Team ILP, contact Shawn at 541-510-3663 or Shawn@InsideLinePromotions.com. For more information on Inside Line Promotions, visit http://www.InsideLinePromotions.com.
---
Article Credit: Inside Line Promotions
Submitted By: Shawn Miller
Back to News