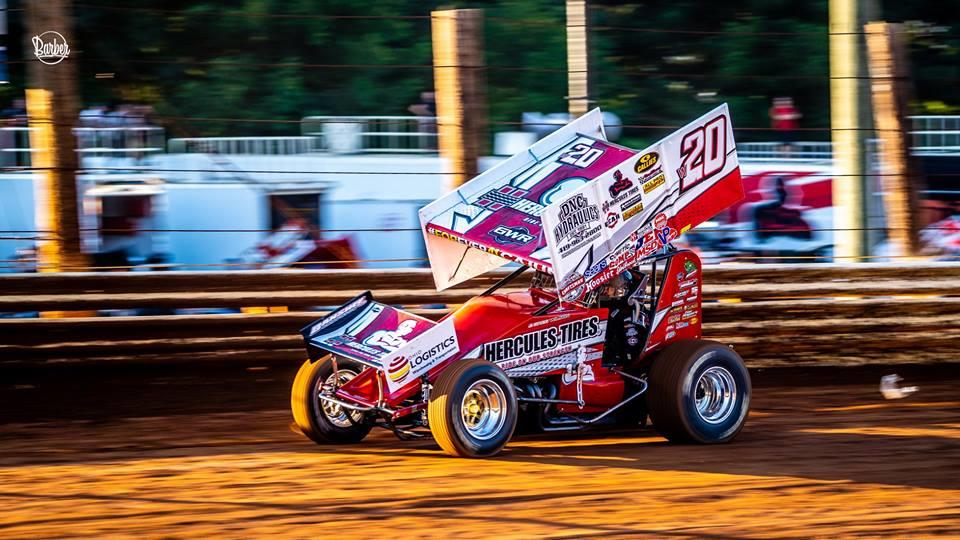 10/3/2018
Inside Line Promotions
---
Wilson Ready to Show Continued Improvement During World of Outlaws Race in New York
(Photo by Zack Barber Photos)
Inside Line Promotions – MECHANICSBURG, Pa. (Oct. 3, 2018) – Greg Wilson is excited for this Saturday's World of Outlaws Craftsman Sprint Car Series show in New York.
Wilson and his Hercules Tires, DNC Hydraulics, Ohio Logistics and Gear Alloy Wheels backed team will compete at Fulton Speedway in Fulton, where he has improved his feature finish each of the last two years.
"We've made a lot of progress at Fulton Speedway and after last year's performance we're really excited to get back there," he said. "Plus, I feel like our program has made a lot of big strides this year so it will be great to measure that at a place where we ran well last year."
Wilson advanced from 17th to 12th during his debut at the track in 2016 before he charged from 14th to fourth last season.
Wilson is coming off the Champion Racing Oil National Open at Williams Grove Speedway, where approximately 50 racers converged on the marquee event last Friday and Saturday.
"You have to qualify near the front of the pack in order to set yourself up for success," he said. "We weren't able to do that either night. While that's unfortunate, I do feel like the changes we've made to our team this season continue to show. We usually have struggled at Williams Grove and last weekend wasn't any different. However, I felt better and that's a huge step in improving."
There are 10 World of Outlaws races remaining this season beginning with Saturday's event at Fulton Speedway. Those 10 features will be contested in seven different states during the next five weeks.
"We are focused on continuing to improve and to build momentum as the season wraps up," he said.
QUICK RESULTS –
Sept. 28 – Williams Grove Speedway in Mechanicsburg, Pa. – Qualifying: 22; Heat race: 7 (8); D Main: 2 (3); C Main: 8 (12).
Sept. 29 – Williams Grove Speedway in Mechanicsburg, Pa. – Qualifying: 20; Heat race: 8 (7); C Main: 9 (9).
SEASON STATS –
66 races, 0 wins, 4 top fives, 10 top 10s, 27 top 15s, 37 top 20s
UP NEXT –
Saturday at Fulton Speedway in Fulton, N.Y., with the World of Outlaws Craftsman Sprint Car Series
UPCOMING HERCULES TIRES DEALERSHIP VISITS –
TBD
MEDIA LINKS –
Website: http://www.GregWilsonRacing.com
Twitter: http://www.twitter.com/GregWilsonw20
Facebook: https://www.facebook.com/GregWilsonRacing
SPONSOR SPOTLIGHT – Gear Alloy Wheels
Gear Alloy Wheels are built to enhance the performance and appearance of trucks such as the Ford F-150, 250, 350, Chevy Silverado, Toyota Tundra, Jeep Wrangler and Dodge Ram. The Gear Alloy product development team does extensive research to ensure perfect fitment, durability and aggressive styling is achieved for every style. For more information, visit http://www.GearAlloy.com.
"Gear Alloy Wheels has been a big part of the growth of our team," Wilson said. "Not only do they offer a top-notch product, the process is geared toward customer satisfaction. We're thrilled with our partnership with Gear Alloy Wheels and look forward to success together for many years."
Wilson would also like to thank Hercules Tires, Ohio Logistics, DNC Hydraulics, Kinsler Fuel Injection, All Pro Cylinder, Redlined Welding & Construction, Callies, Magtech Ignition, Banshee Graphics, Saldana Racing Products, Simpson Race Products, Nagy Equipment Sales, Winters Performance, Pfann's Custom Performance & Restoration, Tim Hogan's Carpet (Lima, Ohio), Bedford Valley Petroleum, Real Capz, Mark Wolford Garage, Burns Petroleum, Elite Wings, Inter-State Truck Repair, Benson Marketing and Inside Line Promotions for their continued support.
INSIDE LINE PROMOTIONS –
Inside Line Promotions specializes in affordable public relations and media management for motor sports drivers, teams, sponsors, tracks, series, events, organizations and manufacturers. ILP Founder Shawn Miller leverages professional journalism with new media technologies and social networking to improve your exposure and the return on investment for your sponsors.
To meet the media relations needs of your program by joining Team ILP, contact Shawn at 541-510-3663 or Shawn@InsideLinePromotions.com. For more information on Inside Line Promotions, visit http://www.InsideLinePromotions.com.
---
Article Credit: Inside Line Promotions
Submitted By: Shawn Miller
Back to News