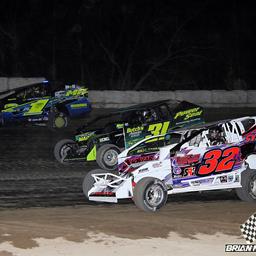 ---
Fulton Speedway - Quick Results - World of Outlaws Craftsman Sprint Car Series
World of Outlaw Craftsman Sprint Car Series & Modified Win & You're in Results
 (World of Outlaw Craftsman Sprint Car Series 30 Laps) – LOGAN SCHUCHART, Sheldon Haudenschild, Donny Schatz, Shane Stewart, Kraig Kinser, David Gravel, Ian Madsen, Brad Sweet, Larry Wight, Daryn Pittman, Greg Wilson, Brent Marks, Jacob Allen, Jason Sides, Scott Kreutter, Joe Kata III, Mat Tanner, Denny Peebles, Joe Trenca, Chuck Hebing, Steven Hutchinson.
(Hard Charger) – Larry Wight.
 (Modified Win & You're In 25 Laps) – MIKE MARESCA, Tim Kerr, Ryan Arbuthnot, Justin Wright, Rick Richner, Nick Krause, Lance Dusett, Tim Harris, Garett Rushlow, Brent Cross, Tyler Thompson, Shane Pierce, Chad Phelps.
 The Fulton Speedway would like to thank all of our fans, race teams and marketing partners for a successful 2018 season. We hope everyone has a great off-season and we will see you in the spring.
Back to News