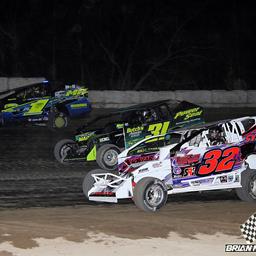 ---
World of Outlaws to Visit Fulton Speedway during NAPA Super DIRT Week on October 6
CONCORD, NC — The World of Outlaws Craftsman Sprint Car Series will make its annual appearance at Fulton Speedway during NAPA Auto Parts Super DIRT Week on Saturday, October 6. When the Greatest Show on Dirt and Racing's Biggest Party collide, it's a show you don't want to miss.
Last year's race at Fulton proved this point, as Daryn Pittman spun out of the lead after contact with a lapped car. David Gravel assumed the lead and went on to win his 17th Feature of the 2017 season.
"I remember I inherited the lead after [Daryn] crashed,� Gravel said recalling last year's victory at the 1/3-mile, high-banked oval. "The track changed a bunch throughout the race. I didn't know what line to run to keep up my speed through lapped traffic, so it was a good race to watch for the fans,� Gravel said.
Gravel and CJB Motorsports haven't been able to duplicate last year's 18-win season, but the team sits third in the Series Point Standings, just as they did in 2017.
"It's always good to get back to a track you've won at in the past,� Gravel said in confidence. "Hopefully we can build some momentum and get some wins to end the year.�
As the World of Outlaws 40th anniversary season winds down, the remaining races become pivotal in the season-long point battles. Currently, Sheldon Haudenschild and Logan Schuchart, who set the Fulton track record in 2016, are tied for sixth in points, and there's a good battle to complete the top-ten in points, as two markers (one position) separate veteran Kraig Kinser and youngster Jacob Allen.
When the Outlaws invade NAPA Super DIRT Week, you can expect some versatile names to compete against Sprint Car's best. Big Block Modified standouts Larry Wight and Mike Mahaney are expected to be in attendance. Mahaney was last year's KSE Hard Charger at Fulton, charging from 22nd to ninth.
Tickets for the World of Outlaws invasion of Super DIRT Week at Fulton Speedway are still available today. As always, if you can't make it to the track, watch all the action LIVE on DIRTVision.com!
Also in competition will be the DIRTcar Modifieds as they will be racing for the final starting spot in the following days (Sunday, October 7) NAPA Super DIRT Week Super DIRTcar Series Billy Whittaker Cars 200 at Oswego Speedway.
http://purchase.tickets.com/buy/TicketPurchase?orgid=52711&agency=WRG_SNG&eventId=29877
Reserved - $39
General Admission - $39
Day Of Show
Reserved - $40
General Admission - $40
Youth 10-17 - $15
Ages 9 & Under - FREE
Pit Pass DIRTcar Member - $40 - Non-Member - $45
Pit Opens - 3:00 pm
Grandstands Opens - 4:00 pm
Hot Laps - 6:30 pm
Time Trials - 7:00 pm
First Heat - 7:30 pm
Camping
Opens Friday October 5 @ 10:00 am
Just $25 for two-night pass. (Free with outlaw 200 camping pass)
Camping to the south of pit access road only. No camping in main lot
No blankets or chairs allowed prior to gate opening.
Lawn Chairs permitted in turn 4 grass area only
Previous A-Feature winners:
2017 - David Gravel on Oct. 7
2016 - Donny Schatz on Oct. 8
2014 - Daryn Pittman on July 23
2010 - Steve Kinser on Aug. 3
2006 - Donny Schatz on July 25
2005 - Brooke Tatnell on July 25
Track Record:Â 12.801 seconds was established by Logan Schuchart on Oct. 8, 2016.
Back to News