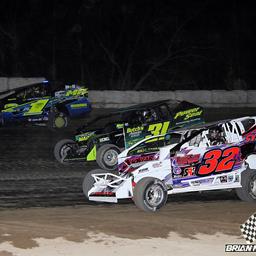 ---
Jimmy Phelps Cruises To Third Popular Outlaw 200 Win At The Fulton Speedway
FULTON, NY – Jimmy Phelps from Baldwinsville, NY wrote his name in the record books Saturday night at the Fulton Speedway 33rdAnnual Outlaw 200 weekend by winning his third SUNY Canton Modified Outlaw 200.
Jimmy Phelps took the lead on lap 122 when leader Danny Johnson suddenly slowed on the speedway with an issue. Over the final 76 laps Phelps had his car working on every groove of the speedway, putting cars down a lap and out-running second place finisher Erick Rudolph by 3.2 seconds at the checkers for the $20,000 pay day.
"I can't thank these guys enough,� said an ecstatic Jimmy Phelps, talking about his race team in Victory lane after doing a roof top celebration on his HBR/J & B Installations/No.98H/Teo. "They've been busting their hump getting ready for this and Super DIRT Week. It wouldn't be possible without them.�
"We had a good car for the first 100. Obviously, the track got locked and rubbered down. Hats off to these guys (Speedway track crew) to make this thing racy,� Phelps said, talking about the decision to do track work during the 100-lap break that gave the speedway a bottom, middle and top groove that racers used every inch of the speedway for the second 100 lap segment.
Sixty-Six Modifieds signed into the pits setting up six hotly contested heat races and three consolations to set the 44-car starting field for the 33rd SUNY Canton Outlaw 200.
After the top-twelve redraw, Rob Bellinger would take advantage of drawing the pole and would lead the opening 5 laps until Mat Williamson darted into the lead using the top of the speedway on lap 6.
By lap 15 cars encircled the entire speedway as Williamson was able to put a few lapped cars between himself and Bellinger. Erick Rudolph, Max McLaughlin and Kyle Coffey raced for third through fifth.
With 25 laps showing on the scoring tower, Williamson was on cruise control out front. Bellinger still ran second but he now had Rudolph all over his back bumper with Coffey and now Jimmy Phelps working his way into the top-five.
The yellow would wave on lap 33 and when the race went back green Rudolph got around Bellinger to take over second and set his sights on Williamson.
When the race reached lap 50 Williamson was still in total command as he was able to put five lapped cars between himself and second place Rudolph. Phelps, Bellinger, Mike Mahaney and Danny Johnson ran in a tight race for third through sixth.
Disaster would strike Mat Williamson on lap 71 when suddenly he would see his big lead and chance at the win leave with a driveshaft issue that sent him pit side for the remainder of the race.
Danny Johnson would be scored the new leader and would lead the rest of the way to the 100-lap pit break.
During the break the entire speedway was reworked from top to bottom setting up a multi-groove surface for the final 100 laps.
The top-ten lineup for the final 100 laps. Danny Johnson, Erick Rudolph, Jimmy Phelps, Rob Bellinger, Peter Britten, Brett Hearn, Tim Sears Jr., Mike Mahaney, Ron Davis III, Pat Ward.
When the green came back out for the final 100 Erick Rudolph would go to the top of the speedway and drive by Danny Johnson to be scored the new leader on lap 102.
After taking the lead on the outside groove, Rudolph would switch to the bottom side of the speedway. Seeing this, Johnson moved to the topside blasting by Rudolph on lap 107.
Johnson was on cruise control opening a two-second lead by lap 115 while Rudolph and Phelps were in a tight fight for second and third, with Bellinger and Ryan Arbuthnot showing in the top-five.
On lap 121 it appeared that Johnson clipped the front straight wall while leading and then came to a stop in turns one and two. Johnson would head pit side and return but would later drop out.
When the race went back green on lap 124 Jimmy Phelps would take advantage of a quick topside of the speedway to be scored the new leader.
After a couple quick yellows to slow the pace, Phelps took off holding a half a straightaway lead over Rudolph when the scoring tower showed 145 laps. Hearn, Sears and Bellinger were battling it out for top-five spots.
With no yellows to slow the pace, Phelps was on rails out front building up a three-second lead at lap 150 as the race was coming down the home stretch. Rudolph, Hearn, Stewart Friesen from 39th starting spot and Tim Sears Jr. were second through fifth.
With 25 laps to go Phelps had his Teo car not missing a beat 2.8 seconds ahead of Rudolph. Hearn, Friesen and Sears were still in contention for a top-five finish.
Over the final laps Jimmy Phelps was a man on a mission as he cruised under the checkers 3.2 seconds ahead of Erick Rudolph. Brett Hearn, Stewart Friesen and Tim Sears Jr., Max McLaughlin, Rob Bellinger, Tom Sears Jr., Todd Root and Mike Mahaney completed the top-ten.
The final race of the 2018 season will be this Saturday, October 6 for a Super DIRT Week XLVII Special when the World of Outlaws Craftsman Sprint Car Series will do battle on the "Highbanks." Plus, Modified Win-And-Your-In  winner gets a starting spot in Sunday, October 7 Super DIRT Week Billy Whittaker Cars & Trux Modified 200 at Oswego Speedway.
Pre-sale tickets are being handled by the World of Outlaws only. Go to www.woosprint.com and click on the tickets tab at the top of the page. The day of the race tickets will be available at the Fulton Speedway ticket office.
The Wight's and the entire Fulton Speedway staff would like to thank all the fans and race teams for their support in 2018. Plans are already underway for a fun 2019 season.
(33rd Annual SUNY Canton Outlaw 200) – JIMMY PHELPS, Erick Rudolph, Brett Hearn, Stewart Friesen, Tim Sears Jr., Max McLaughlin, Rob Bellinger, Tom Sears Jr., Todd Root, Mike Mahaney, Pat Ward, Peter Britten, Ron Davis III, Ryan Arbuthnot, Glenn Forward, Kyle Coffey, Willy Decker, Jack Lehner, Andrew Ferguson, Garett Rushlow, Matt Hulsizer, Mitch Gibbs, Yan Bussiere, Danny Johnson, Larry Wight, Joe Shields, Billy Whittaker, Randy Shantel, Danny Varin, Mat Williamson, Justin Wright, Chris Hile, Mario Clair, Tyler Trump, Nick Krause, Billy Dunn, Steve Paine, Alan Johnson, Jeff Sykes, Michael Parent, Tyler Meeks, Tim Fuller, Billy Decker, DQ – Roy Bresnahan.
 5 Qualify. 2 to the redraw.
 (Heat 1) – Tim Sears Jr., Erick Rudolph, Pat Ward, Larry Wight, Justin Wright, Billy Whittaker, Joe Shields, Rick Regalski, Nate Higgins, Brian Murphy, Tim Harris.
 (Heat 2) – Peter Britten, Danny Johnson, Matt Hulsizer, Yan Bussiere, Mario Clair, Randy Shantel, Nick Nye, Tyler Thompson, Andrew Ferguson, JR Hurlburt, Rich Riggs.
 (Heat 3) – Ryan Arbuthnot, Mat Williamson, Michael Parent, Tom Sears, Danny Varin, Roy Bresnahan, Jack Lehner, Tyler Trump, Ryan Jordan, Rick Richner, Tim Murphy.
 (Heat 4) – Jimmy Phelps, Max McLaughlin, Chris Hile, Tyler Meeks, Mitch Gibbs, Garett Rushlow, Tom Keyes, Scott Boudinot, DJ Forbes, Joe August, Billy Decker.
 (Heat 5) – Tim Fuller, Mike Mahaney, Billy Dunn, Ron Davis III, Willy Decker, Jeff Sykes, Brett Tonkin, Mike Trautschold, Lee Dewitt, Steve Marshall.
 (Heat 6) – Rob Bellinger, Kyle Coffey, Brett Hearn, Glenn Forward, Steve Paine, Todd Root, Alan Johnson, Stewart Friesen, Chad Phelps, Rocky Warner, JJ Courcy.
Consolations -Three Qualify
 (Consolation 1) – Billy Whittaker, Randy Shantel, Joe Shields, Andrew Ferguson, Nick Nye, JR Hurlburt, Nate Higgins, Rick Regalski, Tyler Thompson, Tim Harris, Brian Murphy, Rich Riggs.
 (Consolation 2) – Roy Bresnahan, Tyler Trump, Garett Rushlow, Jack Lehner, Tom Keyes, Ryan Jordan, Rick Richner, DJ Forbes, Tim Murphy, Scott Boudinot, Joe August.
 (Consolation 3) – Todd Root, Jeff Sykes, Stewart Friesen, Nick Krause, Alan Johnson, Brett Tonkin, Mike Trautshold, Chad Phelps, Steve Marshall, JJ Courcy, Lee Dewitt, Rock Warner.
($300 Top Finishing Bicknell Car) – Erick Rudolph
 (Hoosier Tire Hard Luck Award) – Danny Johnson
 (Hard Charger – Drum of VP Racing Fuel) – Stewart Friesen.
Back to News