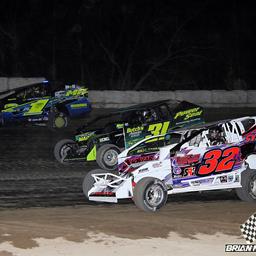 ---
Quick Results Night One 33rd SUNY Canton Outlaw 200 Weekend
September 28 – 33rd Annual SUNY Canton Outlaw 200 Weekend Night #1 Results
 (Pit Stop Convenience Stores NLMA Late Model 50) – CHARLIE SANDERCOCK, Chad Homan, Dale Caswell, Jason Parkhurst, Kevan Cook, Chris Fleming, Tim Sears Jr., Kyle Sopaz, Harry Halliday, Bret Belden, Phil Potts, Sam Pinancchio, Sean Beardsley, JJ Mazur, Mike Kazmierczak, Aaron Jacobs, Alan Chapman, Max Hill, Ely Mayhew, Craig Graham, Billy Eisele, Darin Herton, Ryan Hoolihan, Dane Keller Jr., Jimmie Johnson, Matt Kitts, Lazlow Holyfield, DNS – Brandon Moat
 (Brian McDied Heat Race Bonuses) – 1st $75 – 2nd $25
(Heat 1) – Chris Fleming, Chad Homan.
 (Heat 2) – Jason Parkhurst, Kyle Sopaz
 (Heat 3) – Sam Pinancchio, Kevan Cook
 (Northeast Racing Products, Auction & Trade Show Hard Charger $100) – Harry Halliday.
 (E&V Energy Novice Sportsman Championship 20 Laps) – MICHAEL WAGNER-FITZGERALD, Richard Murtaugh, Jake Davis, Phil Desormeau, Quinn Wallis, Kevin Warren, Richard Page, Michael Grover, Brandon Chretien Mike Dawson, Mikey Wight, Kearra Backus, Pat Nolan, Kyle Hulsizer, Jacob Dupra, Justin Pier, Derrick McGrew, DNS Riley Rogala, Ryan Gustin.
 (Dig Safely New Mod Lite Championship 25 Laps) – DOUG WILLIAMS, Tracey Fritter, Mike Mullen, Paul Klager, Joe Garafolo, Harley Brown, Hunter Lawton, Scott Sharpe, Shawn Hort, Sam Usborne, Dave Brown, Kelly Skinner, Josie Fortier, Karen Thibault, Clayton Brewer, Jim Dunham, Steve Comeau, Tyler Winger, Reg Lemieux, Justin Williams, Jason Premo, Matt Fregoe, Ryan Halliday.
 (JB Logging & Firewood 4 – Cylinder Open 25 Laps) – CHRIS BONOFFSKI, Donte Mancuso, Nate Powers, Quinn Wallis, Chuck Powelczyk, Ray Bechler, Phil Desormeau III, Justin Verne, Kenny Underwood, Justin Pope, Sam Curcie, Trey Palmer, Dan Dupra, Tim Dunn, Brian Hoisington, Travis Buckman, Chad Crouse, Clayton Koch, Sabrina Jeffries, Justin LaDue, Ken Pitsley, Chad Desso, Donnie Rider, Don Woodworth, Jerry Herbert, David Becker, Evan Wright, Jack Taskey.
 DIRTcar Sportsman Championship Series -Industrial Tire of CNY Sportsman Shootout Heats 
 Industrial Tire of CNY Heat Race Bonuses - 1st - $150 - 2nd $100 -3rd - $50
 Top – 2 Qualify. Winner to the redraw
 (Heat 1) – Wade Chrisman, Tom Juno, Tony Finch II, Jordan Kelly, Brett Draper, Rocky Grosso, Rachel Zacharias, Brianna Ladoucer, DNS – Brandon Chretien
 (Heat 2) – Shane Pecore, Kyle Fink, James Friesen, Tyler Thompson, Greg Doust, Richard Murtaugh, Frank Sobotka, Torrey Stoughtenger, Dan Kapuscinski.
 (Heat 3) – Kyle Inman, Nick Krause, Matt Janczuk, Joey Buonagurio, Colby Herzog, Ryan Gustin, Michelle Courcy, Keith Stevenson, Kearra Backus, DNS – Joe Gosek.
 (Heat 4) – Dave Marcuccilli, David Schilling, Will Shields, Kevin Root, Mark Yorker, Joe Sobotka, Cedric Gauvreau, Brent Joy, Rich Townsend, AJ Miller.
 (Heat 5) – Zach Sobotka, Jack Meeks, Josh Reome, Austin Germinio, Robert Gage, Josh Blackwell, Matt Becker, Brian Evenden, Tim Abate.
 (Heat 6) – Jessica Power, Amy Holland, Chris Mackey, Corey Barker, Chris Corbett, Jimmy Moyer, Willy Decker Jr., Tim Baker, Steve Marshall, Tyler Corcoran.
 (Heat 7) – Jeff Taylor, Rick Miller, Jim Spano, Jake Davis, Tyler Murray, Chuck Miller, Rick Rogala, Cody Wolfe, George Dyer, Ben Bushaw.
 (Heat 8) – Brad Rouse, Alan Fink, Bob Henry, Mike Stanton Jr., Richie Riggs, Jackson Gill, Earl Rudy, Garett Rushlow, Billy Sauve, Randy Fox.
 (Heat 9) – Brandon Ford, Adam Rozon, Tim Devendorf, Chris Hulsizer, Matt Steffenhagen, Rocco Leone, Dylan Zacharias, Billy Clark Jr., Bailey Groves, DNS – Charlie Tibbitts,
 (Heat 10) – Martin Peltier, Kyle Kiehn, Michael Wagner-Fitzgerald, Brandon Carvey, Greg Henry, Quinn Wallis, Kyle Perry, Jeff Lawrence, Dorian Wahdan.
Winner qualifies
(Consolation 1) -  James Friesen, Tyler Thompson, Tony Finch II, Greg Doust, Brianna Ladoucer, AJ Miller, Torrey Stoughtenger, Frank Sobotka, Dan Kapuscinski, Rachel Zacharias, Rocky Grosso, Brett Draper, Richard Murtaugh, DNS – Brandon Chretrien, Jordan Kelly.
 (Consolation 2) – Matt Janczuk, Will Shields, Keven Root, Mark Yorker, Joe Sobotka, Brent Joy, Joey Buonagurio, Cedric Gauvreau, Rich Townsend, Colby Herzog, Michelle Courcy, Keith Stevenson DNS – Joe Gosek, Kearra Backus, Ryan Gustin.
Due to the lateness the final 3 Consolations will be run Saturday.
 (Consolation 3) -
 (Consolation 4) –
 (Consolation 5) -
 (SUNY Canton Outlaw 200 Modified Qualifiers 15 Laps) Winners get 17th to 20th starting spots in Outlaw 200. Winners can better their starting spots through Saturday qualifying.
 (Modified Qualifier 1) – Ryan Arbutnot, Pat Ward, Willy Decker Jr., Erick Rudolph, Nick Krause, Tom Sears Jr., Ron Davis III, Jack Lehner, Glenn Forward, JR Hurlbut, Rick Regelski, Scott Boudinot, Austin Murphy.
 (Modified Qualifier 2) – Max McLaughlin, Larry Wight, Chris Hile, Roy Bresnahan, Billy Decker, Ryan Jordan, Brett Tonkin, Rick Richner, Garett Rushlow, Tyler Thompson, Lee Dewitt.
 (Modified Qualifier 3) – Billy Dunn, Stewart Friesen, Jimmy Phelps, Nate Higgins, Tim Sears Jr., Yan Bussiere, Rocky Warner, Tyler Trump, Billy Whittaker, Joe Shields, Mario Clair.
 (Modified Qualifier 4) – Rob Bellinger, Todd Root, Brian Murphy, Andrew Ferguson, Mitch Gibbs, Tim Harris, Jim Walsh, DJ Forbes, Chad Phelps, Nick Nye.
Back to News