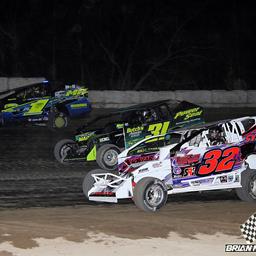 ---
A Record Turnout For Day One Of The Fulton Speedway Outlaw 200 Weekend; Charlie Sandercock, Jeff May, DJ Forbes, Michael-Wagner Fitzgerald, Corbin Mil
 FULTON, NY – September 30, 2017 – A record 265 cars signed in the Fulton pits for day one of the 32nd Annual Sunoco Fulton Ethanol Facility Outlaw 200 Weekend Presented by SUNY Canton.
Charlie Sandercock (Late Models) Jeff May (Mod Lites) DJ Forbes and Michael-Wagner Fitzgerald (Novice Sportsman) Corbin Millar (4-Cylinders) put their names in the record books as Outlaw 200 Weekend feature winners.
It took 10 heats to qualify 110 Sportsman who were pit-side to try and make it into the Industrial Tire of CNY Sportsman Shootout 50. The five consolations that were set to run were moved to Sunday due to the late hour.
Forty-Four Modifieds ran four 15-lap heat races to lock in the 17-20 starting spots for Sunday's Outlaw 200. Drivers with those spots could improve their starting spot in Sunday heat races. Billy Decker, Gary Tomkins, Chris Hile and Chad Phelps picked up the wins.
Robbie Wilson and Ahnna Parkhurst brought the field down to the green for the Go Nuclear Late Model Series Pit Stop Convenience Stores 50 with Parkhurst grabbing the early advantage.
While Parkhurst was dealing with lapped traffic, it allowed Sandercock to reel in and pass Parkhurst to be scored the new leader on lap-14.
The first yellow waved on lap-25 to tighten up the field after Sandercock held a 2.2 seconds lead.
With 30-laps in the record books Sandercock held a ten-car length advantage over a close battle between Fleming and Cook with Belden and Jason Parkhurst showing on the scoring tower.
After a couple cautions on lap-32 and lap-35 Sandercock and Fleming were putting on a show, running bumper to bumper and side by side with Cook not far behind ready to pounce on any mistake by the top two.
With 10-laps to go Sandercock and Fleming would swap the lead back and forth with neither racer gaining a big advantage as back markers would start to play a role in the race.
On lap-44 Fleming got caught behind a lapped car, letting Sandercock shoot back into the lead. Once Fleming cleared the lapped traffic he was able to retake the lead on lap-47.
Lap-48 was the difference in the race. As Fleming and Sandercock came under the start-finish line they tried to split two lapped cars in a four-wide move. In just a racing incident contact was made with Fleming's car by a lapped car sending Fleming around and doing serious damage to the rear of his car, ending his run for the win.
When the green came back out Sandercock was first under the checkers for his second straight Outlaw 200 Weekend Late Model win.
In the TUSA Mod Lite Doug Cooper Memorial 36 the winner was in doubt until the checkers in close, bumper-to-bumper and side-by-side racing at the front of the field. Justin Williams, Jeff May and Zack Babcock all lead laps. When the checkers waved it was Jeff May picking up the victory. Zack Babcock finished an impressive second with a damaged right front on his car. Casey Sykes, Justin Williams and Brian Meyers finished third through fifth.
The E&V Energy Novice Sportsman ran a pair of 20-lap features.
In the first feature Greg Henry lead the opening 7-laps before DJ Forbes took the top spot. Once in the lead Forbes was able to pull away late for the victory. Greg Henry, Remington Hamm, Tyler Rogers and Wesley Hayes finished second through fifth.
In the second 20-lap feature Michael-Wagner Fitzgerald grabbed lead on the opening lap and looked to run away and hide. Late in the race Fitzgerald would have to hold off serious pressure from Chris Bonoffski for the win.  Robert Gage, Kearra Backus and Jake Davis finished third though fifth.
A strong field of 4-Cylinders showed up for the 20-lap JB Logging &Â Firewood 20-lap feature. The battle inside the top-five was tight throughout the entire race with Canadian Corbin Millar picking up the narrow win over a hard-charging Quinn Wallis. Ray Bechler, Chuck Monica and Justin Buske finished third through fifth.
Day #1 Results 32nd Annual Outlaw 200 Weekend
 (Pit Stop Convenience Stores Go Nuclear 50 Laps) – CHARLIE SANDERCOCK, Kevan Cook, Jason Parkhurst, Brandon Mowat, Sean Beardsley, Dale Caswell, Kyle Sopaz, Jim Johnson, Ahnna Parkhurst, Chad Homan, Andy Mayhew, Bret Belden, Sam Pannacchio, AJ Kingsley, Jason Occhino, Robbie Wilson, Steven Coit, Chris Fleming, Brandon Carvey, Billy Eisele, Alan Chapman, Laslow Hollyfeld, Aaron Backus, Matt Kazmierczyk.
Brian McDied Contracting Heat Bonuses 1st- 75, 2nd-$25
 (Heat 1) – Chad Homan, Chris Fleming. (Heat 2) – Bret Belden, Robbie Wilson (Heat 3) – Kevan Cook, Charlie Sandercock.
Thomas Video DVD – Charlie Sandercock
Northeast Racing Products & Auction Trade Show Hard Charger $100-Â Sean Beardsley.
(Greene's Ale House Doug Cooper Memorial 36 Laps) – JEFF MAY, Zack Babcock, Casey Sykes, Justin Williams, Brian Meyers, Mike Mullen, Joe Garafolo, Nick Graziano, Jeff Sykes, Deric Ellsworth, Stephanie Bernier, Lowell Zehr, Reg LeMeux, Dave Brown, Jason Premo, Sam Usborne, Karen Thibault, Kelly Skinner, Ryan Halliday, Tom Mackey, Matt Fregoe, Hunter Lawton.
(E&V Energy Novice Sportsman Championship #1 20 Laps) – DJ FORBES, Greg Henry, Remington Hamm, Tyler Rogers, Wesley Hayes, Richard Paige, Skylar Greenfield, Kenny Rider, Josh Verne, Brandon Thompson, Matt Becker, Tyler Corcoran, Jake Petit, Kelly Smith.
(E&V Energy Novice Sportsman Championship #2 20 Laps) – MICHAEL-WAGNER FITZGERALD, Chris Bonoffski, Robert Gage, Kearra Backus, Jake Davis, Pat Nolan, Billy Sauve, Brandon Blair, Scott Mallette, Kevin Warren, Tim Abate, Addison Bowman, Brad Williams, Dan Dupra.
(JB Logging & Firewood 4-Cylinder Open 20 Laps) – CORBIN MILLAR, Quinn Wallis, Ray Bechler, Chuck Monica, Justin Buske, Nate Powers, Phil Desormeau III, Phil Burns, Chuck Powelczyk, Wayne Russell Jr., Dave Simms, Austin Germinio, Josh Wilder, Evan Wright, David DeNova, Donny Rider, Shayne Ray, Sam Curcie, Nick Kennedy, Dylan Curcie, Sabrina Jeffries, Cody Thomas, Justin Pope, Jamie Radley, Chris Bonoffski.
 DIRTcar Sportsman Championship Series - Industrial Tire of CNY Sportsman Shootout 50 Heat Races
 Industrial Tire of CNY Heat Race Bonuses 1st- $150, 2nd- $100, 3rd- $50
 Sportsman Heats 10 Laps - 2 Qualify Winner to redraw
 (Sportsman Heat Race 1) – Ron Davis III, Todd Root, Chris Cuningham, Ricky Yelle, AJ Miller, Greg Doust, Allan Hodge, Charles Miller, Tyler Rogers.
(Sportsman Heat Race 2) – Dave Marcuccilli, Tom Collins Jr., Ryan Scott, Tim Schneider Jr., Jordan Kelley, Zach Sobotka, Chris Hulsizer, Steve Marshall, Bailey Groves, Dave DiPetro, Tyler Corcoran, Josh Verne.
(Sportsman Heat Race 3) – Nick Krause, Dan Ferguson, Kevin Ridley, Luke Carleton, Jeff Devoli, Jeremy Pitcher, Amy Holland, Kevin Root, Dan Kapuscinski, Michelle Courcy, Randy Fox.
(Sportsman Heat Race 4) – Martin Pelletier, Will Shields, Alan Fink, George Sanford, Nate Higgins, Tim Falter, Sebastian Bourque, Joe Sobotka, Rocky Grosso, Torrey Stoughtenger, Brianna Ladouceur.
(Sportsman Heat Race 5) – Brad Rouse, Tyler Thompson, Tim Baker, Tyler Singleton, Rick Rogala, Greg Henry, Greg Henry, Richie Riggs, Kelly Smith, Dale Caswell, Mike Mandigo, Garrison Krentz.
 (Sportsman Heat Race 6) – Jeff Taylor, Rick Miller, Mark Yorker, Bobby Deleon, Pat LaPage, Aron Backus, Moose Gulley, Brent Cross, Jake Petit, Jackson Gill, Derek Webb.
(Sportsman Heat Race 7) – Rocky Warner, Willy Decker, Kyle Fink, Chris Mackey, Jack Meeks, Mike Button, Ben Bushaw, Joey Buonagurio, Austin Murphy, Rich Townsend, Willy Decker Jr.
(Sportsman Heat Race 8) – Glenn Forward, Ben Wheeler, Brent Joy, Mike Stanton Jr., Matt Steffenhagen, Jim Spano, Brett Draper, Robert Bublak, Dorian Wahdan,
Colby Herzog, Rick McCready.
(Sportsman Heat 9) – Billy Clark Jr., Corey Barker, Joel Hargrave, Chris Bonoffski, Josh Reome, Tyler Ward, Austin Fugle, Earl Rudy, Aaron Jacobs, Dan Dupra, Devan Willis.
(Sportsman Heat Race 10) – Alex LaJoie, Anthony StockmanTyler Trump, Jessica Power, David Schilling, Dylan Zacharias, Garrett Rushlow, Joel Hall, Kyle Perry, Jeff Lawrence, Jason Amidon, Joe Gosek.
Modified 15 Lap Heat Races. 17-20 Starting positions for the Outlaw 200. Drivers can improve their starting position in Outlaw 200 Weekend day 2 heat races.
(Modified Heat 1) – Billy Decker, Larry Wight, Tim Fuller, Tom Sears Jr., Danny Johnson, Jean-F Corriveau, Tyler Meeks, Jeff Crambo, Matt Hitchcock, Rusty Smith, Pat Parker.
 (Modified Heat 2) – Gary Tomkins, Ryan Jordan, Alan Barker, Yan Bussiere, Billy Whittaker, Tim Kerr, JR Hurlburt, Mike Daugherty, Todd Root, Nick Nye, Jim Walsh, Mario Clair.
(Modified Heat 3) – Chris Hile, Billy Dunn, Mike Maresca, Tim Harris, Ron Davis III, Mitch Gibbs, Kyle Coffey, Adam Hilton, Jim LaRock, Roy Bresnahan.
(Modified Heat 4) – Chad Phelps, Ryan Arbuthnot, Brett Tonkin, Jeremy Smith, Mike Bowman, Mat Williamson, Katelyn Hile, Andrew Ferguson, Tim Murphy, Roy Shields, Lee DeWitt, Billy Whittaker.
Back to News