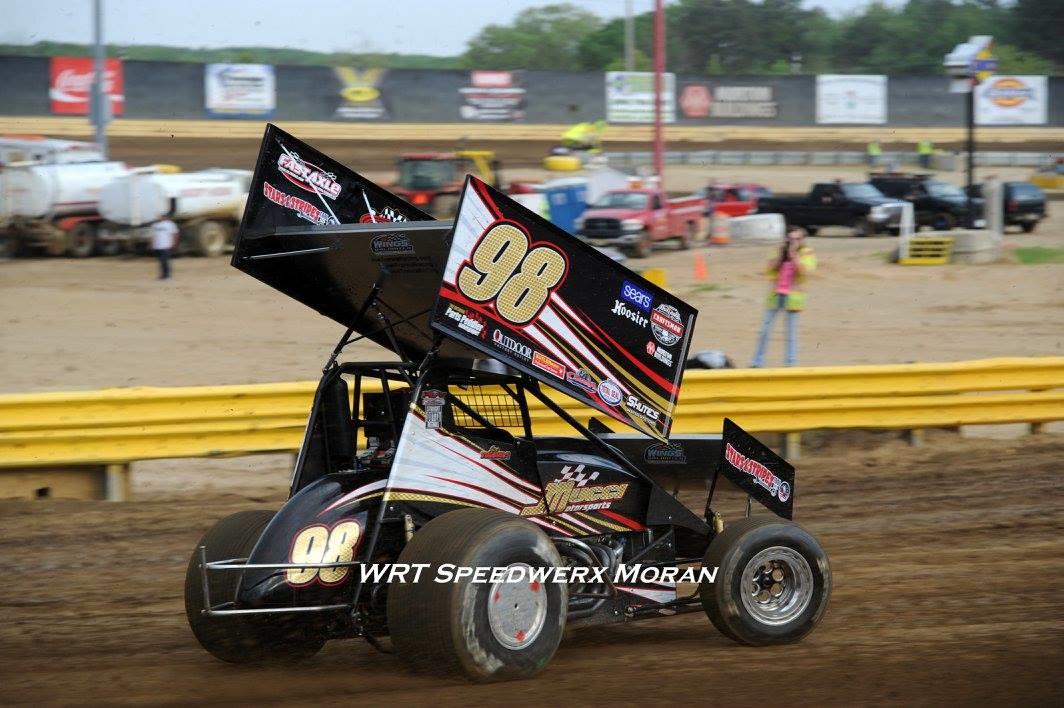 10/4/2016
Inside Line Promotions
---
Trenca Aiming for Top 10 at Fulton Speedway Saturday With World of Outlaws
(Photo by Tim's Racing Photos)
Inside Line Promotions – CLAY, N.Y. (Oct. 4, 2016) – Joe Trenca is looking to earn his first career top-10 finish with the World of Outlaws Craftsman Sprint Car Series and he thinks this Saturday could provide the perfect opportunity.
Trenca and the Outlaws are heading to Fulton Speedway in Fulton, N.Y., which is a short drive from Trenca's shop.
"It's nice because we don't get to run with the Outlaws much, especially locally," he said. "It'll be great to only have to go 20 minutes up the road. It's definitely cool because my mom and my grandma are coming out. They might have seen me race with the Outlaws once. It's nice being able to have the whole family there."
The Mucci Motorsports driver recorded his first top-five finish of the season during his only visit to the 3/8-mile oval earlier this year.
"We've had some decent runs there the past couple of years," he said. "I think we've learned a lot of things on 360s at really slick tracks that should help us in 410s."
Trenca has also posted three top fives in his last seven races and five top 10s in his last eight races.
"I don't see a reason why we can't put it in the top 10," he said. "We've had a lot of top 10s recently so a top 10 with the Outlaws would be great."
SEASON STATS –
29 races, 0 wins, 5 top fives, 10 top 10s, 16 top 15s, 21 top 20s
UP NEXT –
Saturday at Fulton Speedway in Fulton, N.Y., with the World of Outlaws Craftsman Sprint Car Series
MEDIA LINKS –
Website: http://www.JoeTrencaRacing.com
Twitter: https://twitter.com/JoeTrencaRacing
Facebook: https://www.facebook.com/JoeTrencaRacing
SPONSOR SPOTLIGHT – Fast Axle
Located in Bristol, Conn., Fast Axle distributes axles and other racing parts for a variety of race cars. For more information, visit http://www.FastAxle.com.
"Eric with Fast Axle has been a long time member of Mucci Motorsports," Trenca said. "We're really happy to use his products and very thankful for the support."
Trenca would also like to thank Mucci Motorsports, The Paladin Group, Mid Country Machinery, Stars and Stripes Tool Inc., National Parts Peddler, Seals-It, ButlerBuilt Professional Seat Systems, Wilwood Brakes, Schoenfeld Headers, Shute's Water Systems, FK Rod Ends, Weld Wheels, Total Seal Piston Rings, Shell Shock Helmets, GF1 Chassis, Ti22 Performance, MyRacePass, Inside Line Promotions, Don Ott Racing Engines and Hammerdown Photography for their continued support.
PARTNERSHIP OPPORTUNITIES –
Trenca is seeking additional marketing partners to get more experience by traveling and taking advantage of opportunities in the 410ci sprint car ranks. To learn more about options to team up with Mucci Motorsports, call Joe at 315-481-6080.
INSIDE LINE PROMOTIONS –
Inside Line Promotions specializes in affordable public relations and media management for motor sports drivers, teams, sponsors, tracks, series, events, organizations and manufacturers. ILP Founder Shawn Miller leverages professional journalism with new media technologies and social networking to improve your exposure and the return on investment for your sponsors.
To meet the media relations needs of your program by joining Team ILP, contact Shawn at 541-510-3663 or Shawn@InsideLinePromotions.com. For more information on Inside Line Promotions, visit http://www.InsideLinePromotions.com.
---
Article Credit: Inside Line Promotions
Submitted By: Shawn Miller
Back to News