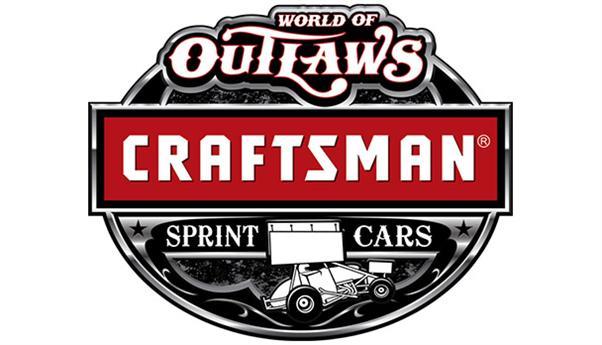 ---
Outlaw Sprint Cars Head to Fulton Speedway During Super DIRT Week
The World of Outlaws Craftsman® Sprint Car Series will head to Fulton Speedway on October 8 for the "Saturday Night Special" during NAPA Auto Parts Super DIRT Week.
Fulton is one of three municipalities getting in on the NAPA Super DIRT Week action with traditional nighttime events, with others slated for Weedsport Speedway on October 5 and Brewerton Speedway on October 6th.
"Fulton is a short hop from Oswego and will allow our fans to see the 'Salute the Troops 150' on Saturday afternoon and the World of Outlaws Craftsman Sprint Cars that evening," said DIRTcar CEO Brian Carter. "And they're guaranteed to see a fun race on the high banks of Fulton."
To add to the excitement, the last starting spot for the NAPA 300 is up for grabs at the "Win and You're In" Super DIRTcar Series Big-Block Modifieds.
Fulton Speedway, the opening venue for this year's Super DIRTcar Series, is a 3/8-mile clay high-banked track in Fulton, NY. The event is among the final four of the World of Outlaws Craftsman Sprint Car season prior to the Bad Boy World Finals. It is followed by the World of Outlaws Sprint Car Series at Port Royal Speedway on October 15, the O'Reilly Auto Parts Rumble on the River at Lakeside Speedway on October 21, and the O'Reilly Auto Parts Twister Showdown at Salina Highbanks Speedway on October 22.
For the past two years, Donny Schatz has dominated the World of Outlaws Sprint Car races in Central New York. Last year he was victorious in each of the Outlaws' three stops in New York – Weedsport Speedway in May, Lebanon Valley Raceway in July and Rolling Wheels in October, taking home his 31st victory of the 2015 season.
Tickets for the World of Outlaws Craftsman Sprint Car Series at Fulton Speedway will be available online 9 a.m. on Monday, July 18 at https://dirtcar.ticketforce.com/, or by calling 844-DIRT-TIX.
Follow the World of Outlaws Craftsman Sprint Car Series on Twitter at Twitter.com/WorldofOutlaws, like it on Facebook at Facebook.com/WorldofOutlaws, or check out the latest videos on YouTube at YouTube.com/WorldofOutlaws.
Back to News