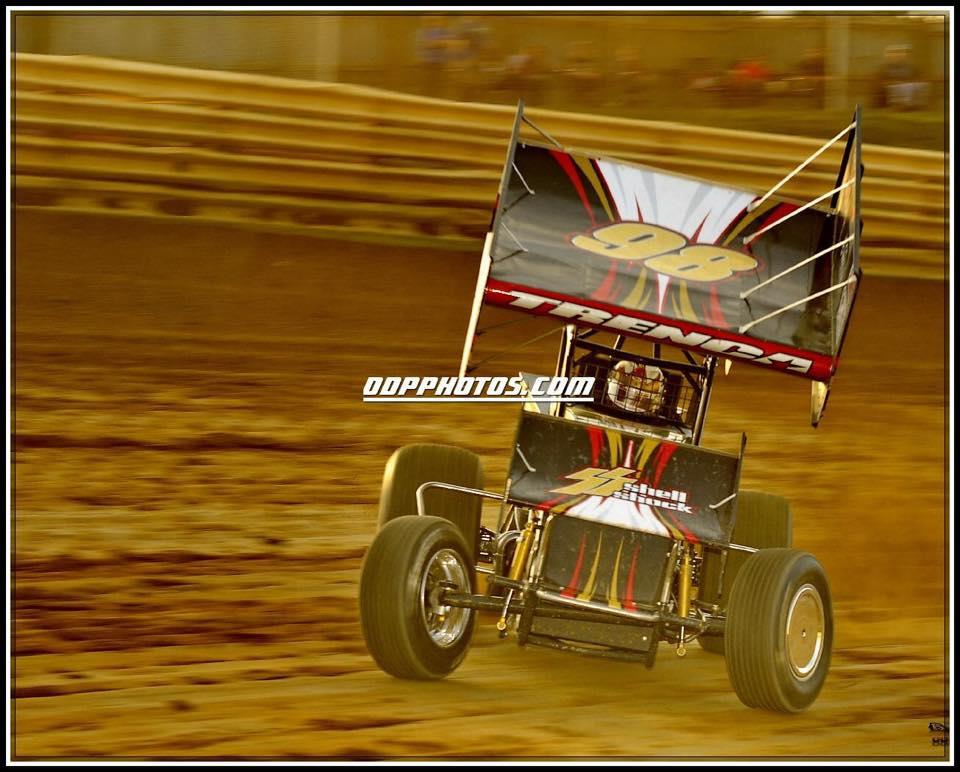 6/9/2015
Inside Line Promotions
---
Trenca Set for All Star Debut Thursday at Canandaigua Motorsports Park
(Photo by DDP Photos)
Inside Line Promotions – FULTON, N.Y. (June 9, 2015) – Joe Trenca will make his UNOH All Star Circuit of Champions debut this Thursday at Canandaigua Motorsports Park in Canandaigua, N.Y.
"We're excited," he said. "I like Canandaigua. It's a racy track with a top and a bottom. I'm excited to race with the All Stars, too. Hopefully we can come out of there with a top 10."
Trenca has limited experience at the half-mile oval, but the Mucci Motorsports driver recorded a career-best seventh-place result in 2013. Thursday's race will be the only one on the schedule as Trenca is set to graduate from high school on Saturday.
"It will be a big weekend," he said.
Trenca scored a pair of top 15s last weekend with the Patriot Sprint Tour. He kicked off the doubleheader last Friday by making his debut at Ransomville Speedway in Ransomville, N.Y.
"We were under a two-hour rain delay and then they worked the track in pretty good," he said. "The curb was very high and it was fast up there. There was still a lot of slop on the bottom so it was a very narrow track. We were only able to make up a couple of positions. We had a fast car, but it was a narrow track."
Trenca, who finished fifth in a heat race, advanced from 14th to 12th during the main event on the quick track.
The weekend concluded on Saturday at Fulton Speedway, where Trenca powered from seventh to fourth place in a heat race. That earned him a spot in the feature redraw where he pulled the No. 2 to line up on the outside of the front row for the main event.
"We just took a bad read on the track," he said. "It blew off within two laps and that hurt us a lot. I was in the top four for four or five laps. Then the guys who knew what was going to happen started picking me off."
Trenca struggled on the slick track and ended with a 13th-place result.
"That was the slickest track we've seen all year," he said. "We knew where we messed up and how we can get better. We've been doing decent lately so it does suck to give up a great starting position, but we know what we did wrong."
QUICK RESULTS –
June 5 – Ransomville Speedway in Ransomville, N.Y. – Heat race: 5 (4); Feature: 12 (14).
June 6 – Fulton Speedway in Fulton, N.Y. – Heat race: 4 (7); Feature: 13 (2).
SEASON STATS –
10 races, 0 wins, 2 top fives, 2 top 10s, 7 top 15s, 8 top 20s
UP NEXT –
Thursday at Canandaigua Motorsports Park in Canandaigua, N.Y., with the UNOH All Star Circuit of Champions
MEDIA LINKS –
Website: http://www.JoeTrencaRacing.com
Twitter: https://twitter.com/JoeTrencaRacing
Facebook: https://www.facebook.com/JoeTrencaRacing
APPAREL –
Trenca will have t-shirts and hoodies available for sale online and at his race trailer throughout the season. Visit http://www.JoeTrencaRacing.com for more information.
SPONSOR SPOTLIGHT – National Parts Peddler
National Parts Peddler is a publication that has served the racing industry for more than 35 years. For more information, visit http://www.PartsPeddlerNews.net.
"They've really been helpful throughout the years," Trenca said. "Corky Stockham, the owner of National Parts Peddler, and my grandpa have known each other from a young age and are lifelong friends."
Trenca would also like to thank Mucci Motorsports, FK Rod Ends, Fast Axle, Stars and Stripes Tool Inc., Empire Sub Shop, Weld Wheels, ButlerBuilt Professional Seat Systems, Seals-It, Total Seal Piston Rings, Schoenfeld Headers, Shell Shock Helmets, Wilwood Brakes, Shute's Water Systems, GF1 Chassis, Ti22 Performance, Driver Websites, Inside Line Promotions, Ken's Auto Body, Slade Shock Technology, Don Ott Racing Engines and Hammerdown Photography for their continued support.
PARTNERSHIP OPPORTUNITIES –
Trenca is seeking additional marketing partners to get more experience by traveling and taking advantage of opportunities in the 410ci sprint car ranks. To learn more about options to team up with Mucci Motorsports, call Joe at 315-481-6080.
INSIDE LINE PROMOTIONS –
Inside Line Promotions specializes in affordable public relations and media management for motor sports drivers, teams, sponsors, tracks, series, events, organizations and manufacturers. ILP Founder Shawn Miller leverages professional journalism with new media technologies and social networking to improve your exposure and the return on investment for your sponsors.
To meet the media relations needs of your program by joining Team ILP, contact Shawn at 541-510-3663 or Shawn@InsideLinePromotions.com. For more information on Inside Line Promotions, visit http://www.InsideLinePromotions.com.
---
Article Credit: Inside Line Promotions
Submitted By: Shawn Miller
Back to News